2022 WORLD UNDER-17 HOCKEY CHALLENGE SCHEDULE AND TICKET PACKAGES AVAILABLE NOW!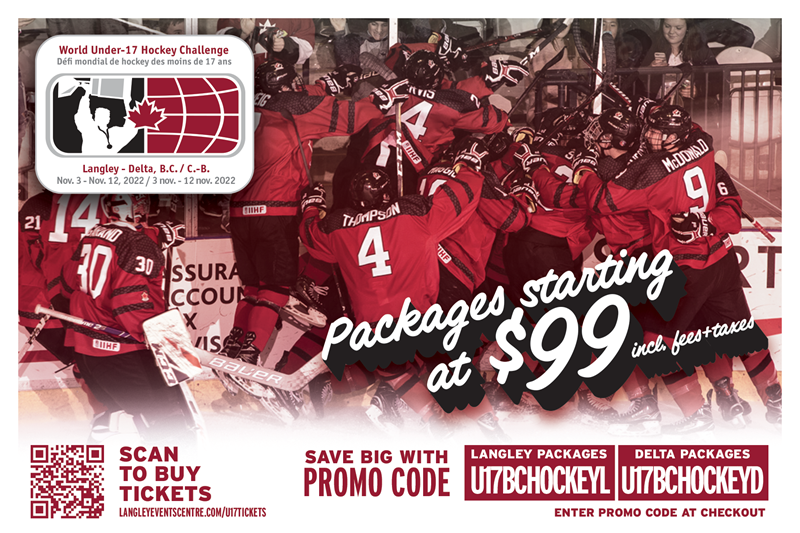 For Immediate Release
September 14, 2022
Saanichton, B.C. – Today, Hockey Canada announced the schedule for the 2022 World Under-17 Hockey Challenge, and a special ticket package for BC Hockey Members.
The international event will be held in Langley and Delta from November 2-12, 2022, and Hockey Canada is offering all BC Hockey Members special pricing for ticket packages at both locations.
There will be seven teams competing in this year's tournament: Team Canada Black, Team Canada Red, Team Canada White, Czechia, Finland, Sweden and the United States. Each team will play six preliminary-round games between Nov. 3rd and 11th, with the top four teams in the standings advancing to the medal round.
Each team will play at least one game in Delta and Langley, ensuring that fans in both communities can watch some of hockey's brightest young stars. Delta's Sungod Arena will host seven games beginning with Team Canada White facing Sweden on Nov. 3. The Langley Events Centre will host 16 games, including three all-Canadian matchups and both medal round games on Nov. 12th.
The full tournament schedule is available HERE.
Full event ticket packages are now on-sale for the following:
Full Package to Langley
Full Package to Delta
Full Package to Delta + Bronze and Gold Medal Games (hosted in Langley)
BC Hockey Members can receive special discounted pricing using the promo code U17BCHOCKEYL for tickets in Langley, and U17BCHOCKEYD for tickets in Delta. Please note, the Member Pricing Promo codes expire on Friday, October 7th at 9:59am PST.
Ticket packages can be purchased through this LINK.
-30-