The U18 Okanagan Rockets forward has a love for the game that runs in the family.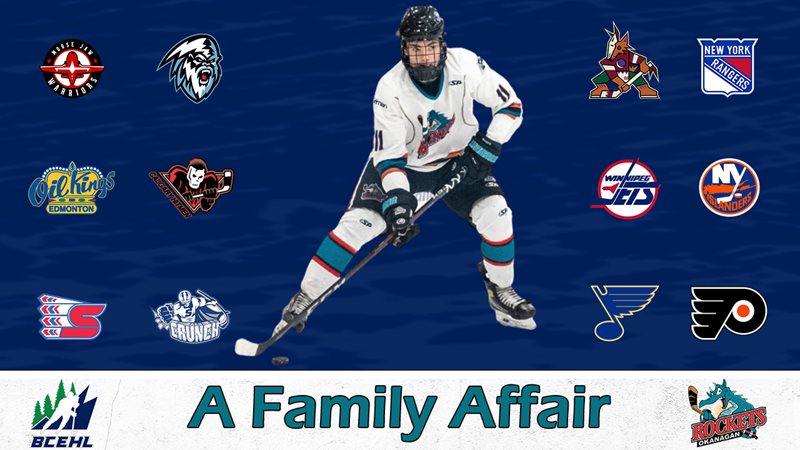 By MARIO ANNICCHIARICO
To say hockey is a family affair for the Finley's would be like Popeye saying he enjoys the odd leaf of spinach.
The proverbial apple hasn't fallen far from the tree for Jeff Finley, whose three sons - Jack, Mason and Max - are all working their way up the ladder. Of course, when your dad has 708 games of experience in the National Hockey League (NHL), the love and appreciation of the game tends to rub off on you.
Jeff Finley played all, or part, of 15 seasons in the NHL, beginning with the 1998-99 New York Islanders after they selected the defenceman 55th overall in the 1995 draft. He also made stops with the Philadelphia Flyers, Winnipeg Jets and New York Rangers before settling in with the St. Louis Blues' blue line from 1998-99 to 2003-04.
Jack, 20, is a second-round pick of the Tampa Bay Lightning and currently playing forward for the Syracuse Crunch of the American Hockey League (AHL) after five seasons in the Western Hockey League (WHL).
Mason, 18, currently plays forward for the Edmonton Oil Kings of the WHL after spending his first year of major junior with the Calgary Hitmen.
Max, the youngest having turned 16 in January, is a right-winger with the U18 AAA Okanagan Rockets of the BCEHL where he has recorded seven goals and 10 assists in 31 regular-season games, while playing fewer minutes as one of the younger players in the league.
The second-round pick of the WHL's Moose Jaw Warriors – and having played two games with the WHL club – has added nicely in the playoffs for the Rockets, scoring four goals and adding an assist in four post-season outings.
"I chose them (the Rockets) because that's the route my brother (Mason) took. He liked it there, so I thought I'd try that out. Both my brothers had the coach that I have this year as well, so I thought it would be a good choice," said Max, who was hoping to be a top-six forward but hasn't played those top minutes because of the age factor.
"I was hoping for a little bit more development, but I think I've worked pretty hard this year and showed that I can make Moose Jaw next year. I struggled a bit at the start, because of the older guys, but as the year went on I was getting more used to it," he said of the U18 BCEHL club.
The six-foot, 180-pounder also doesn't shy away from the rougher stuff, compiling 78 penalty minutes this season. The year previous Max tallied 32 goals, 51 points and 75 penalty minutes in 26 games with RINK Hockey Academy's U15 program.
As they often say, the youngest of the family tends to be the one who really pushes forward in their careers.
"There's a little bit of that and most of it is because of Max's personality," offered his dad, Jeff. "He has a strong personality. Yeah, there's definitely a little brother's syndrome, that's part of it, but it's mostly because of his personality."
Jeff says he was familiar with the Rockets program with his two older boys having gone through there and they had also played for coach Eric Blais at different levels.
"Max had also played with some of the other players on the team," said Jeff. "It's been good for him; he's had his ups and downs. I find that it's a big jump for 15-year-olds playing in this league. He's had some ups and downs throughout the course of the year, but I think overall he's improved and that's all we can ask for."
And like his brothers before him, and his dad, Max will continue to press on.
"Right now the goal is to play the WHL and ultimately make it as high as I can and never quit," said Max.
"If he's ready, I guess he'll be there," offered Jeff. "That's what the plan was when he signed his WHL contract, but he's got to be ready. It (the BCEHL) is a hard, physical league with a lot of 17-year-olds, so it's definitely a good preparation league for making the jump."
A jump his father first made back in 1983-84 when the Edmonton native played for the Summerland Buckaroos in, what was then, the British Columbia Junior Hockey league (now the BCHL). Jeff then played three seasons with the Portland Winterhawks of the WHL before being selected in the third round by the New York Islanders.
"For sure, my dad helps us out a lot," offered Max. "He knows a lot about hockey and my brothers and I soak up so much because of his knowledge and his willingness to help. We don't talk so much about the NHL, but he tells me everyday what to work on and says it's not easy. I know it's not easy, but he wants me to go far, too, and that's really good for me."
Jeff's career has obviously impacted all of his sons' growth.
"We talk about certain things, but I bring it up," said Jeff. "Jack, my oldest son, is playing professionally now and so a lot of my stories are more relatable because he's now going through it. We talk a lot. I think all along I've always wanted them to have a passion for it and love the game and get to the highest level that you can. If it's not the NHL, that's OK.
"Wherever the game takes you, as long as you enjoy it, like I did. It's a lifestyle and it was such a big part of my life. If they don't get there, that's fine. I'm fine with it, I just want them to love it and develop that passion for it."
Max does talk time-to-time with Jack and communicates by social media with the eldest sibling.
"He's doing well in Syracuse," Max said of Jack, who has seven goals and 15 points in his first year of pro after spending most of his junior time with the Spokane Chiefs and his last half year with the Winnipeg Ice of the WHL, where he had 34 points in 39 games. "We Snapchat. I watch all his games when I can and same with Mason."
Mason stands six-foot-two and 165 pounds and Jack is a towering six-foot-six and 225 pounds, so all three have the size scouts are looking for. Surprisingly, they are all forwards, unlike Jeff who was a defenceman.
"Yeah, that's funny," chuckled Jeff, who is now a pro scout for the Winnipeg Jets. "They're all right-handed shot forwards. With my oldest, Jack, he never really took a liking to it (defence) and the others followed, and I never really questioned it."
Nor does anyone question the Finley's desires to play the game.
"I think it's in our blood," said Max.
Mario Annicchiarico is a freelance writer based in Victoria who has previously covered the National Hockey League's Edmonton Oilers, as well as the Western Hockey League.