APPLICATIONS OPEN FOR FEMALE HOCKEY COORDINATOR AND FEMALE ZONE LEADS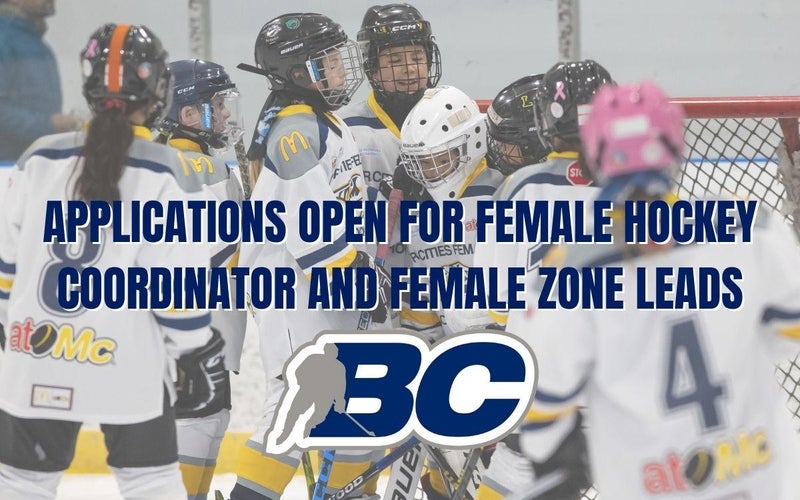 For Immediate Release
February 14, 2023
Saanichton, B.C. - BC Hockey is excited to announce that applications are now open for multiple volunteer positions for the 2023-24 season that focus on the development and continued growth of female hockey in B.C. and Yukon.
Applications are currently being accepted to fill the Female Hockey Coordinator position, along with the five Female Zone Lead positions. These are all one-year positions with the possibility of extension in the second year.
The roles and responsibilities of the Female Hockey Coordinator include:
Organizing delivery of the Female Hockey Model
Assisting with the conducting of seminars and meetings on female hockey programming
Assisting with the execution of programming alongside the Female Zone Leads
Working with the Female Zone Leads and District Associations to create annual female hockey goals for each zone, and report to Brianna Davey - Vice President, Member Services – Minor & Female
The five Female Zone Lead positions available are:
Kootenay Female Zone Lead
Lower Mainland Female Zone Lead
North Female Zone Lead
Okanagan Female Zone Lead
Vancouver Island Female Zone Lead
The Female Zone Leads will work with the District and Minor Hockey Associations in their zones to deliver female hockey programming, with responsibilities that include:
Organizing delivery of the Female Hockey Model within their zone
Assisting with facilitating meetings on female programming in their zone
Creating annual goals and targets for female hockey in their zone (in conjunction with the Female Hockey Coordinator)
Interested applicants should complete the application form HERE.
The application deadline is March 7, 2023.
-30-