APPLICATIONS OPEN TO REPRESENT BC HOCKEY IN THE 2023 IIHF GLOBAL GIRLS' GAME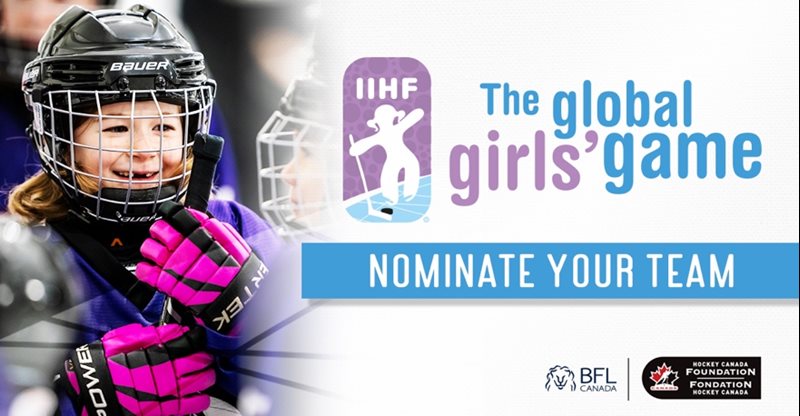 For Immediate Release
December 14, 2022
Saanichton, B.C. - BC Hockey is excited to announce that teams can apply to be BC Hockey's featured game for the 2023 edition of the IIHF Global Girls' Game, slated for February 18, 2023.
In previous years, the Canadian leg of the IIHF Global Girls' Game has operated by having one Member selected to host the event on behalf of the entire country. This year, all provincial branches are eligible to participate, meaning there will be 11 games and 400 participants taking part on February 18, 2023 across the nation. This includes a game featuring two teams from BC Hockey.
Global Girls' Game: The Who
Female teams U15 or under (U15, U13, U11, U9, U7) from any category are eligible to participate. The game must take place on Saturday, February 18, 2023, and be between two all girls' teams.
Global Girls' Game: The What
In each of the 11 games across the nation, one team will be designated Team White and the other Team Blue. Scores from each game must be submitted to Hockey Canada by 9:00 p.m. PST on Saturday, February 18th, and the scores will be tallied to determine the overall score between Team White and Team Blue from around the world.
On February 19, 2023, a 12th and final game will take place when Team Canada takes on Team USA in the Rivalry Series. The final score of this game will round out the Canadian score.
Applications for your association to be the featured game in B.C. can be submitted HERE. Applications will close on Tuesday, December 27, 2022, at 12:00 p.m. PST.
Hockey Canada will be providing each team with a Global Girls' Game package for all players including a jersey, toque, and commemorative patch. Additionally, to help offset any additional costs in hosting this event, Hockey Canada will provide a stipend of $1,000 (total for both teams to utilize).
-30-