ASIAN HERITAGE MONTH: CASSANDRA KEHLER, HAYLEY LEE AND DAPHNE MENG - FRASER VALLEY RUSH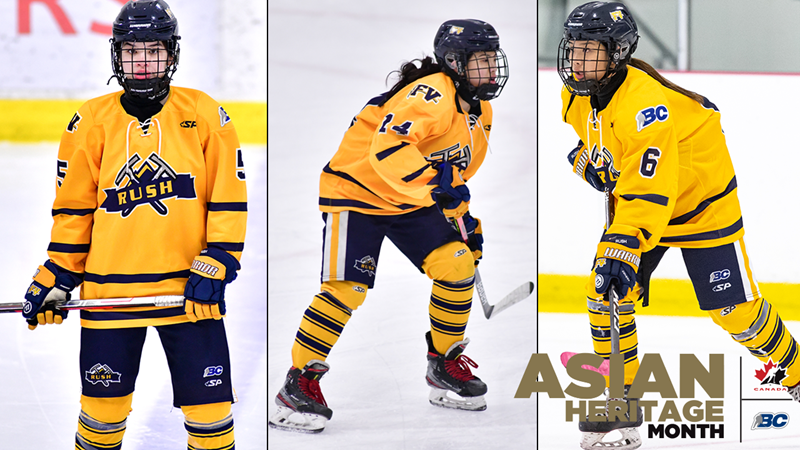 (Photo credits: Trent Rolfe, Trent Rolfe Photography. Left to right: Cassandra Kehler, Hayley Lee and Daphne Meng)
By MARIO ANNICCHIARICO
She may be the youngest player on her team, but Cassandra Kehler knows exactly what she wants out of life and it involves hockey.
The same goes for her Fraser Valley Rush teammates who are heading off to the Esso Cup, Canada's National Women's U18 Club Championship, which begins May 16 in Okotoks, Alta. There, the Pacific Region champions will join the Prince Albert Bears (Host), Durham West Lightning (Ontario), Notre Dame Hounds (West), Northern Selects (Atlantic) and Remparts du Richelieu (Quebec).
It will be a double celebration, of sorts as Kehler and teammates Hayley Lee and Daphne Meng will also acknowledge Asian Heritage month.
"It went really well," Kehler said of her season playing as an under-ager with the Rush, the first B.C. team to ever qualify as Regional champs for the national event. "Just looking at our record, we only lost a few games all year. Then we brought it in the playoffs. We had a lot of travel in the beginning of the year because we were worried Covid would affect it and end our season.
"It's a great group of girls," added Kehler, who attends R.E. Mountain Secondary in Langley. "The minute I got on the team, I felt so welcomed. I was so nervous because I was so much younger. But all the vets were so nice. It's such a great group."
That group amassed a spectacular campaign that included 28 wins in 32 outings, but required a come-from-behind series victory in the BCEHL final against the Northern Capitals. Then came the historic sweep of the Edmonton Pandas, becoming the first B.C. team to ever beat the Alberta champs in the Pacific Regional.
This will be the third appearance at nationals for the Rush, formerly known as the Phantom, which served as host in 2013 in Burnaby and was one of the two appointed Pacific reps a year later. Fraser Valley missed out on the semifinals in both years.
Kehler played most of her minor hockey in Langley in boy's programs but got her taste of girl's hockey in Bantam with the Surrey Falcons, but that was affected by the Covid-19 virus.
"So, to me, this is really my first real hockey season with girls. My parents didn't want me to do hitting so I came over for Bantam. I really enjoyed boy's hockey, it was fun, but the girl's environment is so nice. Everyone is really friendly. Both environments were really good, and I think everyone should get a chance to play both."
She proved she belonged with the older players by amassing 17 points in 32 games, solid numbers for an under-age winger.
Kehler, along with Lee and Meng, are of Asian descent. Kehler's mom, Yvonne, is from Singapore and moved to Canada at age 18 to attend university. Yvonne is a VP at Coast Capital Savings and dad, Dan, is a captain with Surrey Fire.
"Mom is hard-working. I feel like my family, in general, are super hard working. My cousin is going to the top university in Singapore right now," said the 14-year-old Grade 9 student. "My brother (Mitchell) works so hard and my dad. My family, in general, are hard working and I've learned how hard you have to work. 'You can't take an elevator to success,' that's what my dad always says.
"I'm hoping to work hard towards a scholarship. Hockey will eventually end at some time. University education will be the end goal," added Kehler, who is interested in medicine.
Meng, who is coming off an ankle sprain, is also interested in medicine and biology. The 17-year-old, Grade 11 student at Stratford Hall, a private school in Vancouver, is the daughter of Taiwanese parents, who moved to Vancouver in 1994.
"I do, yeah," she said of having interest in the culture. "Every summer, before Covid, we would go back to Taiwan because my family is there. All my grandparents, great grandparents and cousins. Ever since I was young my mother language is Mandarin, so I'm fluent in that as well.
"It's important for me to be tied to my ethnic roots. I think it's great that I get to experience the Western cultures in Canada and still understand the Eastern culture in Taiwan and understand the values and traditions there, too," said Weng, whose mother Cynthia is a pre-school teacher, who runs her own facility, while dad, Tony, is a travel agent.
For Lee, her mom, Melissa, is Japanese and French, while dad, Jason, is Chinese and Portuguese.
"It's cool being that diverse. I get asked about my culture a lot. I don't look too much of one. I get a lot of compliments, like, 'You look very mixed,' which is really cool."
Mom was a pediatric emergency nurse, who now teaches the field for Fraser Health and dad is a senior VP with Aerostream Logistics, so education is also important for Lee, who played her minor hockey with the Surrey Falcons, like her younger sister, Gabriella Lee, does now.
Like her two teammates, Lee – who attends Grade 10 at Clayton Heights Secondary and resides in Cloverdale - also hopes to acquire a scholarship through hockey, be it on the Canadian east or west coasts, or NCAA.
"We're getting ready for Esso Cup. I'm super excited," said Lee, a 16-year-old left-winger. "It's absolutely been a good year, especially being my rookie year. Honestly, I was lucky enough to get into some of the big moments, too, where there was lots of responsibility.
"Honestly, I don't know how we'll do at nationals, but I have faith in our team. We're the underdogs, we have no pressure on us and we're going to take an uppercut (swing) against the other teams. It's been a great experience so far. We definitely had a strong regular season, where we went 20-0 in our first 20 and after that, it just became a really great season.
"It's going to be really nice if we bring hardware back and what's also cool is once my team won provincials we drove up to Kamloops and my sister won provincials, so that was exciting."
The excitement is sure to continue for all three members of the Rush and the remainder of the team.
"I'm so excited," said Kehler, who had to earn her way, playing as an under-ager. "It's going to be the hardest hockey we've faced so far. I'm competitive, so I want to play at the highest level. This is nationals. We're going to see where we sit against all these teams. We've had tons of prep, we're going in to win and I'm so excited.
"Everyone got an opportunity to prove themselves. Everyone got an opportunity on the power play and penalty kill. Once we had our set lines, it remained that way. If the line was playing well, they would get more time, so ice time was 100-per cent earned."
Meng is hoping to be fully healed by the time the tournament begins.
"I'm super excited for it. It's been a really great season. We have a great group of girls with good coaching. We've put in a lot of work this season. In practices, we always push each other to do our best and that's led to a great season," she said.
"Being the first team from B.C. to make it (as Pacific reps) is a great accomplishment. I just want to enjoy every moment of it, on and off the ice. It would definitely be great to win though."