ASIAN HERITAGE MONTH: DRYDEN KURAMOTO, OLIVER ASHTON-AUYEUNG AND TAIT HUMPHRIES - VANCOUVER NE CHIEFS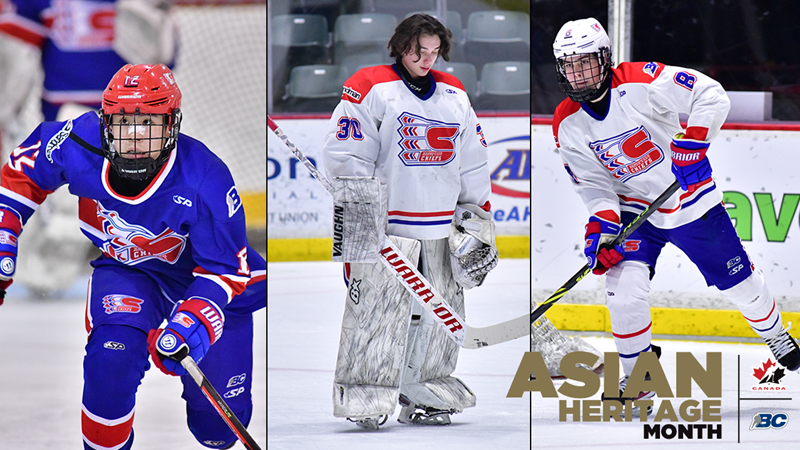 (Photo credits: Trent Rolfe, Trent Rolfe Photography. Left to right: Dryden Kuramoto, Oliver Ashton-Auyeung and Tait Humphries)
By MARIO ANNICCHIARICO
The theme for Asian Heritage Month 2022 is, Stories of Recognition and Growth, and that certainly holds true for three members of the Vancouver North East Chiefs, who have grown exponentially through this 2021-22 campaign.
Along with their teammates, Dryden Kuramoto, Oliver Ashton-Auyeung and Tait Humphries are enjoying the fruits of their labours, tucking away a BCEHL U18 title, followed by a Pacific Regional Championship and now have their sights set on the Telus Cup.
The Chiefs will join the Notre Dame Hounds (West), Sydney Rush (Host), Cantonniers de Magog (Quebec), Mississauga Reps (Central) and Moncton Flyers (Atlantic) in a battle for national supremacy in Okotoks, Alta., beginning May 16.
The Chiefs – with an impressive regular-season record of 26-4-1 – will make their Telus Cup debut and look to join the 1982 Burnaby Winter Club Travellers – led by Cliff Ronning - as the only team from the westernmost province to claim a national championship.
"Oh my god, it's so exciting. It's a once in a lifetime opportunity," said Kuramoto, a draft pick of the Calgary Hitmen of the Western Hockey League. "It's been really enjoyable. I honestly didn't think we would get this far at the start of the season."
The season ended with BCEHL playoff victories over the North Island Silvertips and Greater Vancouver Canadians before downing North West Hawks in the league championship final. Then came a thrilling Pacific Regional victory in which the Chiefs lost the opener in overtime to the visiting Calgary Buffaloes but bounced back with a double-OT triumph in Game 2 and a close 2-1 win to advance to nationals.
It was the first time since 2014 that B.C. had defeated its neighbouring province in the Pacific Regional.
"It's exciting. I just want to try our best to win it and I really think we can do it. I feel like we always find a way to win and hopefully it can happen again," said Kuramoto.
"It's been a wild run. We have nationals and hopefully we can be at our best," added netminder Ashton-Auyeung, who led all BCEHL goalies in wins this season. "I think 2014 was the last time B.C. has won (Pacific Regionals) so it's good to be an underdog.
"We've been prepping a lot, pre-scouting teams and going over video. We've also been working our special teams. It's nothing we haven't done before," said the five-foot-11, 160-pound netminder who played the majority of the games for the Chiefs.
"It's pretty exciting. It's been an awesome run. It's pretty cool to come back after Covid and have a season like this one," added Humphries, a draft pick of the WHL's Saskatoon Blades, who signed a deal with the club and spent a month with them to finish their season.
All three are also proud of their Asian roots.
"Both my parents are Japanese. I'd say my family has very firm beliefs in the Japanese culture," said Kuramoto, a 16-year-old. "Mom grew up in Japan and our house is very Japanese.
"Of course, we live in Canada, but I'd say it's very much a Japanese household. I can speak Japanese and it's nice to have both," added Kuramoto, who travelled to Japan in his youth and stayed with his grandparents.
"My mom is Japanese. I think the big thing for me is, to be successful in hockey is always taking school pretty seriously. That's something that is valued pretty highly in the Asian culture," said Humphries, whose mom Cindy Kitamura is an ergonomist and dad, Matt, is a fireman.
For Ashton-Auyeung, he has a Chinese background, where mom Sheila keeps strong ties to her Chinese culture. Dad, Alan, is Canadian.
"Yeah, my mom is a typical, strict Chinese mom with education carrying strong importance. School is a big priority and in hockey she has high expectations of me, as she does in my schooling," he said of Sheila who is a single mother who works in the stock market.
"Hopefully I can earn a spot on a Junior A team and from there I'd like to have as many good seasons as I can to attract some (NCAA) schools," added the Grade 11 student at Heritage Woods Secondary.
Humphries is set on the WHL route, but still finds education to be critical.
"I always felt comfortable keeping up with my schoolwork on away trips," he said. "Taking summer school classes and now I only need two classes next year to graduate."
Kuramoto is still leaning towards playing next season for the Chilliwack Chiefs of the BCHL, despite the Hitmen's desire for him to take the WHL route.
"I'm pretty sure Calgary will be watching," Kuramoto said of the Telus Cup, as Okotoks is virtually in Calgary's backyard, just 18 kilometres south. "They really want me to come and play for them, especially with them rebuilding. We'll see. I'll go to their camp after the Telus."
Kuramoto did play five games as an affiliate with Chilliwack and had a taste of what the BCHL would be like.
"Four of them didn't go as well as I'd hoped, but in the other I played really well. It's different, a lot faster and they're bigger than everyone else," said the Grade 10er from Burnaby Central Secondary. "I'm definitely comparing WHL and NCAA and I think my parents would support me either way."
Pressed on how his season went personally, Kuramoto replied: "I'd say I wasn't that happy with my regular season, but the playoffs and at the Mac's, I think I produced pretty well. I'm happy with the end of my season."
The Chiefs finished as runners-up at the prestigious Mac's tournament in Calgary.
Kuramoto finished with 14 goals and 26 points in 26 regular-season games with the Chiefs and added three goals and 11 points in seven playoff games.
Humphries had four goals and 15 points in the regular season as a defenceman with the Chiefs and added three goals and seven points in seven post-season games.
Ashton-Auyeung was an impressive 18-2-1 in regular-season action with two shutouts and 2.36 goals against average (GAA). In the playoffs he went 6-1 with a 2.62 GAA.
For now, all three are focusing on one thing, the Telus Cup.
"For sure, we'd like to cap it off at nationals. We're excited," said Ashton-Auyeung.
"It's been a wild run. We have nationals now and hopefully we can be at our best," said Humphries.