BC HOCKEY ANNOUNCES RETURN OF ONLINE 50/50 FOR 2023 WORLD JUNIOR CHAMPIONSHIP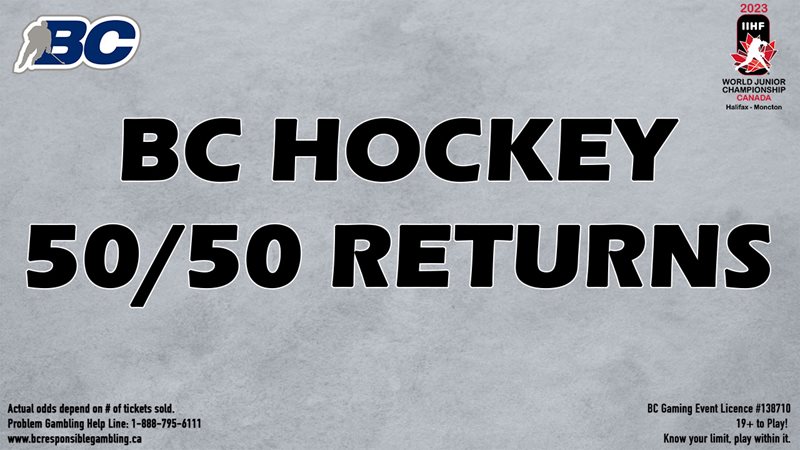 For Immediate Release
December 23, 2022
Saanichton, B.C. – BC Hockey, in partnership with Hockey Canada, is excited to announce that the online 50/50 will return for British Columbians during the 2023 World Junior Championship, hosted in Halifax, Nova Scotia and Moncton, New Brunswick from December 26, 2022, to January 5, 2023.
Individuals who are aged 19 and older and are physically located in the province of British Columbia at the time of purchase will be eligible for the 50/50 draw.
Fans will be able to purchase 50/50 tickets from their mobile device, tablet or computer during the purchasing window. All funds raised from the 50/50 draws will remain in British Columbia and will be invested directly back into female hockey initiatives, with a focus on initiation and "Try It" programs for the growing number new participants in our game.
"We are thrilled to bring back the online 50/50 draw for British Columbians during this great hockey tournament over the holiday season," BC Hockey's Chief Executive Officer Cameron Hope said. "This serves as a great opportunity for hockey fans to support female hockey at the grassroots level in our province, while also having a chance to take home some cash."
There will be three draws, and three separate opportunities to purchase 50/50 tickets during Team Canada's tournament schedule. Two will be during the round robin, with a third and final opportunity taking place ahead of a draw on January 5th, the date of the gold medal game.
Your first shot at winning the 50/50 will be on December 28th when Team Canada takes on Germany. Tickets will be available for purchase when the draw opens on December 27th.
Tickets for all 50/50 draws can be purchased online HERE.
Here are the specifics for each of the draws:
Draw date - December 28, 2022 (draw opens Dec. 27)

Winner: Ted Snell (Vanderhoof)
Ticket #

99000682020

Take-home Prize: $12,100

Draw date - January 2, 2023 (draw opens Dec. 29)

Winner:

Terry Bax

(

Terrace

)
Ticket

#99003170242

Take-home Prize: $37,945.00

Draw date - January 5, 2023 (draw opens Jan. 3)

Winner:

Penny Pratt

(

Salmon Arm

)
Ticket

#99006877041

Take-home Prize: $103,280
Each draw will close at 6:30 p.m. PST on the draw date.
The winning numbers will be posted on BC Hockey's social media platforms (Facebook, Instagram and Twitter), BCHockey.net and the 50/50 Website shortly after the closing of the draw.
You must be 19 years of age or older to purchase a 50/50 ticket and must be in British Columbia (BC) at the time of purchase.
-30-
Actual odds depend on # of tickets sold.
Problem Gambling Help Line: 1-888-795-6111
BC Gaming Event Licence #138710
Know your limit, play within it