BC HOCKEY NAMES WHITNEY JUSZKIEWICZ FEMALE COACH MENTOR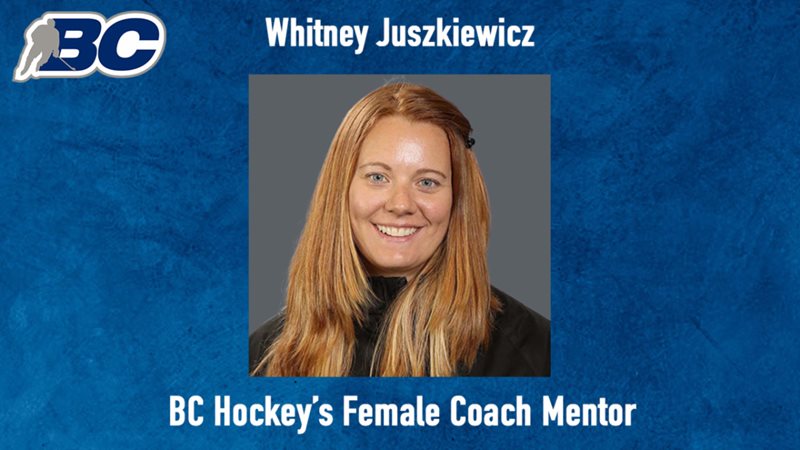 For Immediate Release
September 21, 2022
Saanichton, B.C. - BC Hockey is excited to announce Whitney Juszkiwicz as Female Coach Mentor for the 2022-23 season.
In this newly created position, Juszkiwicz's focus will be on the development of female coaches throughout B.C. and Yukon. The Edmonton, Alta. native has coached for over 10 years with her experience ranging from grassroots to elite level hockey.
Juszkiwicz responsibilities will include:
Providing guidance and support for female coaches across B.C. and Yukon
Connecting mentors with new female coaches
Providing support and learning opportunities for coach mentors
Executing weekly or monthly reporting to Female Hockey Coordinator
Creating core concepts in the creation of the Female Mentorship Plan
Working with Female Zone Leads and MHAs to create relationships with volunteer personnel
"I am excited to begin this new role with BC Hockey that will focus on the growth and development of female coaches," Whitney Juszkiewicz BC Hockey's Female Coach Mentor said. "Providing support and working with new and experienced coaches throughout our branch will allow us to grow the game within B.C. and Yukon."
Last June, Juszkiwicz was honoured as the 2022 BC Hockey Development Award - Coaching at BC Hockey's Annual Award Ceremony.
---
Whitney Juszkiewicz: Was named an assistant coach with Team BC's Female U18 Team that will compete at the 2023 Canada Winter Games on Prince Edward Island. Previously served as Female POE Coordinator in 2017. She also served as a leader in the National Hockey League Coaches Association Female Coach Mentor Program. She is also a Hockey Canada Skills Coach.
She was the recipient of the 2022 BC Hockey Development Award for Coaching and was named the BFL Female Coach of the Year for B.C. in 2021. In 2020, she was named North Vancouver Minor Hockey Association's Rep Coach of the Year.
-30-