BC HOCKEY OFFERING FUNDING FOR FEMALE INITIATIVES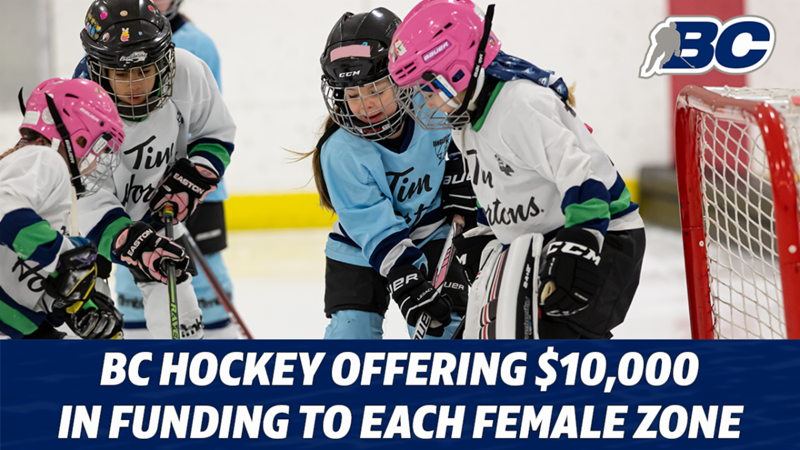 For Immediate Release
June 5, 2023
Saanichton, B.C. - BC Hockey is excited to announce that $10,000 in funding is being offered to each Female Zone for the 2023-24 season for female initiatives.
Minor Hockey Associations (MHAs) can now apply for funding for an event/initiative and we encourage MHAs to look at creating their own initiatives to support women and girls hockey recruitment and retention, officiating, coaching, membership opportunities and more.
"After a successful World Junior Championship 50/50 last winter, we are very excited to offer this grant funding for women and girls hockey across the province," BC Hockey CEO Cameron Hope said. "This is a great opportunity for MHAs to develop new ideas for events in their area, or offer an initiative that they may not have had the opportunity to offer in the past."
Here is a list of initiatives that have been done in the past:
Esso Fun Days
"Try It" programs
Female skill sessions
Female jamborees
Officiating seminars
On-ice coaching sessions
Each Female Zone (Kootenays, North, Lower Mainland, Okanagan, Vancouver Island) will have $10,000 in funding available. MHAs can submit their event/initiative through THIS LINK.
MHAs will be notified within 3-5 business days regarding their application status. All applications must be submitted a minimum of three weeks prior to the event date. Incomplete applications will not be reviewed and all MHAs will need to provide an invoice for reimbursement.
If you have any questions, CLICK HERE to contact your appropriate Female Zone Lead who will be able to guide you through the application, answer any questions you may have and assist in supporting your event.
We gratefully acknowledge the financial support of the Province of British Columbia.
-30-