BC HOCKEY'S 2022-23 AWARD RECIPIENTS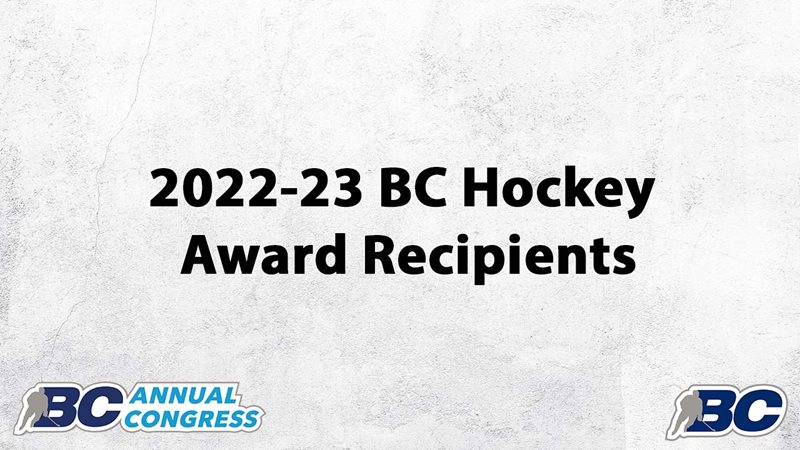 For Immediate Release
June 11, 2023
Saanichton B.C. –
BC Hockey wrapped-up the 2023 Annual Congress with our Awards Banquet on Saturday night at the Penticton Lakeside Resort in Penticton B.C.. Thank you to everyone involved and congratulations to all of our winners. The recipients of the 2022-23 BC Hockey Awards are:
BC Hockey Life Members
Bonnie Cameron, Pacific Coast Minor Hockey Association (PCAHA): In 1985, Bonnie Cameron became West Vancouver MHA's President and served in that capacity for three seasons. In 1989, she was elected to the PCAHA Executive and served the following 14 seasons in a variety of capacities, chairing virtually every PCAHA committee. In 2001, she was elected to the BC Hockey Executive Committee and continued as the District Director for an additional 14 years. After this she stayed active with BC Hockey in Branch-wide roles such as Discipline Coordinator and Championship Playoff Coordinator.
June McKenzie, Greater Trail MHA: June McKenzie joined the Trail Minor Hockey Executive Committee in 1990. In 1993, she got involved with West Kootenay MHA and volunteered in various positions such as Statistician, Division Governor, Secretary, and Secretary Treasurer. In 2010, June was elected as the West Kootenay District Director for BC Hockey and continued in this role until the new Board structure was adopted in 2015. In 2015, she became BC Hockey's Branch Coordinator, Minor Hockey Operations, a role she still holds today.
BC Hockey Diamond Stick Award
Don Freer, Victoria, B.C.
: Don Freer was the second full time Executive Director of the BC Amateur Hockey Association, where he served 27 years in the position until his retirement in 2000. Don was responsible for managing the purchase of the Association's first office and oversaw the construction of the current office. He also oversaw a governance review that BC Hockey undertook in 1985. After retiring as Executive Director, he was elected as an Honorary Life Member of BC Hockey in acknowledgement of his contributions and dedication to hockey in British Columbia and Yukon.
Chair of the Board Award
Larry Krause, Chilliwack, B.C.
: Larry serves as the Minor Officiating Development Facilitator and has spent more than three decades dedicated to the development of officials. He helped lead a Branch wide return to in-person certification, which included a unique opportunity to include a sign language interpreter for the first time in a super clinic setting. Larry is innovative with his approach to meeting the development needs of every official he engages with and there is likely not an official within BC Hockey today that has not been impacted directly or indirectly by his unmatched leadership.
Life Members' Executive Award
Roy Sakaki,
Salmon Arm Minor Hockey Association
: Roy has volunteered as a coach, coach coordinator, referee in chief, and referee assignor. Roy is also the administrator of Salmon Arm Minor Hockey Association, a role he has held since 2005. In the early 1990s, Roy picked up a whistle and put on the stripes, and 30 years later, he is still officiating. He continues to be a tremendous influence on future generations of BC Hockey officials.
Indigenous Impact and Legacy Award
Vancouver Female Ice Hockey Association: Vancouver Female added an Indigenous Liaison Committee this past year and this has spring boarded many different initiatives and provided great leadership in the area of reconciliation. One of these initiatives was an Indigenous Jersey Crest Design Call for Proposals. This initiative invited Female Indigenous Artists to apply to design a jersey crest for Vancouver Female IHA teams. Another initiative that Vancouver Female has put into action is their Indigenous Girls "Come Try Hockey" programs. These are free, fun and safe sessions where equipment is provided and no previous hockey, skating or sport experience is required.
Frank Spring Award – Minor Hockey Association of the Year
Capital Region Female Minor Hockey Association: Starting with 217 players when the association was first established in 2019, Capital Region completed the current season with 295 players, plus another 28 non-rostered players in development-only programs. This was thanks in large part to their NHL/NHLPA First Shift programs that the association ran which offer new hockey players the chance to try hockey and receive a full set of equipment. All together the association has put on six Esso Fun Day six-session programs, and four First Shift programs in the four seasons since its establishment.
Ernie Gare Award – BC Hockey Coach of the Year
Blaine Markwart, Kitimat MHA: Blaine spent the 2022-23 season as the head coach of Kitimat's U13 Tier 4 team and coached the team to the North West Zone Championship, booking the team a place in the U13 Tier 4 Championship. Not only did they win the BC Hockey Championship, but they also had the lowest penalty minutes by any team at their championship, giving them the Fair Play Award. This was the first BC Hockey Championship victory for Kitimat MHA at any level in 22 years.
Program of Excellence Award
Kris Hogg, Female U18 Team BC
:
Kris Hogg has been an integral part of the Female Team BC program for the last three seasons, spending the first year as an assistant coach, and the last two as the team's head coach. In 2021, Kris coached Team BC during a difficult time. Nonetheless, Team BC came out on top at the 2021 U18 Western Regional Women's Championship. This past season, Kris coached Team BC at the 2023 Canada Winter Games, and under his guidance Team BC battled adversity and claimed the first-ever gold medal for a Female Team BC at the Canada Winter Games.
BC Hockey Official of the Year
Graedy Hamilton, Cowichan Valley MHA: Graedy has been part of the BC Hockey officiating development program for nearly a decade. He was hired by the Western Hockey League as a referee at 18 years old and following the COVID break, Graedy was hired by the American Hockey League and began his pro hockey officiating journey. The 2022-23 season has epitomized Graedy's rise within the officiating world, with IIHF assignments at the Hlinka-Gretzky Cup and World Junior Championship, where he skated the bronze medal games at both events. He is the youngest referee in over a decade to be selected for both the third round of the AHL playoffs and the Ed Chynoweth Cup in the WHL.
BC Hockey Safety Award
Michael Liu, Greater Vancouver Comets: Mike is a volunteer trainer with the Greater Vancouver Comets program in the BCEHL and a volunteer student trainer with St. Georges School and the University of British Columbia Thunderbirds team. Despite being a full-time student at the University of British Columbia, and an athlete himself, Mike always attends the Comets' games, home and away, and consistently shows dedication to the team and assisting the players within the program going above and beyond for the players.
Development Award – Coaching
Kurt Corman, Kelowna B.C.:
Kurt calls Kelowna home and he has been integral in the development of many coaches in the province throughout his 20+ years of service. He is the District Coach Coordinator for Okanagan South and is a clinic facilitator and evaluator for both the Okanagan North and Okanagan South regions.
Mike Landucci Development Award – Officiating
Galen Brewer, Juan de Fuca MHA:
The development of referees is an ongoing and challenging program for many, but Juan de Fuca Minor hockey has been blessed for many years to have the dedicated Galen Brewer as the association's Referee in Chief. He provides an amazing experience for the young officials within the association and the veteran officials as well.
Hockey Canada Officiating Awards
Most Deserving: Roy Kozuki, Williams Lake MHA
Most Improved:
Dana Edamura, Vancouver Female MHA
Most Promising:
Erika Denis, Kamloops MHA
Fred Heslop Minor Hockey Week Awards
Brendon Caron, Greater Vernon Minor Hockey Association
Mike Forward, Kitimat Minor Hockey Association
Doug Geiger, Lumby Minor Hockey Association
Sunny Khakh, Burnaby Winter Club
Theresa Philips, Vanderhoof Minor Hockey Association