BC HOCKEY'S OLYMPIC CORNER: LANDON FERRARO, MEN'S TEAM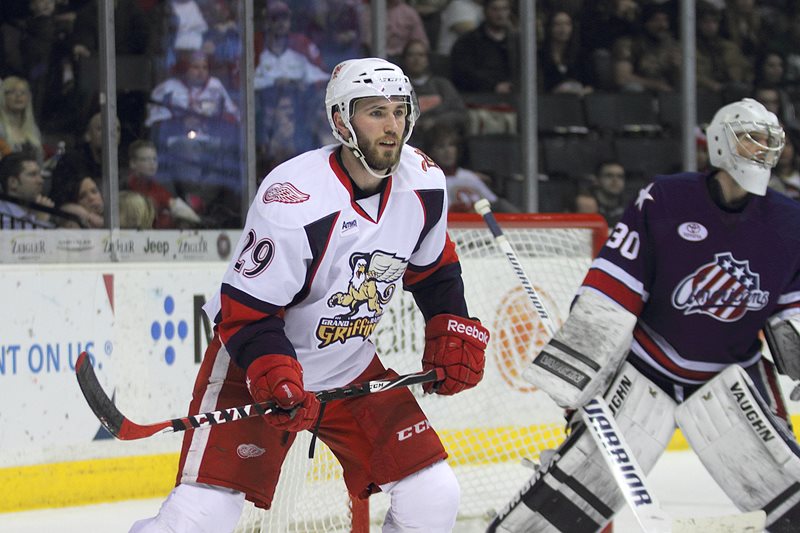 Mark Newman/Grand Rapids Griffins
By MARIO ANNICCHIARICO
Landon Ferraro can easily connect the dots as to when his minor hockey career really flourished.
Having played some of his younger years in Atlanta where his dad, Ray Ferraro, was stationed in the latter portion of his stellar National Hockey League career, young Landon then moved to Vancouver where his dad eventually retired.
Moving back to the province where he was born, back on August 8, 1991, in Trail. B.C., Landon then had stints with the Burnaby Winter Club U-15s, where he racked up a whopping 71 goals and 108 points in 79 games in 2005-06. He then tallied 21 goals and 34 points in 29 games with the Vancouver North West Giants (now known as the Hawks) the next season before moving on to the Western Hockey League and the Red Deer Rebels, who selected him second overall in the 2006 Bantam Draft.
To think it's all led the now 30-year-old to a spot on the Canadian men's Olympic hockey team roster.
"I moved to Vancouver when my dad retired. I was playing minor hockey in Atlanta before that. I remember getting my first tryout at Burnaby Winter Club and seeing the difference from Atlanta minor hockey to being thrown into a hotbed in Vancouver," recalls Landon.
"It was pretty eye-opening, but for a kid like me it was everything I could have ever asked for. There was always open ice and so many coaches there to help. I had John Batchelor for three years and he's still someone who's in my life, who I text with every once in a while."
"It was so much fun, and it was so competitive, but at the same time there was a lot of teaching and players moving in and out of there, who moved on as well. It was great. Then playing for the North West Giants, that year we had a pretty good team getting all the way to the Telus Cup (the national midget-aged championship)."
Ferraro says he also benefitted from having Jon Calvano, a skills coach for so many players in the summer. "So having him for a full year there was a pretty big jump for me. Leading into my WHL time, that was a pretty big step and those guys helped me out so much and it was so much fun playing back home."
Ferraro, on a Zoom call with Team Canada and members of the media in preparation for the upcoming Olympics, was very open about how his minor hockey days in Vancouver helped him blossom into the player he had become.
Sure, the flashy forward has had his troubles since turning pro back in 2009-10 after being drafted 32nd overall in the second round of the 2009 NHL Draft by the Detroit Red Wings. He only played two games that season with the Grand Rapid Griffins before going back to junior with the Everett Silvertips in 2010-11.
It was then four years with Grand Rapids of the American Hockey League, winning the Calder Cup in 2012-13, with just seven games played in the NHL with Detroit during that span.
Ferraro appeared in seven games for the Red Wings in 2015-16 before suffering a knee injury and upon his return he was claimed off waivers by the Boston Bruins where he played 58 games and collected five goals and 10 points. He then became a free agent and toiled in the AHL with the Chicago Wolves and Iowa Wild, playing just two games with the parent Minnesota Wild.
He then opted for Europe, in Germany, where he signed with the Berlin Polar Bears in 2019-20 and for the last two seasons, he's played for the Cologne Sharks in the DEL. All told, Ferraro played 77 games in the NHL with just seven goals and five assists in an injury-plagued career.
It was in Germany that he got the call to join Team Canada for the Olympics. This will be the fourth time he's donned the Maple Leaf, having played in the U-17 World Hockey Challenge with Canada Pacific in 2008; the World U-18 Championship the next year; and the recent Channel One Cup in Russia.
Now it's the biggest international stage of all, which isn't lost on Ferraro.
"It hasn't fully sunk in yet. It's something you dream about as a kid, obviously," he says of the recent announcement. "Being a Canadian kid, as you start getting older and start going through your pro career, it's something that's not even on your radar anymore and to have this opportunity is absolutely amazing. It's super exciting and I'm really looking forward to it."
As is his proud father, now a colour analyst with TSN, and his stepmom, Cammi Granato, herself a world-renowned American hockey player and former Olympian.
"It's been great," Ferraro says of his relationship with his father. "I'm guessing I would still call him after every game even if this wasn't what he was doing for a living."
His father has been there every step of the way, he says.
"It's just something that brought me and my dad closer and closer, especially as I got through junior and turned pro," he says of the hockey part of the relationship. "Every question I've had he's been able to answer and give me some insight."
"It goes off the rails a little bit if it gets onto penalty-killing or blocking shots, he avoided that at all costs," laughs the younger Ferraro, before turning serious again. "It's been amazing. It's been a lot of time that a lot of fathers and sons don't get to have once they get out of high school or into university. We've spent a lot of time together and it's something that I don't take for granted, that's for sure."
After the announcement that Landon would join the Olympic team, he Facetimed with his dad.
"I'm sitting in Germany, and you can still have some of that feel of being together. Just seeing how excited he was and seeing how big of a smile he had. He knows everything I've been through. I've had a ton of injuries and I didn't know whether I'd be able to keep playing anymore."
"I put in all the work and saw all the doctors. Thank God we figured everything out to where my body feels really good and I hope to play five or six more years now."
And like so many others on this current Olympic team, Ferraro never expected to be in this position.
"The games mean so much and we have a pretty veteran group here. It's lucky enough that we have a couple of guys who were there last time (in the 2018 Olympics), who will kind of lead the way, but at the same time it's going to be really exciting and so much to take in," he says of the experience which he's sure his dad will be watching live, no matter the time difference from Beijing. "I guarantee he'll be up watching the games regardless of what time they are."
"Honestly, this is about the only thing I can brag on him now," he says of having the honour of playing in the Olympics, something his dad never experienced. "I got drafted way ahead of him, but 18 years (in the NHL) and over 1,200 games compared to my 75ish, that trump's that pretty quick. But this is one this summer - especially with having my stepmom Cammi, who has been to two Olympics - we will have a bit of fun with him with that."
Ferraro adds he's had a ton of messages and feels he has a lot of people behind him as well.
"To get those messages and see how many people this means something to is pretty indescribable."
Mario Annicchiarico is a freelance writer based in Victoria who has previously covered the National Hockey League's Edmonton Oilers, as well as the Western Hockey League.