BC HOCKEY'S OLYMPIC CORNER: MIKE CAMPBELL, OFFICIAL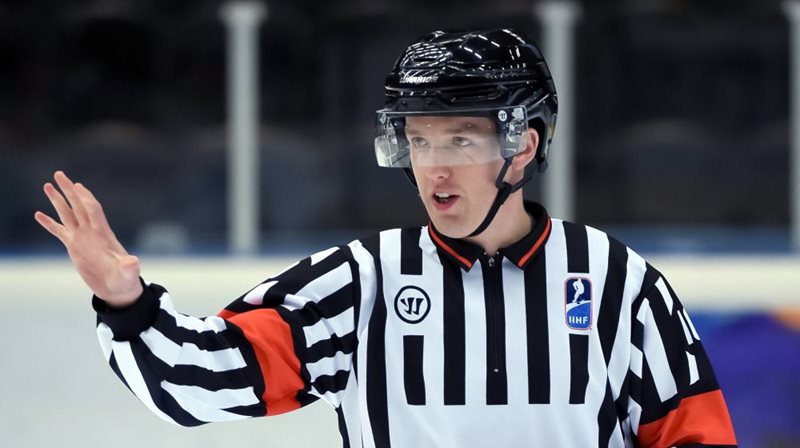 Hockey Canada Images
By MARIO ANNICCHIARICO
In 32 years of being on this earth, Michael Campbell has experienced so much more than most, and his rewards continue to pile up.
The B.C.-based hockey official is one of three Canadians in Beijing for the Olympic Games, already having experienced working at two World Junior Hockey Championships and one World U-18 Hockey Championship.
The American Hockey League and Western Hockey League official, who is based out of Surrey and grew up in the Cloverdale Minor Hockey Association system (both as a player and official), continues to grow and give back to the game.
Campbell is also a volunteer with BC Hockey, assigning the Pacific Junior Hockey League (PJHL), the British Columbia Elite Hockey League, U-18 prep hockey in the Lower Mainland, and he's been a part of high-performance camps in the summer. Right now, it's all about the Olympics.
"It'll be a pretty cool experience," Campbell said prior to departing for the Olympic games. "I would say it's the ultimate, so far. I've been chasing the dream for a little while and, at this point, this is definitely the pinnacle of anything that I've been assigned to."
Campbell began officiating at age 12, playing rep hockey at the time. In his sixth year in the American Hockey League, he obviously has NHL aspirations.
"It's been a journey," he admits. "That's been the goal, to try to make that progression to the next level and I've been working on that the last few years."
Not to take his other tasks lightly. When it comes to hockey, Campbell is all in, be it the Olympics, AHL, WHL or minor hockey.
"It's definitely something I enjoy doing. I work at a hockey store. I've officiated for 20 years, and I played hockey competitively up until I was 21 years old. Hockey is definitely something I love doing and being involved in," says Campbell, who also instructed officiating at B.C. summer schools in his first few years in the high-performance program.
Success came early for Campbell, who began refereeing junior hockey at age 19, in some instances younger than some players. He's obviously dedicated a large portion of his life to officiating.
"I would say that from my minor hockey years up until I was 21, I was on the ice five days a week, between officiating and playing and in the last 11 years I've been in the Western Hockey League and the last six years in the American Hockey League," he says.
"That's a lot of time spent away from home, a lot of travelling and a lot of time at the rinks, missing birthdays and, for a couple of years, missing Christmas at home for the World Juniors. As much as you miss family time it's obviously a great honour to work those tournaments and to be rewarded for your hard work getting there."
Married to Alyssa and with nine-month-old daughter Kinsley at home, it's a fine balance for Campbell, who will be joined by fellow Canadian officials Olivier Gouin and Dustin McCrank in Beijing.
The three will have to adjust to the international game and rules, which does have some differences from the North American game. It's not like he hasn't been there before at World Juniors in Edmonton and the Czech Republic, and the World U-18 tournament in Sweden.
"There used to be a bigger adjustment, but in the last year or so we've seen a change in the IIHF rulebook to mimicking more of the North American rules," says Campbell, like the checking from behind rule and not being able to win a face off with your feet.
"It's a lot easier now than what it would've been for like when I went to Sweden, where I would have spent the entire flight reading the entire IIHF rule book to make sure I was figuring out all the little differences," explains Campbell.
The Surrey resident has had the chance to work bronze-medal games at both World Juniors and the gold-medal game at the U-18 Worlds. He was in Edmonton two years ago for the World Juniors, which was played with no fans because of COVID-19.
"It was different, but it was a really good experience. It was unique in that it was all Canadian officials, which was the first time they've ever done it in an international tournament," he says. "It was good for the fact that you knew most of the officials and had connections and familiarity, but it added a little bit of pressure being on home soil. In some instances, you were working Canadian games as opposed to other countries, so it was a different aspect or a pressure point if you will."
For the Beijing Olympics, Campbell had to be tested for COVID, twice in a 72- and 96-hour period before flying out. There were also screen tests seven and 14 days out to make sure everyone is in good health.

He's come a long way from first hanging a whistle around his neck and donning his striped jersey. So how did he first get into officiating?
"It was that or doing a paper route or getting a small job doing odds and ends for me," he says with a chuckle. "At the time, I obviously loved playing rep hockey and I saw it as a way to get extra time on the ice. The pay wasn't bad, either. When I started at 12, I wanted to earn some spending money and it provided me more benefits than walking around the neighbourhood putting newspapers on doorsteps."
Obviously, it was the right choice for Campbell, who was recognized in 2013 as the BC Hockey Official of the Year and also works for The Hockey Shop, where he's the e-commerce product manager for the company's website.
Mario Annicchiarico is a freelance writer based in Victoria who has previously covered the National Hockey League's Edmonton Oilers, as well as the Western Hockey League.