BC HOCKEY'S OLYMPIC CORNER: TYLER WOTHERSPOON, MEN'S TEAM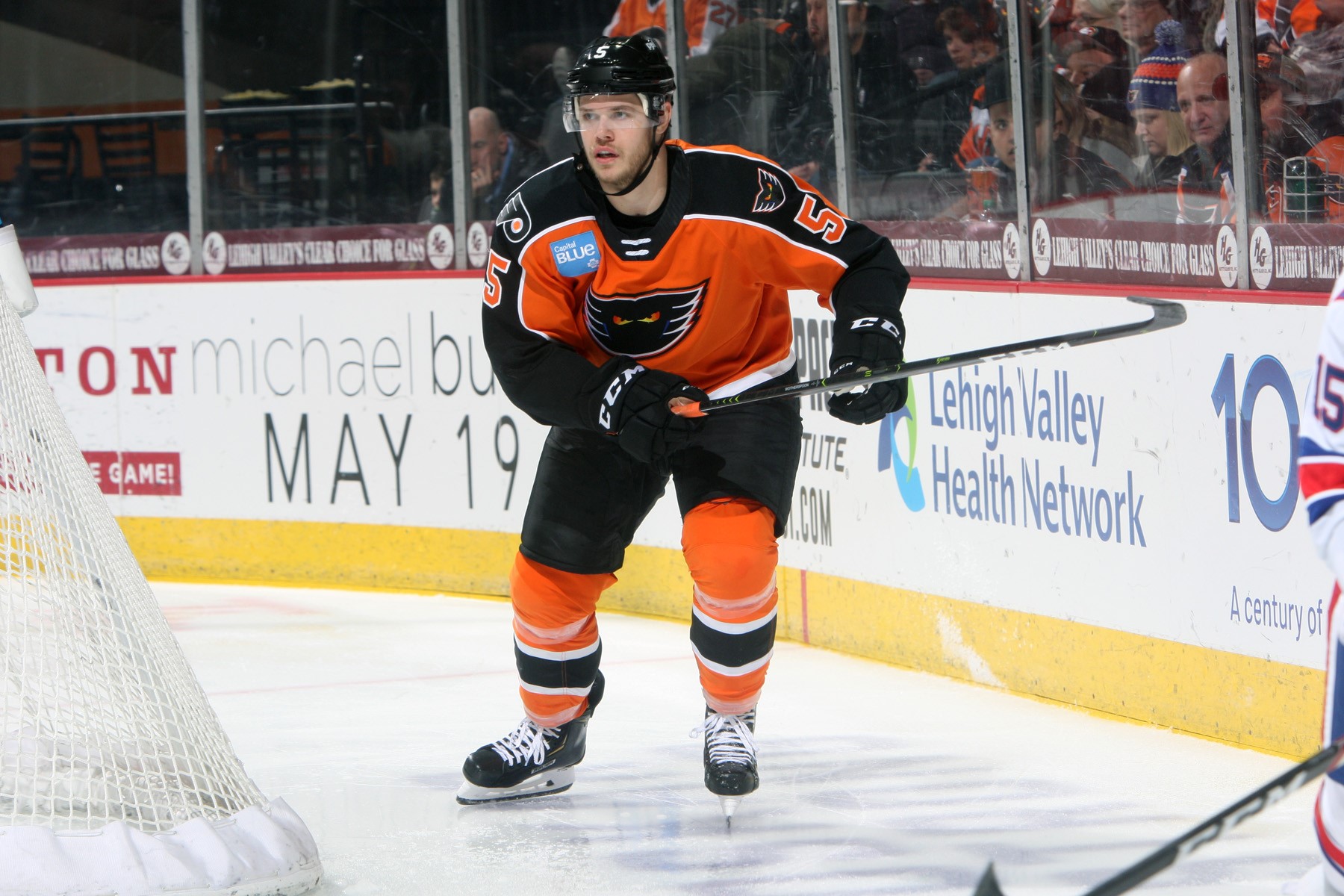 JustSports Photography
By MARIO ANNICCHIARICO
?It wasn't entirely a pinch-me moment, because he knew he was on the long list of possibilities to join the Canadian Olympic men's hockey team, but the final call came as a bit of a surprise for Tyler Wotherspoon.
"I first found out I was on the (long) list back home in Oregon, but then I found out from Claude Julien when I was on the bus heading up to Laval to play a game with Utica. My first call was to my wife (Mishaela), just to let her know and she was ecstatic about it, then after that I called my family, of course, to let them know," says Wotherspoon, a Surrey native.
The six-foot-two, 207-pound defenceman is currently patrolling the blue-line for the Utica Comets of the American Hockey League, the farm team of the New Jersey Devils, having signed there this past summer.
The 57th overall draft pick of the Calgary Flames in 2011 had a few cups of coffee with the Flames, appearing in 30 games, before settling into the AHL with Abbotsford, Stockton, San Antonio and then the Lehigh Valley Phantoms the last two seasons.
"There was a lot of uncertainty for some players going into the (last) off-season and it was a long summer," Wotherspoon admits. "I didn't know where I would be playing - in North America or go over to play in Europe or Russia."
"I talked with my family to decide where I wanted to give myself the best opportunity and luckily New Jersey gave me a call to give me a chance to show myself at camp and hopefully be part of their organization."
He was signed to an AHL contract, and the big defenceman has settled in nicely in the organization.
Little did he know what laid ahead with COVID taking its toll and the National Hockey League opting not to play in the Beijing Olympics.
"I think going into the season I didn't really think too much of it. I kind of expected the NHLers to go," says Wotherspoon. "It's an amazing opportunity and I can't really put it into words what it feels like. Just to get an opportunity to wear the Maple Leaf and represent your country is unbelievable, especially on the world stage. I'm looking forward to it. I'm excited. It's a great group of guys here and I'm enjoying every minute of it."
Wotherspoon was part of Canada's World Junior team back in 2013 and enjoyed four solid seasons with the Portland Winterhawks of the Western Hockey League, where he appeared in three straight championship series, winning the Ed Chynoweth Cup in 2013. He and his teammates lost the final of the Memorial Cup that season to Halifax and Wotherspoon was also named to the WHL's Western Conference second All-Star Team.
The junior success all followed his minor-hockey career where he played in the Cloverdale Minor Hockey Association where he played with the Cloverdale Colts U-15 club before joining the Valley West Hawks U-18 AAA team, where he collected 11 goals and 24 points in 37 games before joining Portland.
"We had a great team in Cloverdale with a lot of great players that helped me develop on the ice," Wotherspoon recalls. "But I think a lot of the development, too, was off the ice. I had a skating coach, Brad Bowen, who really helped me out at a younger age and help me develop into the player I am today. A lot has to do with the teammates I had then and being successful early on (as a team)."
Wotherspoon also had his parents, Troy and Susan, fully behind him.
"For sure, mom and dad getting me to every practice, to all the games and with all the travelling - making sure I was up as for those 6:00 a.m. practises," says Wotherspoon, who still can't believe he made the Olympic team.
"I think at a young age you always dream of it and as you get older and start to figure out where you'll settle in the hockey world, it kind of dwindles away. But you keep working and put yourself in situations where you can show that you can play and keep getting better," he says.
"You just never know. Calls like this sometimes happen," he adds, recalling a similar experience where his teammate in Stockton, Cody Goloubef, received a similar call back for the 2018 Olympics.
"You put that in the back of your mind that things like this happen for a reason and you've got to be ready," says Wotherspoon, who had has played 433 games in the AHL and has tallied 26 goals and 122 assists for 148 points to go with a solid, cumulative plus-69 rating. "I didn't think I'd get this opportunity this late in my career, but I'm just looking to take advantage of it and do my best."
"It's obviously really special," he said on the Utica team website prior to joining Team Canada in Switzerland. "Being from Canada, hockey is on the top of the list with sports. To be part of the biggest stage and one of the top countries is pretty amazing."
"I didn't think I'd have any chance of this coming into the season because there were a lot of moving parts this year. But this is obviously a time I will never forget and obviously I want to go out and represent not only my country but New Jersey's organization and to play with pride."
Mario Annicchiarico is a freelance writer based in Victoria who has previously covered the National Hockey League's Edmonton Oilers, as well as the Western Hockey League.