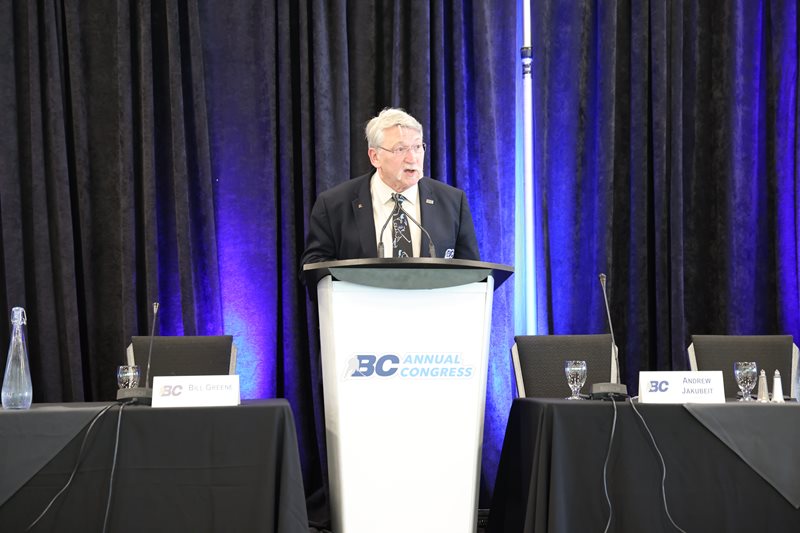 By MARIO ANNICCHIARICO
Little did Bill Greene know that a trip to watch a friend coach his minor hockey team back in his native Quebec would lead to a lifetime of love of the sport.
Some 50 years later, Greene has just departed his important post as Chair of the Board for BC Hockey after two full terms, lasting four years. The resident of Falkland has also served three years on the board as a director, and on the old governance board for four more seasons prior to that. He was also a district director for the Okanagan.
"I started as a teenager, had played minor hockey all the way through," recalled Greene of his early years. "I wasn't very good at it and never really made much out of playing hockey. But I got interested when a friend of mine was coaching a local team in the town that I lived in, called Saint-Bruno-de-Montarville.
"We were yacking one day, and he said, 'I'm coaching this team.' I thought, 'That's cool, I'm going to come out and watch your next game.' I got interested and decided to coach for a year."
He then ventured west in search of a summer job planting fruit trees at 18, met a girl and settled down in British Columbia where the now 67-year-old works as a supervisor for KingFisher Boats of Vernon.
Upon his move to B.C., he once again got involved in the local minor hockey association when his insurance agent - knowing Greene had some experience with hockey - talked him into serving as a referee in the community of Armstrong.
After some more persuasion by friends, he became Referee in Chief with Armstrong Minor Hockey, a small association of about 89 members.
"Then a good friend said come run for the president's job. I said, 'No, not interested. I don't want people yelling at me.' They said come in and try it, so I did and stayed on for 20-plus years."
In the interim, the neighbouring community of Enderby's hockey numbers were dwindling. Interest rates had shot up, people were strapped for money. Greene said the opportunity to amalgamize was there and the two joined as one.
The new organization, which still exists today, was called the North Okanagan Minor Hockey Association, encompassing everything north of Vernon and south of Sicamous and Salmon Arm.
"We did that, and the excitement and interest built, because both organizations had previously struggled with fielding teams. Most times they would declare one team, a rep team and we needed to phone and twist arms to get to 12 players required," said Greene. "When we amalgamated everything changed. You could play rep or recreational and numbers shot up from about 140 to about 275. So many came in because it was new and exciting. It became an opportunity for all of us."
The opportunity then came up where Greene became a master instructor with Speak Out, an abuse and harassment program developed by Hockey Canada, as well as the Hockey Canada Safety program. "It supported youth, making sure they were safe, the environment was good and making sure injuries were looked after pro-actively. I did that for 10 years."
Also, during his tenure as minor hockey president, Greene had an idea. The association was losing older age players to Junior B, so they started their own Junior B organization in Enderby - the North Okanagan Kings - and won a league championship their first year.
"That was a good fit for the kids. We had great players from the area. It was a rural-type environment and others were trades people or dairy farmers. The community was like any other, a small area, but a growing area and we did great," he recalled.
Greene kept working with BC Hockey and was asked to sit on the board on the old governance as a district director, which led to a lengthy run on the BC Hockey Board of Directors, which culminates this summer.
"I can't say enough good things about the kids who play this game. This game has helped people become the future mayors and doctors and engineers – all walks of life. It doesn't matter whether it's hockey or whatever, I'm a big believer that youth sports are a big part of what kids do and what they should be doing," he said. "It helps our societies and communities.
"It's a been a long run and a lot of fun. The game has been good to me, and I love the time I had with the kids," added Greene, who also continued to coach on and off all the way through and was involved in all areas of the sport, besides treasurer. He thought his expertise was involved in the game itself and with the kids on the ice. He had no sons of his own but had a grandson he coached for one season in Bantam.
"I always tried to stay away, because I always found that when you're a parent or relative, you're always too hard on your own."
Later, the community of Armstrong opened up a new arena and the Enderby Junior B team was sold and moved to Princeton. There was no Junior hockey in the area, so after the new arena was built Greene helped put a Junior B team there in the KIJHL, forming the North Okanagan Knights. He left that position when he became a district director with BC Hockey.
Now Greene steps away and looks forward to building on his newest hobby as a novice wood worker. He's set up at his Falkland property, having purchased various equipment and has created a few projects over the years. In the last four years as chair he has also generated an interest in building instruments, so will take on some luthier work.
"Hockey has been a long run, more than 40 years for me in the game, so maybe it's time to get a break in. My wife (Lauren) says, 'I'll give ya three months before you get back in.' She's been great, so supportive over the years," said Greene, who also owns a 1500 cc Goldwing and has travelled with it.
"He makes it sound like he's going somewhere. I don't think anyone is fooled by the idea that Bill will be absent from the rinks. We're going to see Bill around," BC Hockey CEO Cam Hope said with a chuckle.
"He's one of those guys you meet, once in a while; they live their lives completely two feet in on something they love to do. Almost all of it, thankless."
Hope knows Greene will be hard to replace, but also realizes there are those out there throughout the province with a similar love for the sport.
"I guess the answer to that is, in the time that I've been here, I've come to the understanding that there are hundreds of people around BC that believe in the delivery model of hockey the same way as Bill. I wouldn't have known that until I got into this job," offered Hope. "Those people are out there. On the one hand he's irreplaceable, but on the other hand in almost every community there is someone like Bill.
"He has this sixth sense, sort of like Glen Sather (who Hope worked for with the New York Rangers) had where you don't have to talk to him everyday or meet with him every week, but there's this sixth sense that a guy like him has where they know when to connect.
"He's really one of a kind, an amazing guy. These jobs, there are fewer and fewer people who want to take up the mantle of these somewhat thankless volunteer positions that are emotionally and labour intensive, important jobs in amateur sport.
"I hope that the next Bill Greene and the one after that and the one after that are as good as him, because the sport needs it."
As Greene needed the sport.
"The amazing people I've met in this game, I can't even begin to tell you … I've been so fortunate being involved and being around awesome people. It's been a great experience," said Greene, who will continue to watch his beloved Montreal Canadiens whenever he can.
"A Habs fan? Absolutely, a die hard," said the Montreal-born Greene. "It was unacceptable to be anything less in our home. A continuation of the Greene family that had been die-hard Habs fans. My dad was a Habs fan, and I fondly remember my sister and I staying up late on Wednesdays to watch them play. My grandfather, too – I come from a long line of Habs fans.
"The Richards were always popular in our house, Jean Beliveau and all those people who became superstars, like Guy Lafleur who we just lost here. Over the years there have been so many. People rib me about the Canadiens finishing last this year. But I'd never seen that in my lifetime. I don't know if they've ever finished last.
"They won so many Stanley Cups in your formative years as a young kid and that was important. There were people who lived locally who were Canadiens, like Bobby Rousseau, Serge Savard and Gump Worsley. You'd see them in the store or restaurants. It was pretty special, and it helps build that love of the game.
"The sport has been so good to me, the energy and excitement I received from this game," stressed Greene. "I can't say enough good things about the amazing individuals that I've worked with. Some of them have become so astute, like I remember when Bob Nicholson was working in the BC Hockey office as development coordinator, or Tom Renney. These are names that are synonymous in hockey."
Greene recalled working the old Dairyland Jamboree with Renney, a Pee Wee tournament, where local kids from various communities would gather.
"We would throw them all together and mix them up and put them on teams and we would play for a week. It was a big jamboree where kids got to know each other and hang out. It was fantastic and Tom was there as the representative because he worked in BC Hockey at the time.
"People like Allan Matthews and Frank Lento - I relied on their experience and knowledge. I always had those people to bounce stuff off. They never told you what to do, they would suggest what they might do and talk to you to pry and get the right answer out of you. How do you replace that kind of experience and knowledge?"
And he'll miss his time with the current board.
"I feel like I have been blessed with the current people on the board. I will miss them, the collaborations over hockey, but they are friends and I expect I will keep in touch and hear from them from time to time. I look forward to other things, but everyone has my number and I've never said no."
Mario Annicchiarico is a freelance writer based in Victoria who has previously covered the National Hockey League's Edmonton Oilers, as well as the Western Hockey League.