Alyssa MacMillian became the first female coach in the Kootenay International Junior Hockey League earlier this season, and now hopes to set an example for the next generation of coaches.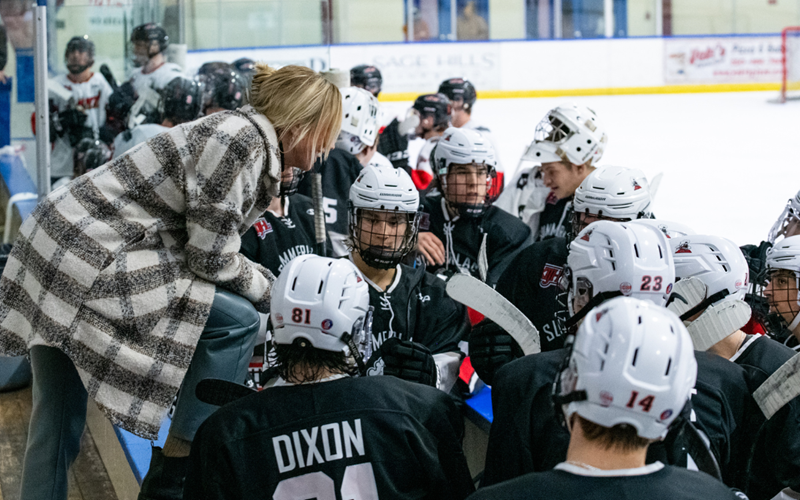 By MARIO ANNICCHIARICO
Alyssa MacMillan says she was not nervous when she stepped behind the bench as assistant coach of the Summerland Steam of the Kootenay International Junior Hockey League (KIJHL), becoming the first female to do so in the league's history.
Approached by her brother Mark, the general manager and head coach of the Junior B squad, Alyssa didn't hesitate.
After taking a year off from her own playing career, Alyssa, now 24, had coached a girl's team at Okanagan Hockey Academy (OHA) for one year.
"I had a little bit of coaching experience, but I feel like 16-year-old girls as opposed to 16-year-old boys is a whole different ball game," admitted Alyssa, who grew up playing against and with boys in the Penticton Minor Hockey program before joining OHA herself.
She then went on to the University of North Dakota for a season before the program disbanded. Alyssa then played at the University of Ottawa for one year before trying her hand at pro hockey in Sweden for a season. She then returned to Ottawa to wrap up her playing career and now is the assistant in Summerland and director of marketing and advertising.
"I think they were pretty receptive to me," she said of the Steam's reaction to her joining the staff. "My brother was there last year, so I was kind of around the team a little bit at Christmas. So, a lot of them knew me and a lot of them knew my background in hockey.
"I think I had some instant respect for that. They had a lot of respect for my brother, and I think they believed my brother wouldn't just bring his little sister in unless she had the knowledge that he believed I had to help them get better. It was a pretty easy transition."
And she's enjoyed it so far, from teaching on the ice to becoming known as a bit of a trailblazer for other women and girls.
"It's been really cool; definitely a different experience coaching boys," she said. "The nerves weren't there for me. I played boy's hockey until midget, so I was surrounded by the male game. Both my older brothers played hockey, too, so I was always at the rink and in that male environment, until I went to OHA. That was kind of my first leap into the female side of things. But even with my first time on a female team, my coach was a male, so I really didn't have any nerves."
And becoming a trailblazer or role model is something she is quite proud of.
"I think so. I think, more so, for girls to come to the rink and see a female on the bench. When I was younger and watched my brothers' games it was always a male on the bench," she said. "I think if little girls came to watch and saw a female actually involved in the game, it would be pretty cool to see.
"I'm hoping that one day that it's not like, 'Oh, there's a girl on the bench.' Sometimes I have received that reaction this year. I am there because I have a hockey mind and not because I'm just a girl.
"I think I'd like to be seen as a trailblazer. I think it's cool that I get the opportunity to do this. I think it's an honour and a privilege and a responsibility to be the first woman, but I hope it opens doors in B.C. for other women to succeed."
Mario Annicchiarico is a freelance writer based in Victoria who has previously covered the National Hockey League's Edmonton Oilers, as well as the Western Hockey League.