COACHING A CHANGE: JOE QUEWEZANCE AND SHANE GOTTFRIEDSON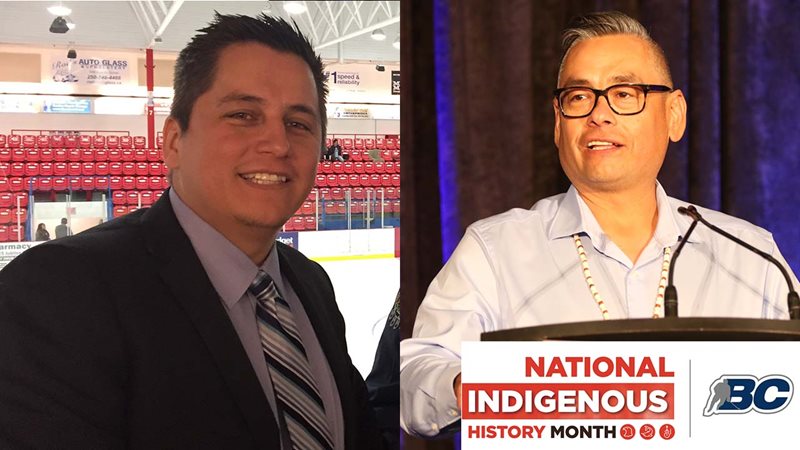 By MARIO ANNICCHIARICO
Most minor hockey coaches will tell you, they don't get involved in the game for the attention or recognition, but if it comes it's always nice to be recognized.
Such is the case with Joe Quewezance and Shane Gottfriedson, who were named BC Hockey's Indigenous Impact and Legacy Award recipients for this year.
From 2011 to 2017, Quewezance (head coach) and Gottfriedson (assistant coach) served as coaches for Team BC's male representatives for the National Aboriginal Hockey Championships. In 2011, the responsibility for the provincial program was transferred to the Indigenous Sport, Physical Activity & Recreation Council (ISPARC BC), which appointed the two to their roles on the coaching staff and the provincial oversight committee.
The program underwent a major rebuilding process, which included a province-wide promotional campaign and the design and delivery of a multi-day provincial camp and selection process. The rest, as they say, is history as Team BC captured two gold medals and three other podium finishes over a seven-year period.
"It's nice to hear that and get that phone call," Quewezance said of the recognition. "It was a good feeling. I hung up the phone afterward and called my dad and wife and let them know right away. It's a nice feeling to get some recognition."
But the accomplishment isn't why the 41-year-old took on the challenge.
"It's been a good run. When we started, we were working hard, but we weren't where we wanted to be. We took in kids from everywhere and the goal was to build the program. It wasn't going to happen over night. It took a couple of years to get some experience and see what the competition was like," said Quewezance. "We were building towards winning and being competitive and I think it's there. The program has a good name."
In 2013, Team BC won its first national title under the Kamloops twosome's leadership.
"We've had our successes – gold, silver and bronze," offered Gottfriedson, who was also the Chief of the Kamloops Indian Band. "The first year we went we won one game with nothing but Tier III players and after that we talked and built the program from word of mouth. We eventually got a lot of kids playing major midget and junior hockey who advanced through self identity.
"When we took the program over there were a lot of kids that weren't identifying in being Indigenous. With my connections being the chief and using that role - and having played a lot of hockey - we got a lot of kids throughout B.C. trying out.
"One of the most gratifying things was watching the program turn around from not being competitive to being a competitive, structured program and that's the thing I'm most proud of."
The two have also been successful in life as franchisees in Tim Hortons restaurants in the Kamloops area. Their role and styles as coaches are much like the way they take on challenges in life.
"I think I have more of a hard working, honest, accountable coaching style," said Quewezance. "If you're playing hard, you're a good part of the team. I like to make sure they're working hard and I'm a big believer in that, in anything you do – hockey or life in general. If you work hard, good things will happen.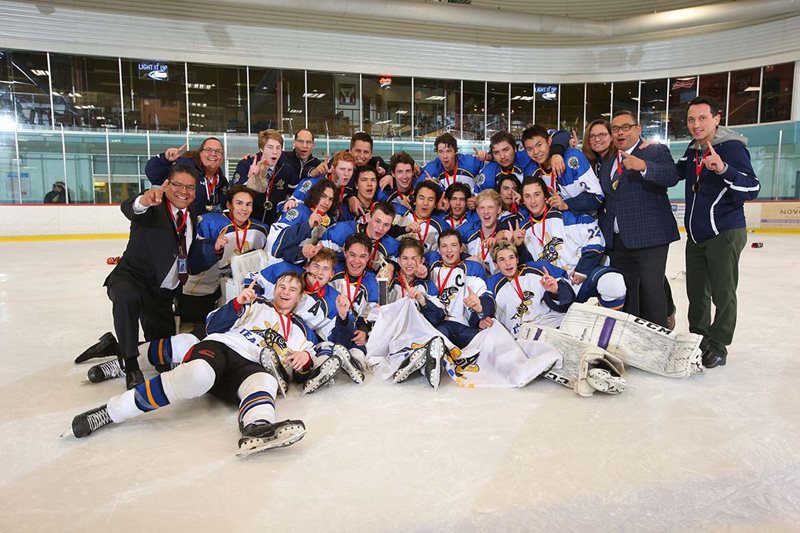 "Shane is a lot like I am, very similar. He's a straight up, honest guy. If you're playing well, you'll know it and if you're not, you'll know that as well. We're both extremely fair, honest and straight forward in a positive way, a very constructive way."
Gottfriedson, who has also had the opportunity to coach Team BC along with former National Hockey League goaltender Dwayne Roloson, was in full agreement.
"The program, when we started it, I was Chieftain at the time and my buddy said there's a position open with Team BC, are you interested. I said, 'Sure, I'll apply.' I went and earned my coaching certificate after playing hockey my whole life," recalled Gottfriedson. "To see kids nowadays and to get an opportunity like this is satisfying. The great thing about BC Hockey is a lot of these kids are starting to self identify as Aboriginal peoples.
"They're getting drafted more and more now and I think part of it has to do with the National Aboriginal Hockey Program and the championships that are going. It's a different mindset now with kids. They're working hard to better themselves and what a better way to do that than play sports. Like hockey, it's opened up a lot of doors for kids," said Gottfriedson, who was in politics for 16 years, serving 14 years in his community, two years as Tribal Chief and another two years as a Regional Chief for British Columbia.
"I've done my fair share for of community service and my priority was to always improve a better way of life for our peoples. Poverty is normal for a lot of our people, and I think now more are getting their education and making a good goal of it, pairing it with hockey to create that better lifestyle."
He appreciated working with both Quewezance - also his business partner - and Roloson.
"Joe was a very good motivator and tactician, to get the kids to play in the systems that we had. Rollie had his systems and so did Joe. Two different styles and both very successful styles," he said.
"My style? I'm the kind of guy that likes to motivate kids and inspire them, pump the kids up. Kind of an old-school coach where you work hard, and good things come. Growing up, with a single mom, I learned that you had to work for it. Everything I have today came through hard work and I tell these kids if you want good things in life, you have to work for it, no one is going to hand you anything."
Together Quewezance and Gottfriedson grew as coaches.
"We threw together as a team the first year. We went and we struggled, but the boys worked hard. Our goal was to build a successful program, one that competed every year and had an impact on everyone who came, and it was something that everyone looked forward to at the end of the season," said Quewezance.
And both are as proud of their acknowledgement as BC Hockey's Indigenous Impact and Legacy Award winners – especially during National Indigenous History Month in June – as they are their upbringings.
"It's exciting to be recognized, for sure," said Quewezance.
As Rick Brant, Chief Executive Officer of ISPARC BC stated: "While the success of the male program represents the extraordinary coaching skills of Joe and Shane, it is their ability to create a positive team environment and build cohesion among a group of young players under the intense pressure of a national championship, which best embodies their leadership abilities. Away from the rink, their roles on the provincial oversight committee were integral to the program's growth and successes. Their life-long commitment to Indigenous hockey, their lasting impact on the Team BC program, and the positive influence they've had on the players participating in the program makes them deserving of recognition through BC Hockey's Indigenous Impact and Legacy Award."
"It was a real surprise, to be honest," said Gottfriedson. "I wasn't expecting it. Winning an award like this for doing something you love and trying to make a difference in a kids' life .... The 12 years I put into the program, it's good to see these kids grow up and make something of their lives. Some went on to play pro and some went on to get their education and make the best that they could in life. It's nice to see them grow up."