COUPLAND SOARS INTO PLAYOFFS WITH HAWKS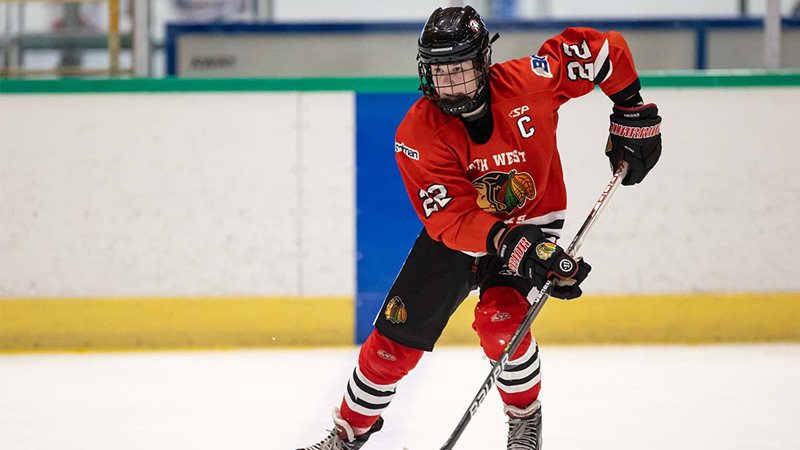 By Ryan Sinclair
Ty Coupland is a hockey prospect that is starting to draw attention. The North Vancouver, BC product is putting up impressive numbers while playing for the Vancouver NW Hawks (U15 AAA) in the BC Elite Hockey League (BCEHL). Coupland's stats (21 games played, 35 goals, 31 assists, 66 points) are that of an elite player. Beyond his statistics, the 14-year-old demonstrates an understanding of all aspects of the game and shows maturity beyond his years. The young forward is quick to attribute his success to this team.
"We have a great team," said Coupland. "Up and down the lineup, we have guys that can score. Everyone's buying in, and I feel lucky that I get to play with the boys. I wouldn't say that I feel pressure to score goals or anything like that. I have great line mates, and I'm lucky to have great coaching."
Coupland and his Hawks teammates are into the BCEHL playoffs, placing second in the U15 AAA League.
"It's really exciting," said Coupland of the playoffs. "Our whole team is ready to get at it in playoffs." The Hawks have their sights set on the first place Valley West Giants. "We'll go in as the second seed and hoping we can meet them the playoffs. If we can knock them out, that would be nice."
"Ty's an absolute competitor," said Vancouver NW Hawks General Manager and U15 AAA Head Coach Chris Shaw. "He's been a consistent goal scorer, who scores in any way that you need. He's got one of the most lethal shots that I've ever seen as far as a 14-year-old goes."
"But also, he's becoming a well-rounded hockey player," added Shaw. "Not only an elite scorer but also developing a good 200-foot game: a guy that you count on and in every situation for our hockey team. He can lead the way when it comes to the on-ice play, and then when you need a goal to win a hockey game, his percentage of scoring those goals is pretty astronomical."
Coupland has gotten a taste of the next level, playing two games with the Vancouver NW Hawks U18 AAA team, picking up two assists in those games.
"It was bigger, faster, stronger and at a higher pace," recalled Coupland. "I felt I was able to hang in there and make some nice plays out there. It was cool being with the guys and seeing what the next level is like."
Shaw said of the experience, "In talking with coach Hollweg [U18 AAA Head Coach Ryan Hollweg], we wanted to experience him in a top-six role. I think he made an immediate impact, and you got to see his hockey IQ. Whatever level he plays at, his statistics are going to translate the whole way through."
With its success, this season also had its share of challenges for Coupland. In late October, he missed nine games due to injury.
"It was tough," said the forward. "Breaking my hand sucked, and it felt like forever. But I could have looked at it in two ways: either felt sorry for myself and waited for the bone to heal or used the time to go to the gym and get stronger and more explosive. I chose the gym, which helped me to stay positive and to be involved with the guys on the team."
Before his time with the Hawks, Coupland started with the North Shore Winter Club in North Vancouver.
"It was very cool playing at the North Shore Winter Club," said Coupland. "My dad used to coach there, so at a young age, I would always go and watch his games. "We had a lot of guys that would come in from all over the Lower Mainland of Vancouver to play on those teams. It was a great program to be in and a great way to start my hockey career."
Along with solid youth hockey programs, Coupland attributes the support of his family in helping with his success thus far. "They've been huge," said Coupland. "My dad knows what he's talking about with hockey, so I've been very lucky to have him. And my mom, she's very supportive and just a good mom to have. I love her for that. And my younger brother is a goalie, so it's great to see what a goaltender thinks and get to know hockey that way. I've been fortunate with my family with how they've helped me to be successful."
As far as the future goes, Coupland has not made any firm decisions on what path to pursue. Both the Western Hockey League and the BC Hockey League each offer positives for a young hockey player.
"There's a lot of good things to be said about both leagues," said Coupland. "I am eager to learn about both options, and if I get drafted, to see what the program has to offer."
For Coupland, where he plays next year is not nearly as important as who he plays next. With the playoffs underway and a championship hanging in the balance, he will get a chance to do what he loves most, play a little more hockey with the boys.