DONNING MAPLE LEAF IN HOMETOWN
Burnaby Minor Hockey product Gabriel Guilbault is ready for the 2022 World Under-17 Hockey Challenge.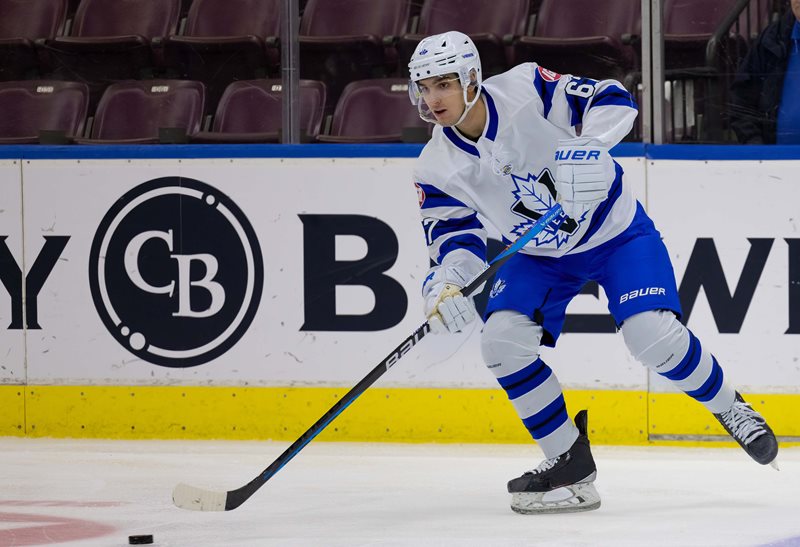 Photo credits: Jack Murray / Penticton Vees
By MARIO ANNICCHIARICO
Gabriel Guilbault isn't exactly sure how he'll feel when he first slips on his Team Canada jersey, but he expects it will be an emotional moment for the 16-year-old defenceman, who grew up through the Burnaby Minor Hockey system.
"I'm really excited about it, especially since it's so close to home for me and I'll have lots of family there," said Guilbault, who is one of a dozen B.C. athletes selected to the three Canada teams in the World U-17 Hockey Challenge, who compete against Czechia, U.S.A., Finland and Sweden.
Guilbault will don a Team Canada Red jersey for the tournament in Langley and Delta, slated for Nov. 3-12. He joins fellow B.C. products Tij Iginla, Carson Wetsch and Tomas Mrsic as Canada Red teammates. Jordan Gavin, Lynden Lakovic, Macklin Celebrini and Colton Roberts are B.C. residents on Team Black and Jaxsin Vaughan, Miguel Marques, Cayden Lindstrom and Ryder Ritchie will join Team White.
Guilbault is also one of eight Team BC members who won the 2021 WHL Cup that will feature on Canada rosters for the upcoming World U-17 Hockey Challenge along with Gavin, Lakovic, Iginla, Wetsch, Mrsic, Marques, and Lindstrom.
"The WHL Cup was an amazing experience. All the guys on that team were great. The reason we won, I think, was because we gelled together so well and our play on the ice reflected that," said Guilbault, currently a defenceman with the Penticton Vees of the BCHL, who now prepares for representing Canada.
"I found out about a month ago. Fred (Vees president, GM and head coach Fred Harbinson) announced it at the end of practice one day, in front of the whole team. I was so happy and honoured to be selected, especially after what I went through at the camp," he said, referring to a knee injury he sustained in the first game of the U-17 Canadian camp last summer.
His parents, dad Christian and mom Dawn Chan, were the first people he called after Harbinson delivered the good news.
"They were so happy; I mean really excited that I get the opportunity considering what happened (with his knee). They saw all the work I put in just to get back and now they get to see me play."
It's his first-time representing Canada.
"I'm really honoured to have been chosen. There are a lot of other guys who deserved this opportunity as well and they're good players, but for me to be chosen, is pretty special," he said.
The six-foot, 170-pound defenceman chose to take the college route, joining the Vees and hoping to attract an NCAA scholarship, despite being a third-round selection of the Kelowna Rockets of the WHL. The Vees are off to an impeccable 14-0 start and Guilbault has suited up in six games for Penticton.
"I think I've settled in pretty well. I really love practising with these guys. It's like our team has four first lines, so you can't go wrong playing against any guy here. I feel like I've really developed. I think I'm pretty set on doing the college thing," he added. "School is very important for my family, and I'd like to have an education after playing hockey."
So now he's going through the school of hard knocks in making the jump to Junior A after his minor hockey career in Burnaby.
"It's about making decisions quicker and knowing guys in this league will finish their checks on you. You have to be prepared for that."
He believes his minor hockey days with Burnaby Winter Club prepared him well for the next step.
"Burnaby was great, everybody there carried themselves with such professionalism and they set great examples for me on who I wanted to become," he said. "You can look at some of the names who have come through there, there's nothing they are missing in the program. They have the reputation, the alumni and coaching."
Guilbault's ultimate goal is: "To make a living out of playing hockey in the NHL and then being able to pass that on once my career is over, to inspire other kids to follow their dreams."
Mario Annicchiarico is a freelance writer based in Victoria who has previously covered the National Hockey League's Edmonton Oilers, as well as the Western Hockey League.