FEMALE U18 TEAM BC: 2023 CANADA WINTER GAMES PREVIEW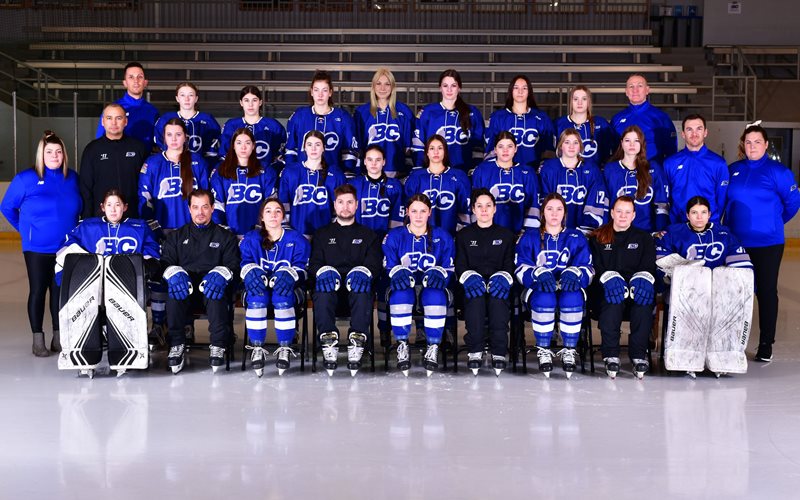 By MARIO ANNICCHIARICO
Kris Hogg is hoping to keep the good times rolling as far as the Female U18 Team BC is concerned.
The head coach will lead his team and coaching staff into the Canada Winter Games in Prince Edward Island, February 27 to March 5, with key players in tow. Nine are returnees from the gold-medal winning 2021 Western Regional Women's U18 Championship team and four just returned from the World U18 Hockey Championships in Sweden, where they claimed gold representing Canada.
"Obviously, the returnees play a big part just in the fact that we know what we can expect, they're a year older and having been in a national championship or a Western Canadian Championship allows us to see them under pressure," said Hogg, whose team departs on a charter Feb. 25 for P.E.I.
"So obviously to have nine back returning and being the oldest at that event will be, for our province anyway; they'll be able to push us ahead. They will be a real good part of the leadership group that can get us through the long travel that we're going to go through and the nervousness of being at an event like that."
The four just back from Worlds are Morgan Jackson, Jordan Baxter, Gracie Graham and Maya Serdachny, the latter just having moved west from Alberta.
Baxter and Graham were also part of the successful 2021 U18 Team BC that included Aynsley D'Ottavio, Gillian Lapierre, Vienna Rubin, Hailey Armstrong, Mikayla Blomquist, Maddie Leaney, and Jaimee Spring.
Team BC will be situated in Group B with Quebec, Saskatchewan and New Brunswick.
The World Championship was a delight to see for Hogg, who will be assisted in P.E.I. by coaches Amy de Bree, Whitney Juszkiewicz and aboriginal apprentice coach J.J. Holmes. Brianna Davey and Grant Maskiewich are directors of operations with Pat Thibeault as head scout and Tim Knight as video coach.

"It's so good to see. B.C. has been a province on the rise and it's always nice to see the success of the kids that go through the BC Hockey program. We just saw it on the World Junior side (for the men) and on the female side it's been the same," said Hogg.
"I believe the year before we had six players at Worlds (U18) and four this year, so that's 10 within the last two years representing BC Hockey, playing on the biggest stage that the girls can at the U18 level.
"The four girls, two being defence and two being forwards, helps having that elite talent throughout the lineup (for the Canada Winter Games) and not just in one position," added Hogg.
"They are the best at what they do, and I think, that in our province, some of the younger girls that aspire to be at that national level are coming through the program as well. It's not only good to have those older girls at that competitive level, but also for the younger girls to come through and learn from them as well."
That leadership carries over off the ice as well, where Hogg and Co. will benefit greatly from those World and Western Canadian experiences.
"It's very, very unique and obviously those girls are elite on the ice, but away from the rink they're very good people to have around your group and have around your younger players."
Among the other leaders will be Chloe Primerano on defence, who is the first female hockey player to ever be drafted into the Canadian Hockey League, taken by the Vancouver Giants of the Western Hockey League.
"She's a 2007 defender so she might be one of the youngest on the team, but her skill level, on-ice IQ and awareness, passing level and how she patrols the ice will be a big added benefit for our group as well," said Hogg.
"D'Ottavio was invited to the Hockey Canada camp and Hailey Armstrong, who scored the overtime winner for us last year at the Western Canadian Nationals, are also key players. Mikayla Blomquist was also invited to the Hockey Canada camp, she's a Boston University recruit who is a big strong forward and Vienna Rubin, from the Fraser Valley Rush, was also at the Team Canada camp. Those are all Grade 12s that were vying for a spot on Team Canada. That experience will be a valuable asset for us."
Team BC finished third at the last Canada Winter Games in Red Deer in 2019, losing to Alberta in overtime in the semi-finals, before defeating Ontario 5-4 for bronze.
"The expectation is always to do the best you can, and I would be lying if we didn't go there expecting to come out with gold. The way we put this group together, we want to go there with the best possible group and come out with the best possible outcome," said Hogg.
Mario Annicchiarico is a freelance writer based in Victoria who has previously covered the National Hockey League's Edmonton Oilers, as well as the Western Hockey League.