FRED HESLOP MINOR HOCKEY WEEK AWARDS: KURTIS LINDSAY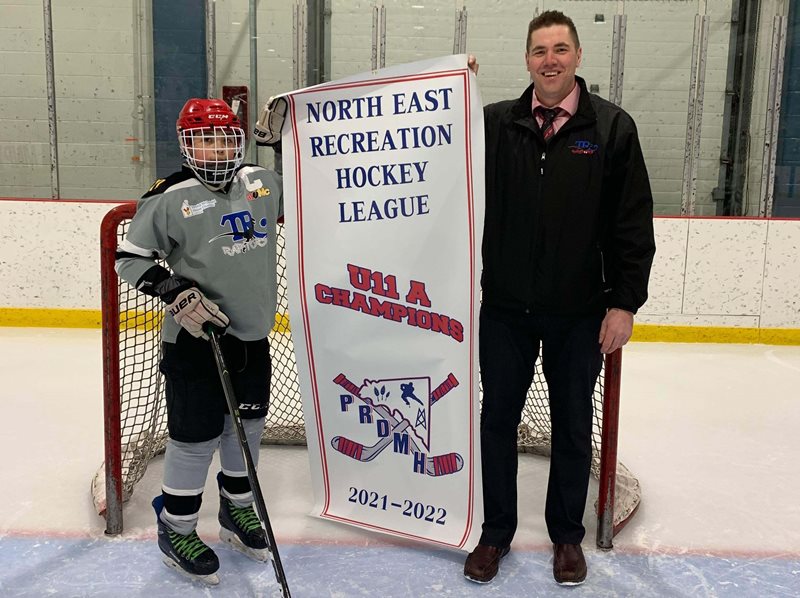 By MARIO ANNICCHIARICO
Kurtis Lindsay admits he was more of a football player than a hockey player, competing on the gridiron through his minor football and high school days in Edmonton.
Sure, he'd take his twirls on the ice with his neighbourhood and school friends, but never played in an organized capacity.
That hasn't held him back in his role as vice-president of the Tumbler Ridge Minor Hockey Association where he also acts as a coach on two of the association's five teams.
For his efforts, Lindsay is honoured as one of five Fred Heslop Minor Hockey Week Awards winners, recognizing individuals who have made significant contributions to BC Hockey, their Association and community. These are people who have enhanced hockey programs, gone beyond expectation and have made remarkable achievements.
The awards are named after past BC Hockey President and long-time volunteer, Fred Heslop. His involvement with BC Hockey spanned two decades, serving the membership on the Executive Committee (now Board of Directors) from 1992 – 2006. The Trail, BC native served in many different roles, including Officer at Large, Vice President, President and was chair of numerous committees. In 2007, BC Hockey awarded him the highest honour when he was presented with the Diamond Stick Award. Fred passed away in late 2013, leaving a legacy behind him.
"Kurtis is one of the hardest-working volunteers with the association. Not only has he taken on a pivotal role with the association as a vice-president, but he is also an assistant coach on two of the five teams we run," said his nominator.
"He has never refused to help out in any capacity with hockey, making it work with two boys playing in different associations and being a tradesperson working 14-hour days when he's on shift. Kurtis truly exemplifies the statement for the love of the game."
When he does work, he's often found racing to the rink afterward.
"I just go straight to the rink right after work on Tuesdays and Thursdays and most of our teams have two coaches, so we try to schedule around my days off," said Lindsay, who is a heavy-duty mechanic for a mine company. "Most of the tournaments we schedule for my time off.
"But it's nice. You might get worn down from a cold day at work, then show up at the rink and get that second wind when you get out on the ice with the kids. That's what it's all about, really," offered Lindsay, who was surprised by his nomination and win.
"It was kind of a surprise when they (BC Hockey) got hold of me. It's definitely nice to be recognized. I'm just motivated by the kids and Tumbler's Minor Hockey Association," said Lindsay, whose sons Austin and Brayden play in the U15 and U11 age groups, respectively.
Lindsay and family moved to northeastern B.C. in 2012.