BC Hockey's Female U18 Team BC claim the province's first-ever gold medal in women's hockey at the 2023 Canada Winter Games!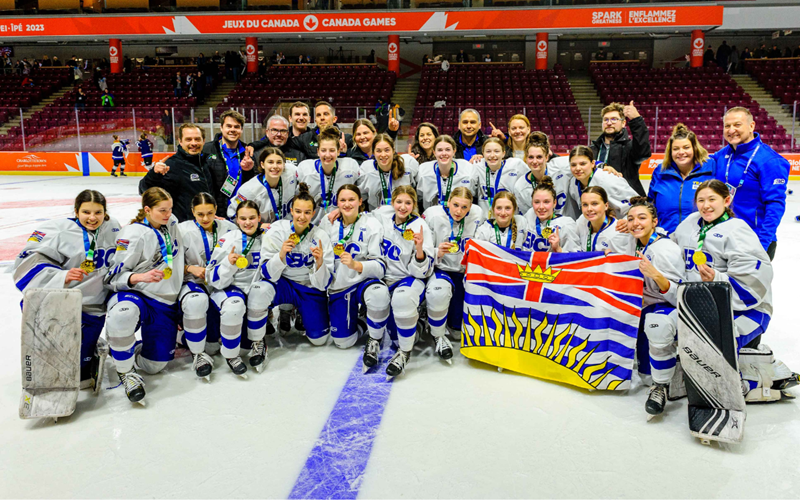 (Team BC celebrates after a 3-0 win in the Gold Medal Game - Photo Credits: Paul McLeod)
By MARIO ANNICCHIARICO
Canada Winter Games gold medallists has a good ring to it, especially considering the recent accomplishment was the first time that the B.C. women's hockey team managed the feat in the history of the competition.
Team BC recently blanked Nova Scotia 3-0 in the gold-medal game at Credit Union Place in Summerside, PEI, on the opposite end of the country, and it's a victory teammates will never forget.
"This has been a long time coming," head coach Kris Hogg said immediately following the victory. "It is hard to put this feeling into words. A lot of these girls have been in our program for a long time and have battled hard from Day 1 to put B.C. on the map. What a great job by this group. I'm very proud of them all."
Among them were Maddie Leaney, who led the team in scoring with seven goals over six games, while adding five assists, and goaltender Rebecca Noble, who played five of the six games, including the shutout win in the gold-medal final.
"It was the best experience. I'm super proud to have been able to be part of the team, having been part of the gold medal team at Western Regionals last year was already pretty special," said Leaney. "We thought at that time, 'This is cool,' and we talked about it, that it was the first gold B.C. women had won. But none of us really thought that the next year we would win gold at the Winter Games.
(Maddie Leaney celebrates with teammates after scoring the second goal in the Gold Medal Game - Photo Credits: Paul McLeod)
"It's crazy to think about it and it was a super awesome experience and BC Hockey has been so amazing," added Leaney, who scored in the gold-medal game and whose 12 total points were just behind Chloe Primerano, of North Vancouver, who led the tournament in points with 14, including nine helpers.
Primerano, of RHA Kelowna of the CSSHL, is a draft pick of the Western Hockey League's Vancouver Giants. Leaney was surprised to keep pace with her teammate.
"I don't know what got into me, if you would have told me that going into the week, I wouldn't have believed you," Leaney said with a laugh. "But I'm just happy I could be a part of it and contribute."
Leaney, 17, is a left-winger with RINK Hockey Academy in Kelowna and currently attends Grade 12 at George Elliot Secondary but committed to Union University this past November.
Noble, meanwhile, was the No. 1 goalie and gained the shutout to earn the gold medal, facing just 11 shots as Team BC cracked down.
(Rebecca Noble tends the Team BC goal in the Gold Medal Game - Photo Credits: Paul McLeod)
"It was incredible. It hasn't sunk in yet. For me, I've never really won anything before with hockey so it's an unreal feeling and I couldn't wrap my brain around it," she said excitedly.
"Yeah, there wasn't much action (in the final), but just staying in the game is something I've worked on along with my goalie coach because there are games where it's physical, with lots of shots, and there are games where it's more of a mental game. Being able to make those saves at the right time, and when it counts, is an important part of goaltending."
Both Leaney and Noble, who attends Grade 11 at Burnsview Secondary, were also delighted with the entire Games experience.
"I liked the dorm, 16 of our players were in one room and four of us were in a random room and I was one of the four," said Leaney, who shared space with two boxers, two archers and a curler. "I was so happy to be in that room because we did so much talking and became really good friends with the boxers, who came over and watched some of our quarter-final."
"The environment was amazing, having all the athletes and all the different provinces," offered Noble. "Everyone was so welcoming and being able to interact with different athletes and provinces was a different experience and so much fun.
"The dorm was chaotic. It was very different having us all in that one room, but we bonded in there," she said of sharing the space with 15 of her teammates. "We got to see the other side of the team away from the rink and got to know everyone on another level."
And it's an experience that will last a lifetime for all involved. The win marks the third women's hockey medal overall for B.C. at the Canada Winter Games after earning bronze in 2019 and silver in 1991.
Mario Annicchiarico is a freelance writer based in Victoria who has previously covered the National Hockey League's Edmonton Oilers, as well as the Western Hockey League.
2023 Canada Winter Games Gold Medal Champion Roster - Team BC
#1 Rebecca Noble – Richmond Ravens Female Hockey
#2 Danica Maynard – South Okanagan MHA
#3 Aynsley D'Ottavio – Chilliwack MHA
#4 Gracie Graham – Kelowna MHA
#5 Jaylyn Morris – Ridge Meadows MHA
#6 Aurora Kahlert – Ridge Meadows MHA
#7 Mikayla Blomquist – Winfield & District MHA
#8 Chloe Primerano – North Shore Winter Club
#9 Maya Serdachny – Edmonton Falcons
#10 Vienna Rubin – North Shore Female IHA
#11 London McDavid – Tri-Cities Female IHA
#12 Gillian Lapierre – Tri-Cities Female IHA
#16 Hailey Armstrong – Dawson Creek MHA
#17 Jordan Baxter – Tri-Cities Female IHA
#19 Maddie Leaney – Meadow Ridge Female MHA
#21 Vanessa Schaefer – Vancouver Thunderbirds MHA
#22 Morgan Jackson – Comox Valley MHA
#23 Molly Cole – Langley MHA
#24 Jaimee Spring – Cranbrook MHA
#31 Clara Juca – New Westminster MHA