HOCKEY PROSPECT DEALS WITH LIFE'S CHALLENGES ON, OFF ICE
The first instalment of this two-part series looks at how Manu Charbonneau has dealt with his share of challenges on and off the ice, from losing his mother at a young age to moving across the country to chase his hockey dreams.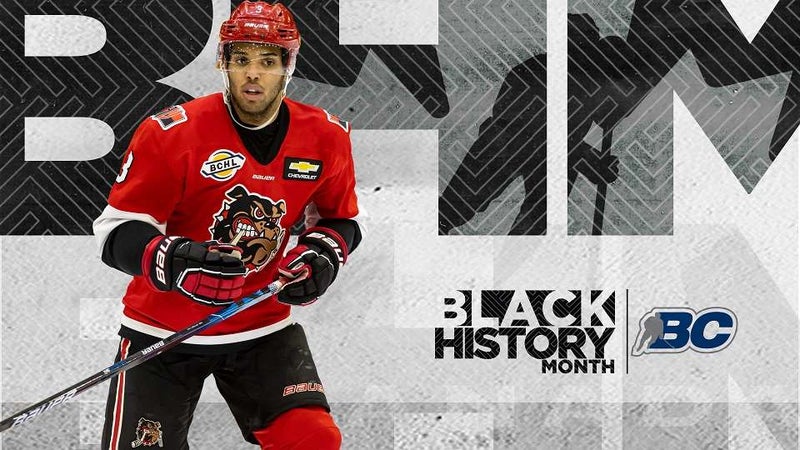 Garrett James Photography
By MARIO ANNICCHIARICO
The importance of Willie O'Ree's life story is not lost in 17-year-old Manu Charbonneau's mind. The native of St-Jean-sur-Richelieu, Quebec, knows full well the story of O'Ree, the first Black player to suit up in the National Hockey League some 60 years ago.
Charbonneau knows the tale of the pain O'Ree – the Fredericton native who is now in the Hockey Hall of Fame – endured in his fight with diversity and inclusion in the world of professional sport. Charbonneau does not require the fact that February is Black History Month to recall O'Ree's plight.
But what many do not know is the tale of what Charbonneau, who now patrols the blue-line of the Alberni Valley Bulldogs of the British Columbia Hockey League (BCHL) in Port Alberni, B.C., has himself endured in his young career.
Raised by a single Caucasian mother in the small town of St-Jean-sur-Richelieu and never having previously known his father, Charbonneau's world was turned upside down at the tender age of 12 when his lone parent, Annie, tragically passed away, something he still does not like to discuss.
Manu, a young man of colour whose full name is Emanuelson, was raised by his elder Caucasian grandparents, Luc and Thérèse, who still reside in the town situated just 40 kilometres outside of Montreal.
His grandparents vowed to keep their grandson involved in hockey, which Manu shone in. His play was strong enough that he was designated an "exceptional status player," which allowed him to play U18 AAA for Collège Charles-Lemoyne as a 14-year-old during the 2018-19 season, wrote his family advisor Jonathan Lachance. Only three other players received this status in his age group.
Manu returned to compete at the U18 level at Collège Charles-Lemoyne as a 15-year-old and played in all game situations – the power-play, he killed penalties and was a "match-up" defenceman, added Lachance, in a letter written to the National Appeals Committee, as the family sought a move west to B.C. "He was arguably one of the top three most utilized players on his team."
Manu was also selected in the third round of the 2020 Quebec Major Junior Hockey League Entry Draft by the Blainville-Boisbriand Armada, but his choice all along was to invest in the college route, hence the appeal to join the Bulldogs. The move was eventually granted, and Manu shifted his play to the BCHL as a 16-year-old, leaving behind his grandparents and the first formative years of his life, not to mention the memories of his mother.
He did not speak a word of English at the time, which could affect his growth, but he learned to flourish.
"It was fun," he says now when asked if there was an element of being scared at the time. "It's way different than the East Coast. It's a pretty nice place to live. It's been a great experience. I wouldn't say it was scary moving out west. Maybe the first time I came out it was a little stressful, but it was a good stress, it wasn't a bad stress."
His English is now more than understandable as he continues to blossom both on and off the ice, playing his second campaign with the Bulldogs. He will add another season next year before then shifting his attention to the University of Nebraska-Omaha where he has earned a full-ride scholarship.
Manu is also rated by NHL Central Scouting as a possible pick in this year's Entry Draft as all signs point upward for the young man, who has battled every inch of the way.
Of course, he's had help in the form of Lachance and his business partner at Will Sports Group in Quebec, Dominic De Blois. Some of the company's clients include Tyler Seguin, Miro Heiskanen and Thomas Chabot.
Then there is also Alberni Valley Bulldogs general manager and head coach Joe Martin, who has had the pleasure of watching and working with the young man, who comes in at six-foot-three and 200 pounds. That size alone captures scouts' attention.
But more so does his story, which he can now fully tell, in his own words, in English.
"He didn't sound like that when he first moved here, I can tell you that," says a proud Martin. "When you meet this kid, you forget he's 17. He's a big kid. He looks you in the eyes and he has those big, bright eyes. He's a passionate player, but he's calm and caring and a focused person off the ice.
"He's unique and he fits in well with our guys," adds Martin. "You don't think about him as a 17-year-old and I don't have many more similar to him. He's very mature and I'm guessing that's just a by-product of how his life has been."
Losing his lone parent at a young age and then growing up with elderly grandparents through these difficult times dealing with COVID-19 have been life-altering experiences.
"I hope that he hasn't been robbed of some joyful times as a kid. I can't say because I don't know what he was missing before us getting him as a 16-year-old," says Martin. "I hope not, but I know he's a happy kid now, focused and determined and I hope it keeps going in the right direction for him.

"No, it couldn't have been easy (losing his mom), especially at that age – 12. I think he's lucky in that Jonathan helps him quite a bit and he's moved in here with a good (billet) family, a really big family – the Steel family."
Manu lives there along with teammate and 20-year-old defenceman Ryan Nause of New Brunswick.
"They were very helpful for me because I was French and at the start it was way more difficult not knowing English. They set me up really well and took care of me and I appreciate that a lot," Manu says of the Steels, who are business owners and community backers of sports.
"I have a lot of friends here (in Port Alberni) and it's a pretty close team this year, too. I'm living with Ryan Nause who is one of my best friends on the team and we're a good team. We're close and the guys are having fun at practice. Everybody's in a good mood all the time, 24/7."
What Manu hasn't had to put up with is the racism that the likes of O'Ree and others have dealt with rising through the ranks.
"There weren't a lot of Black people back home (in Quebec), but I would say that my friends and my buddies were really close with me and that didn't change anything. They treated me like I am, and I treated them like they are," says Manu.
"I remember at my old school there may have been three of us of colour in the entire school and everybody treated us well, but sometimes people tried to make jokes. That affected me sometimes, but I just tried to let them know you could make jokes, just not in front of me, please. It was never anything against me, but more jokes about people. Sometimes that can affect you and I just let them know when it happened.
"I've heard some stories about it happening on the ice, but I've been very lucky because I've never had it. Racism is a very sensitive subject for me. For sure, if it ever happened to me on the ice, I would let the person know. It would be disappointing, because at the end of the day everyone is equal. But like I said, I've been lucky, it's never happened to me. It's OK to become frustrated, but it's not a subject to be talked about (or used derogatively)."
He knows of O'Ree's battles in that regard, so much so that he holds a special place for the former NHLer.

"I've seen (the O'Ree documentary) and they made some skates for all the Black players in the NHL," says Manu, referring to O'Ree's likeness and favourite phrase – "All I needed was the opportunity" – being printed on custom skates made by the Bauer company that were worn by some players in 2021.
"There's a funny story, I used to play video games and I would always put (O'Ree) on my first line. I would get a special card for him and use him a lot," says Manu, who grew up a Montreal Canadiens fan, but is now a Boston Bruins' backer. That's also where O'Ree played his 45 NHL games.
Manu also watches the growth of other players of colour, like K'Andre Miller, of St. Paul. Minnesota, who plays with the New York Rangers.
"I know Miller. I've been watching him since he was with the national US program and then he went to (University of) Wisconsin with Cole Caulfield (who is now a Montreal Canadien). It was insane to watch Miller, Caulfield and (Alex) Turcotte (a Los Angeles Kings draft pick who has played some NHL games) together, and now he (Miller) is already in the NHL and playing in the first pairing on one of the best teams, so I follow him a bit," says Manu.
He's also watched P.K. Subban, who started his career in Montreal. "I still followed him when he went to Nashville and then the (New Jersey) Devils," he says, adding it's healthy to see more and more players of colour make it.
Martin realizes that's a big part of the story as well.
"I haven't seen him have to deal with racism," the coach says thankfully. "We have two guys on our team of colour, and I know there are others around. The province of B.C. and the BCHL has a lot of colour in it, with Asian and East Indian backgrounds."

Martin says he's been fortunate throughout his career that he hasn't had to deal with such issues, but he realizes they do arise.
"Years ago, I did have a player and I didn't hear anything directly, but I was told something from being in another team's community. I don't know what these guys hear (on the ice), but nothing has been brought to my attention and I'm sure if it happened, our bench would react.
"Even if Manny was not a respected man in our room it still would happen, but he's a very respected player on our hockey team amongst his peers and I would not be able to stop that onslaught if something (racist) happened."
Manu describes his game as that of a solid two-way player, "who can be very physical and a guy who is very hard to play against. And I would say I'm more of a PK (penalty-killing) guy, that's my specialty," he says proudly.
He patterns his game somewhat like David Savard, a defenceman now with the Canadiens, who was drafted in the fourth round by the Columbus Blue Jackets, played there for 10 seasons and had a short stint in Tampa Bay before ending up in his native Quebec.
"Just his size and the way he can play defensively, but he can also generate offence," says Manu.
A former Sidney Crosby fan, Manu now backs Charlie McAvoy with the Boston Bruins.
"He's kind of an underdog and not a lot of people talk about him. He's one of the top two defencemen in the NHL, for me. Just the way he moves. He's a really good athlete and a good person. I follow him on social media and he's always giving money to people and trying to help people during Thanksgiving and stuff. He's just a good guy and a good hockey player."
Manu is a Bruins fan because of McAvoy. "I love the Bruins. The Canadiens I still love them. They're my back-home team. I was born close to Montreal and since I was young everybody talked about the Canadiens."
Now, one day he hopes they can possibly talk about him and his travels in hockey.
Mario Annicchiarico is a freelance writer based in Victoria who has previously covered the National Hockey League's Edmonton Oilers, as well as the Western Hockey League.
Read part two here!