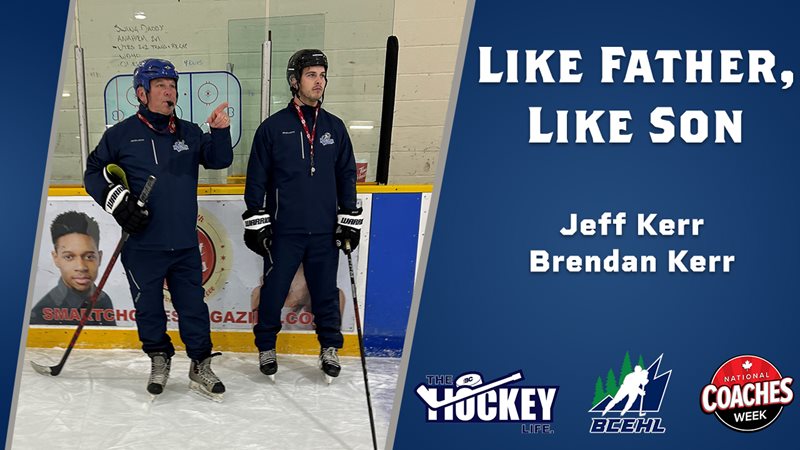 By MARIO ANNICCHIARICO
From 2008-2017, Jeff Kerr experienced the joy of coaching his son Brendan throughout his minor hockey days with the Victoria Racquet Club, which included a stint as assistant coach during Brendan's 100-point season at the U15 level.
Brendan went on to play at the Okanagan Hockey Academy as well as with the Notre Dame Hounds at the U18 AAA and junior levels in Saskatchewan and followed that with stops with the Niverville Nighthawks of the Manitoba Junior Hockey League and the Victoria Cougars of the Vancouver Island Junior Hockey League.
Now Brendan finds himself in a very different position, celebrating National Coaches Week as an assistant coach to his dad, the head man of the BCEHL's Vancouver Island Royals U18 AAA team.
Their hockey lives have gone full circle and both couldn't be happier about their current situation.
"I decided to put them (his skates) down and try and educate the youth and pass it on to the next generation," said Brendan, now 21 and back in Victoria attending university after playing the last handful of years away from home. "It's good to be back home and it's good to find a different side of the game.
"I'm really looking forward to it," he added of joining his father behind the bench. "I've kind of always helped out with my dad, we've done spring hockey (along with older brother Aidan) with the young guys - the 2013s - and it's one of those things where I was enjoying it and I wanted to see what I could do with the older guys."
Not far removed from this level of hockey, Brendan should provide an interesting side to coaching, offered Jeff.
"Our relationship with hockey has always been strong. We've always spent extra time together," said Jeff, who has passed his love of the game onto his children. "You should always give back and when I brought it up to him (Brendan), he thought it would be a good thing.
"We know how each other works. He's played for me before and he has a good rapport with the kids. They don't always like talking to the head coach and (Brendan's) a good buffer."
Not exactly a good-cop, bad-cop situation - more like an alternative stand.
"I guess it depends on the day. I've already seen both from my dad and out of me. With the young guys, with my experience with coaches, I know that when there are young coaches around, they kind of relate to them more," offered Brendan.
"Me being just a few years older than our oldest guys, they know that I've been through it with the junior aspect and what they need to do to get to the next level. I can relate to how the game has changed the last few years.
"Sometimes you have to lay down the law and let them know that they have to pucker up and start working, and sometimes you have to ease up and work on different things. I'm sure my dad will keep me accountable."
Whatever role the coaching stint leads to, Brendan knows this will be a very special year, sharing the bench with his father, who previously managed BC Hockey's Best Ever Program for three years and also played for the Notre Dame Hounds, winning the Centennial Cup back in 1987-88. That team was later inducted into the Saskatchewan Hockey Hall of Fame.
"I'm ecstatic, honestly," said Brendan. "I'm happy to be home. I've been away for five years now, just playing hockey and I'm excited to be home and stay involved with the game. All summer we've been working on different stuff (in preparation). When he (Jeff) said I could help out this year, it was exciting for me. It was an opportunity I just couldn't pass up."
"It's going to be fun," said Jeff, who has coached for some 30 years now and is well recognized for his work with the Racquet Club. "I'm getting older so I can't do it forever. I want to hand it over and teach them the steps that I went through, so if (Brendan) takes over a program in a few years I can help him for a year to manage him through some of the stuff he might not know about."
And there will be many more lessons learned together.
"At times he'll work his way through whether he'll be the good cop or the bad cop," Jeff said of Brendan. "When you're younger, you're passionate about every single thing. When you get older, you realize it might not be a sword to die on."
Mario Annicchiarico is a freelance writer based in Victoria who has previously covered the National Hockey League's Edmonton Oilers, as well as the Western Hockey League.