LOEWEN HELPS GROW HOCKEY ACROSS B.C.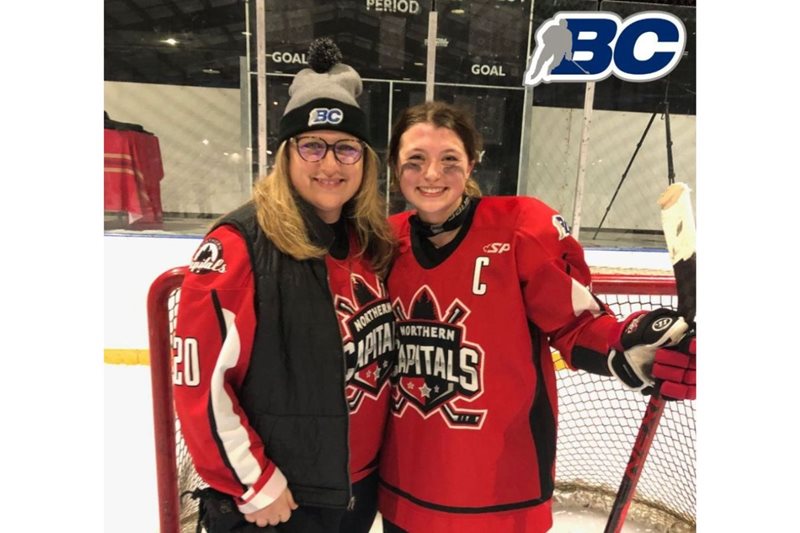 By MARIO ANNICCHIARICO
To celebrate International Women's Day, BC Hockey doesn't have to look too far.
As Chair of the Nominating Committee and the Female Hockey Coordinator for BC Hockey, Jen Loewen is a busy woman who has assisted hundreds of young girls – including her daughter Rachel - reach their potential, firstly in the Williams Lake area, and now throughout the province.
Rachel expressed an interest in playing hockey at age four, but Jen and her husband Marcus first introduced their young one to a year of CanSkate before taking the leap into Timbits hockey.
"I said, 'Here we go, we're along for the ride,' " Jen recalled of the start. "There were lots of opportunities for help and lots of area for people to lead, and I'm not one to sit back and do nothing, so that's how I started.
"You start off small," she said, not entirely sure of the sport.
So, her message to Marcus was: "I'm not getting involved unless you have something to do with it. I don't play it. I don't understand it. I don't know it. Then, the next thing you know, I'm managing a team and we're managing a league, then I'm the Female Coordinator and then on the executive."
All within the last 13 years.
"Then I thought, there's not enough girls in hockey so we're going to do something about that. We're going to need a place to play when (Rachel) decides that playing integrated isn't for her," said Jen, who works in Human Resources for School District 27, Cariboo-Chilcotin.
"You have to be able to look past your own kid and see what it takes to get everyone else into the sport. I built a ton of relationships with some wonderful people, which brings us to where we are today."
Where we are today is at a strong female program developed in the Williams Lake area, where the Loewen's reside, so much so that the area has developed all-female teams in the various age groups. The game grew through Jen's ESSO Fun Days.
"We wanted to make sure they had enough girls coming up behind us and that legacy is still there because we still have a team in every division," said Jen.
Rachel, now 18, has since moved on to play in the BCEHL with the Northern Capitals in Prince George for the last three seasons – this year as captain. This fall she moves east to Niagara University in Lewiston, New York, just across the Canadian border.
"She's been a role model to me, she's the kind of woman I want to be," Rachel said of her mom. "She started volunteering when I first started. She became a female coordinator and through the ESSO Fun Days she would have a bunch of new girls come up to the rink and set it up so that we would have so many girls playing, because there were close to none for the younger age groups. She created two to three new teams starting from Atom up to Bantam.
"Then, when I moved to P.G. to play, she became Female Coordinator with BC Hockey and now she's promoting female hockey all throughout B.C., going to conferences."
Rachel has enrolled in the four-year nursing program at Niagara University and will play for the Purple Eagles in the American Collegiate Hockey Association, Division I. Who knows where that will lead, besides coming out as a registered nurse.
"I'm looking forward to the experience. There's nowhere much farther for me to go. I guess, potentially, if more people keep volunteering, like my mom, there may be a stronger female national league and that can be a goal," said Rachel. "But right now, I'm just looking forward to my next four years in college, then I'd like to come back and be a female coach in Williams Lake.
"I owe it to mom," Rachel stressed.
Mario Annicchiarico is a freelance writer based in Victoria who has previously covered the National Hockey League's Edmonton Oilers, as well as the Western Hockey League.