MALE U16 TEAM BC: 2023 CANADA WINTER GAMES PREVIEW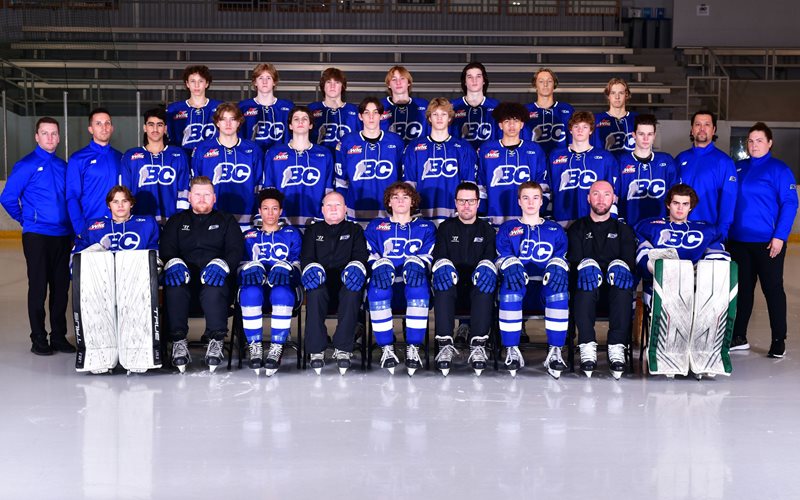 By MARIO ANNICCHIARICO
The goal entering any major competition - such as the upcoming Canada Winter Games in Prince Edward Island - is to win, but it's also to represent the province well and enjoy the tournament, which includes numerous other sports and athletes from across the country.
British Columbia's Male U16 hockey team, led by head coach Brad Bowen, will feature the top U16 players from across the province, with most already drafted by Western Hockey League (WHL) teams.
"Obviously, you're going there to win, but moreover to make it a good experience for the players and allow them to be the best they can be and to perform," said Bowen. "You want them to enjoy Prince Edward Island and the event. It's not just a hockey tournament, it's an event. It's something the kids need to embrace and to feel good about their accomplishments, but ultimately, you're going there to win."
Team BC finished seventh at the last Canada Winter Games in Red Deer, Alta., in 2019, so will enter this tournament as the seventh seed, meaning they will have two tough games against Team Ontario (Feb. 19) and Team Alberta (Feb. 21) with Team Nova Scotia sandwiched in between.
Players to watch on Team BC include the likes of defencemen Will Sharpe and Jordan Martin and forwards Jakob Oreskovic, Chase Harrington, Hudson Kibblewhite and Cameron Schmidt.
"Schmidt is going to be a heck of a hockey player. He's been injured quite a bit this year, but he's already played in the WHL and scored some goals," said Bowen. "Most of our top players have played a couple of games in the WHL and have done real well, so it'll be fun to watch."
Bowen also likes his goaltending with both Koen Cleaver and Ryder Green.
"I'll flip a coin. I'm not a great goalie guy (coach), if they stop the puck that's great," Bowen said with a chuckle. "I think he (Cleaver) (a six-foot-two, 177-pound product from Port Alberni, who plays at the Pacific Coast Academy) is going to be good for us and, ultimately, I think he'll go in as the No. 1, but we had three really good goalies and I think the toughest decision we had was to finalize our roster with the goaltending position."
As of press time, Bowen and assistant coaches Cam Barker and Chris Shaw had not selected their leadership group, but Bowen looks at someone like Grant Reid as a leader both on-and-off the ice.
"He can play up and down your lineup. He might be the best kid we've ever had come through our program (Yale Hockey Academy), off the ice for sure. He is the salt-of-the-earth type of player, and he should be a part of that leadership group.
"He's very even keeled and will play first line or fourth line and kill penalties - whatever you want him to do. The others we will get to know over the next little while and I'll do some research with their coaches in their own programs."
The team began preparation 16 months ago with regional camps and Bowen allowed the evaluation staff to oversee the first several camps while the coaching staff tried to get to know each other. The rest of his staff includes video coach Wes McLeod; head scout Jason Becker, director of operations Nathan Boylan; athletic therapist Lydia Maxwell; equipment manager Les Cleverly; and strength and conditioning coach Matt Davey.
The team's first game is on Sunday, February 19th at 3:30 p.m. PT versus Team Ontario. Games can be streamed online at: canadagames.ca/watch.
Mario Annicchiarico is a freelance writer based in Victoria who has previously covered the National Hockey League's Edmonton Oilers, as well as the Western Hockey League.