MEET THE NEWEST BOARD MEMBERS
Get to know Mark Burgin, Jaci Edgeworth and Brad Klock, who were elected to the BC Hockey Board in June.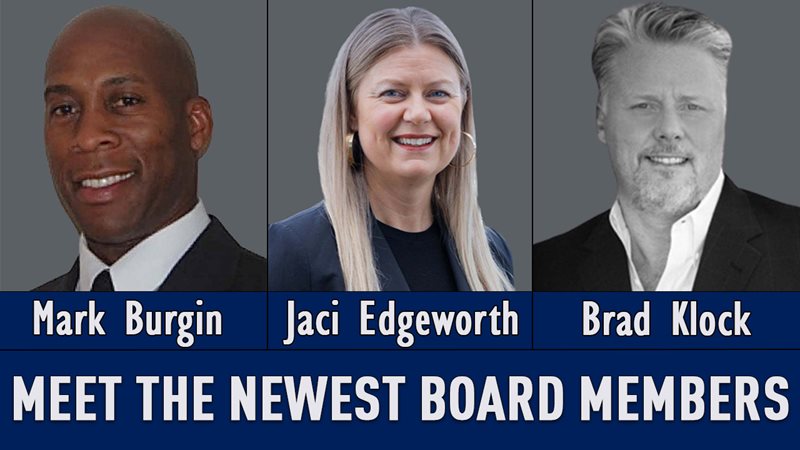 By MARIO ANNICCHIARICO
They come from varying backgrounds, but all three of BC Hockey's newest members of the Board of Directors have the same goal, to make the game more appealing, diverse, and welcoming for players, coaches and fans.
"The BC Hockey Board of Directors steps into a new era with the additions of Jaci, Brad and Mark," said Stephanie White, Chair of the BC Hockey Board of Directors. "It is an exciting time, as we rarely see a third of our Board change in a single year.
"Our new Directors varied experiences and successes, both inside and outside of the game of hockey, will allow for valuable insights and contributions as we continue to improve the game for all participants. We welcome them to the team and look forward to getting to work."
Here's a look at the three:
Jaci Edgeworth
The Chief People Officer at ICBC, Edgeworth is a native Minnesotan, growing up in what is known as the State of Hockey in the U.S.
She now resides in North Vancouver and has earned her master's degree in human resources and organizational development from the University of Manitoba. She also has a master's degree in Adult Education and a Bachelor of Arts degree in communication, both from the University of Minnesota.
Edgeworth plays women's hockey and has two boys involved in the sport at the North Shore Winter Club.
"I'm excited. Hockey is a big part of my life and my family's life," she says. "I've been on other boards, and I thought this would be more meaningful because it's doing work and helping an organization for something that's a big part of our life.
"This is an opportunity for me to contribute and use my skills and experience in something that has been a big part of our lives."
Edgeworth has served on the Board and was a Director and Chair of the Human Resources and Compensation Committee with the Vancouver Symphony Orchestra and the Family Services of North Shore.
She was an Advisory Committee Member with viaSport and Director with One Girl Can and served as Vice-Chair of Special Olympics Canada for the 2014 Summer Games.
Her experiences with labour and employee relations; HR data, analytics and reporting; organizational development; and diversity and inclusion for HR professionals training will be of great wealth to the Board.
Edgeworth grew up skating outdoors in Minnesota and realizes the challenges that BC Hockey faces.
"Hockey has faced some challenges over the last few years that have been complex, and I think those are things that I can help with because I understand how to help organizations and people be successful and so I think I can help strategize and lead through some of those complex challenges," she says.
Brad Klock
Originally from Port Alberni and now residing in Kamloops, Klock is Chief Executive Officer of a Biotech company.
He studied Physical Education at the University of British Columbia where he played hockey for the Thunderbirds from 1983-87. He then began a seven-year playing career in Europe, with stops in Germany and Holland, with his final season being 1994-95.
His board involvement includes roles as Director/Board member with the British Columbia Wildlife Federation and held positions as Committee Chair in strategic planning, revenue and partnership and Indigenous relations with the BC Wildlife Federation.
He has experience in the development and launch of multiple international start-ups; corporate governance and financial oversight within both the private and public sectors, including BC First Nations, and developed and launched over 50 regulated retail medical/surgical facilities.
"It was a really good process that they went through, all very professional," he says of joining the BC Hockey Board. "It's all about giving back. I come from a hockey background, and it's given me a ton of who I am, and what I am, and where I've been, both in education and culture, so it's nice to be able to give back.
"I think I bring good solid board experience from a non-profit. As well as board experience at the corporate level, too," says Klock, who has been a CEO for 18 years and has coached minor hockey.
"What I hope to contribute is getting back to the sport of hockey because there have been so many distractions from outside."
Mark Burgin
Leadership, marketing and risk management are some of the assets Burgin brings to the BC Hockey Board of Directors. The South Surrey resident is a Solutions Specialist for Southwire Solutions, in charge of Western Canada.
His road to hockey was a different one, having played as a youngster, but he excelled in track and field and football, achieving championship levels.
It was later in life that he became an on-ice hockey instructor and development coach and he also worked with the National Hockey League's Vancouver Canucks on diversity and inclusion on "Conversations in the Locker Room."
He eventually became involved in Semiahmoo Minor Hockey Association, where his son played and his daughter also competed with the Surrey Falcons, so Burgin also began coaching girls' hockey.
"When I started working in the corporate world, I found that a lot of people were just miserable," says Burgin, so he began coaching kids. "The kids were running around having fun and it snowballed from there."
His father passed away when he was just 14 and he realized he was a young athlete, seeking advice.
"When I had my own kids what I noticed, through the development of other kids, was they were starving for information. So, I figured I was going to fill in the gaps that I was looking for when I played," he says.
"I was on the board at Semiahmoo and coached a lot. When this opportunity came up, I wanted to jump at it because the kids that I'm on the ice with range from eight to 18 and I thought I could impact or have an influence on how the sport was going by sharing some of my ideas and hopefully some are adopted.
"I wanted to step up to the plate and make an effort to make some change in the sport in a positive direction."