MUNRO FINDS HER HOCKEY HOME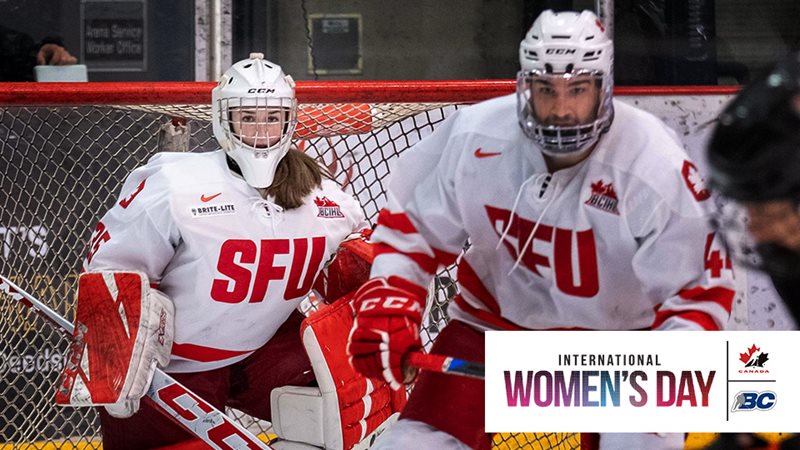 SFU Hockey
By Ryan Sinclair
The past two years have been anything but normal for Kayla Munro. Like many athletes, the young goaltender's daily life was shaken up by the global pandemic, as seasons were cancelled and restrictions were put in place. The challenge to find avenues to be able to play hockey became difficult.
For Munro, her journey to continue to play hockey has led her to the unique path of joining the Simon Fraser University (SFU) men's hockey team. The result has been a talented young hockey player being able to continue in the sport while breaking through barriers.
"I didn't know if I was going to get to play hockey again," says Munro. "I am just grateful right now to be playing on the SFU team."
SFU and Munro had a fantastic 2021-22 British Columbia Intercollegiate Hockey League (BCIHL) regular season, going undefeated with a perfect 12-0-0 record. For Munro, she made history throughout the season. She first jotted her name into the BCIHL history books as the first woman to ever play in a league pre-season game on Sept. 25, 2021, when she entered in the third period to take the net versus the Okanagan Lakers. She had a solid outing, stopping 13 of 14 shots in the frame. Munro next made her mark on Oct. 16, 2021, when she became the first woman to start a BCIHL exhibition game, also against the Lakers.
"I was a little bit nervous," Munro says of seeing her first game action. "Honestly, I hadn't thought about it as being a big milestone. I was nervous because I hadn't played a game in about two years. Last year at Syracuse and the year before that I had shoulder surgery. I talked to a sports psychologist and have learned some really good ways to control my nerves and make them a driving force of how well I play. Although a little nervous, I felt prepared."
Munro's crowning achievement, to this point, was on Feb. 5, 2022, when she became the first woman to ever play in a regular season BCIHL game. The 19-year-old took the crease for the third period against the Okanagan Lakers as SFU skated to an 8-5 victory.
For Munro, the original plan was not to rewrite history as a member of the SFU men's hockey team, in fact it was far from it. Her goal was to play NCAA hockey, and it appeared she had attained that lofty accomplishment when she committed to Syracuse University in New York on a hockey scholarship in 2019.
"It was honestly a dream come true to get the scholarship to Syracuse," says the product of North Vancouver, B.C. "It had been my goal to play in the NCAA since I started playing hockey. In my opinion, other than the Olympics, it is one of the highest levels you can get for female hockey."
However, as the world locked down and sports changed, so did Munro's plans as she chose to stay home with family and not play south of the border. The decision was not easy but was met with support and understanding.
"I went to Syracuse for about a month in 2020," says Munro. "We couldn't practice or do anything; we were just stuck in our apartments. For family reasons, I decided to come back home. Originally it was just for a semester, but then I decided just to stay home. [Syracuse head coach Paul Flanagan] was supportive. He is an amazing guy. He wants the best for you, and he told me that he wanted whatever made me happy and what was best for my mental health."
Once Munro decided to stay home in British Columbia, she was left looking for a university to continue her studies. Additionally, she was hoping to find a place to play hockey, a difficult task given all of the restrictions in place associated with the pandemic.
"I applied to Simon Fraser University and was accepted," says Munro.
With her schooling plans secured, she began looking at hockey options.
"I began looking at everything. Even if they had an intramural team or house league, I just wanted to keep playing.
"I found that SFU had a men's hockey team and so I emailed [head coach Mark Coletta] asking if I could try out. I told him a little about myself, the teams I played on and the level that I've gotten to in hockey. He was really supportive right away."
"Kayla needed a spot to play," says Coletta. "I let her know that she was more than welcome to come try out, and if you're good enough to play, you'll play. Given her predicament, we wanted to give her a shot."
The tryout for Munro was successful and after a training camp, she was included on the 2021-22 roster for SFU.
"She can play hockey," adds Coletta. "She's technically very good between the pipes, she moves around very well. So, making sure she adapts well is the important thing."
Coletta was clear that Munro made his squad on the merits of her play. He views her as a hockey player, with no designation of gender.
"Kayla's a tremendous person," he says. "She's proven every day that she comes ready to work and play."
Not being treated any differently is something Munro has valued from Coletta.
"He believes that the best players should be on this team," says the goaltender. "It doesn't matter if you're a girl or a guy. The first time when we talked on the phone, he said that I was just an equal hockey player, no more or no less. I found that very rewarding and empowering, and it made me feel really good."
Over the years, Munro has had many positive influences that have helped her as a player and person. While she was with the North Shore Avalanche of the North Shore Female Ice Hockey Association, Munro was first introduced to Jeff Eaton.
"I have two coaches that have stuck with me," says Munro. "(Eaton) coached a lot with the North Shore Avalanche, came out and did skills with us. Eventually, I got to play for him with the [Pacific Steelers Junior Female Hockey Club]. He's just one of the most knowledgeable hockey people that I know, and so supportive. Coach Eaton just wants to see us succeed and he was the biggest reason why I got my scholarship to Syracuse. I learned a lot of really good things from him.
"The other coach was Delaney Collins. She coached me on the [U18 AAA] Fraser Valley Rush my first year with the team."
Collins, a fixture on defence with Canada's National Women's Team during the 2000s, transitioned her 95 appearances and nine gold medals with the national team into coaching. Collins brought an impressive resume to coaching but also left Munro with a lasting message.
"(Collins) is a big believer in women being empowered," says Munro. "That we should be considered equal, not just in sports, but everything. I learned from her how to be a confident woman. That it's okay to be strong and have muscles, and not just be dainty and delicate. She helped me find who I was as a goalie and a person. She was a really big role model for me."
"Kayla was an amazing individual to work with," recalls Collins. "Her leadership and energy were infectious, and her teammates could count on her to always compete. As a goalie, she was extremely athletic, quick and her puck play was similar to a defender. She is fun to coach and is a great person and role model for young girls."
After everything Munro has experienced over the last two years, she is well aware that plans can change quickly. However, going forward, the young goaltender has set some goals.
"I want to finish my schooling," she says. "That's very important to me. So, for my future, it is continuing my schooling and likely getting a job, while hopefully playing hockey. Honestly, I am grateful to be playing because there was a point I didn't know if I was going to get to play hockey again."
Munro's time with SFU will serve her well in the game, and additionally to help build life skills.
"This has been an adjustment for her," says Coletta. "For Kayla to be able to adapt, I think it will serve her well once this year is over.
"She's worked hard and made a commitment to us. She was ready to play a lot of minutes or play the backup role. Anything to prepare herself for a spot as a starting goalie somewhere next year, whether it's back on the female side or not."
Through it all, Munro has stayed strong through the challenges.
"During the last few years just staying motivated was my biggest challenge," she says. "But I'm extremely happy where I am today. I'm very proud.