NATIONAL VOLUNTEER WEEK: TRUDY ALEXANDER - FORT ST. JOHN MHA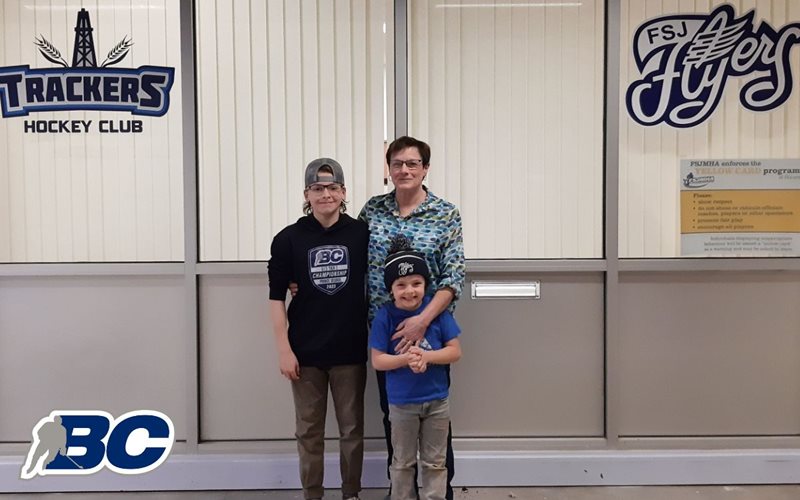 By MARIO ANNICCHIARICO
After nearly 40 years of volunteering with BC Hockey, Trudy Alexander has a message for those who may be interested in offering their time, especially now during National Volunteer Week.
"I do enjoy it. I like to be busy, and it becomes a part of your social life," says Alexander, who turns 70 in August and bides her time in the Fort St. John Minor Hockey Association (MHA) and Peace River District. "It's a long winter here, so if you're involved in something, it helps.
"I don't sew, and we don't golf, so we (with her husband Gary) don't go down south," she says with a laugh. "We just hang around here in the winter and go to the arena.
"I think it's worth volunteering, even if it's not hockey. I think you get to meet all kinds of people and you become a little more accepting. With hockey, I find we're not as grumpy with the young people, like some people are because we're used to them. I think when you're around younger people, you're not as critical, maybe and it keeps you busy and active."
Alexander now works as a paid administrator with Fort St. John MHA and is a volunteer with the district's North West Junior Hockey League. She's held positions as a registrar for Fort St. John Minor Hockey for 20 years, was a district director for BC Hockey, district registrar for Peace River and she's even coached. She's never been a referee but is involved in the officiating community of Fort St. John.
It all began over 39 years ago when her eldest son was just five. Before that her husband Gary played senior hockey and she, along with a few others, helped with tasks.
There was a need for help when her son began playing and she just happened to know the lady who was the registrar at the time.
"Her mother was a friend of my grandmother, and she asked if I would be interested in being the registrar. I said I wasn't sure if I could do it, but we managed," Alexander says of her start.
"That was back in the days before e-mail. We did it all by hand. We had to mail everything in by deadline. Every kid that was carded or affiliated, there was paperwork to be completed. You had to fill out the card and mail it in."
Her sons, Todd and Mathew Alexander, both played hockey. Todd still coaches the Junior B Huskies – who are an amazing 38-3-1 this year - in Fort St. John, and Mathew still plays old timers. Her two grandchildren now play hockey, and she also has two granddaughters who dance. Gary still takes care of the equipment for the Huskies, who were Alberta Provincial Junior B Champions in 2021-22.
"I get to run my own hours," says Trudy. "I go down to the rink when the Huskies practice. My husband goes, so I work those evenings and with the technology now, I have a laptop at home, so everything goes back and forth easily. Even when I'm not at work, I'm busy."
The two reside on 15 acres of land on edge of town and both her and Gary are originally from Fort St. John, with her grandmother arriving in the area in the late 1920s and the same for Gary.
She continues to enjoy her time with BC Hockey and its programs.
"I really like the new programs that BC Hockey has come up with, like the Initiation program. The kids are out there, and they float around, it's fun and no stress," she says with a laugh. "Most of the staff at BC Hockey have a big passion for it. Your cell phone is always going off and I've always thought the staff at BC Hockey are so friendly and helpful."
And for that, she is grateful.
Mario Annicchiarico is a freelance writer based in Victoria who has previously covered the National Hockey League's Edmonton Oilers, as well as the Western Hockey League.