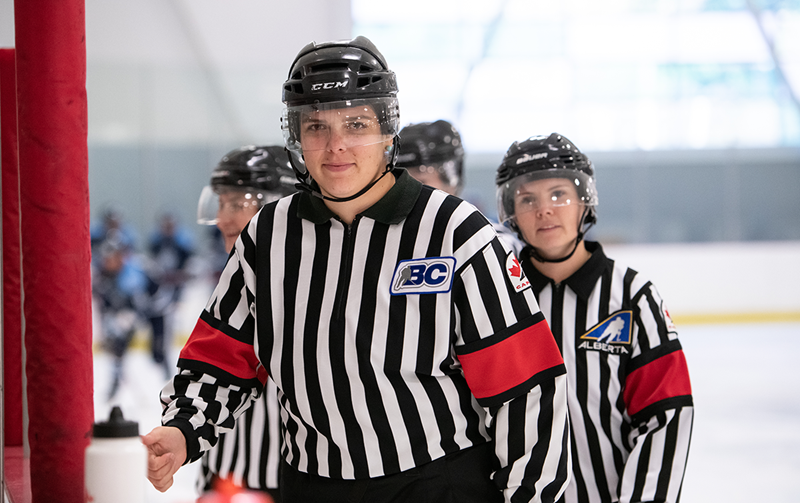 By MARIO ANNICCHIARICO
If it were up to Katy Thorne, there would be more girls and women involved in the sport of hockey and, to take it one step further, there should also be more female officials dictating the play of the game on the ice.
Thorne, a 27-year-old High Performance Official out of Kamloops and the Assistant Referee-in-Chief with Kamloops Minor Hockey Association (KMHA), is a strong mentor for girls and looks to grow the game even further in British Columbia, while promoting those of Indigenous descent.
"My goal is to continue the growth of female hockey at the local and provincial levels. I enjoy doing it for the girls coming up behind me," said Thorne, who also played for Aboriginal Team BC for three years.
Not that it's an easy task to tackle. Thorne knows the battles of growing the game for women are still large.
"It's tough. My dad (Jerome) taught me that at a young age, he was and still is the best advocate for the female game. He may have had a few arguments with KMHA, asking why they allow females to play integrated games but my brother couldn't play with my female team. I now understand that he was just trying to make a point about the lack of resources put into female hockey. Girls would rather play in the integrated stream to increase their development," recalls Thorne.
"I truly believe that female hockey is growing, and this is the time to jump on that opportunity, especially with the PWHL coming in. I want us to put a priority on the female game and grow it as much as we can.
"It's hard to do when we don't have the same amount of funding, resources or registrants. At this point I don't know how we do it, but I know that the amount of time and energy I put into it helps. As much as I can do, and the next person can do, it will make a difference. We're going to be the change we want to see, whether it's tomorrow or 10 years down the road."
Thorne began skating at the age of five and started playing hockey three years later. After a couple years of Irish Dance classes, she asked her mother Ruth, "Can I play hockey now?"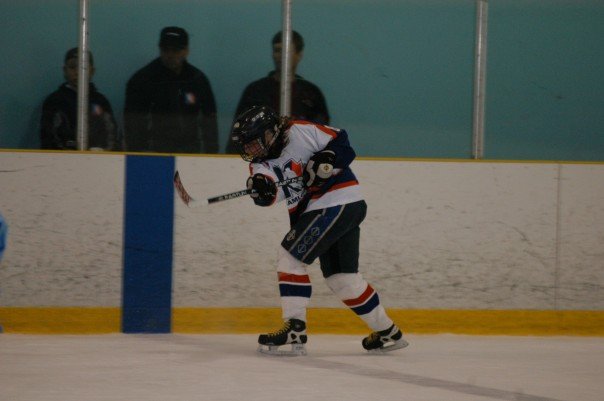 On this National Day for Truth & Reconciliation, it's important to note that her mother is a second-generation residential school survivor and both grandmothers are of Indigenous descent. Deanna Cook, from the 'Namgis First Nation in Alert Bay, B.C., and Yvonne Thorne from Esk'etemc First Nation in Alkali Lake, B.C.
"I take great pride in my heritage and recognize my mother and grandmothers as survivors. Growing up, I wasn't aware of the trauma and anguish they faced. I thank them, especially my mom for enduring the darkness so I can enjoy the light."
Thorne herself has faced some discrimination, mostly due to being a female official.
"Be it a player on the ice, coach on the bench, fans in the stands or – and this breaks my heart to say it - your teammates working with you, there are lots of people out there who think you can't do something just because you're a woman. That you're too slow or you don't get the game of hockey. It's heart-breaking and condescending," she said.
"Vanessa Stratton (Female High Performance Officiating Coach) always talks about equity over equality. It's one thing to have equal rights and equal pay, but it's another to have equitable opportunity," stresses Thorne. "That's why, in a sense, I choose not to officiate high performance male hockey, like the KIJHL.
"There has been some effort in the last few years; using gender neutral terms like linesperson and seeing some growth in our Female High-Performance programs. But to say the least, sexism still exists in the game of hockey. Whether it be on purpose or not, I hear derogatory comments all the time and notice the lack of support in the female programs."
She believes people think of female hockey as an afterthought and not a priority.
"It's not necessarily about the words we're using (ie. Linesperson), it's much more than that. We deserve to feel included and supported. We belong in the game of hockey, and we shouldn't be an afterthought. It's not about changing the world tomorrow; it's about making the effort to change today," she adds.
So, Thorne mentors as many young officials as possible, depending on her schedule, and would love to see more Indigenous youth in the game.
"I'm hoping we can grow the number of female and Indigenous participants in the future," said Thorne.
Kamloops Referee-in-Chief Brendan Martin believes she will be one to do it.
"She's a very impressive young lady. I think I've known her since 2016," said Martin, who started mentoring at that time. "I've watched her work for seven seasons and now she's my assistant RIC. She's just a great young lady.
"I know she's really involved in Indigenous hockey, in fact she might be the only person that has played, refereed, and coached in the National Aboriginal Hockey Championships, which is truly impressive."
Thorne also plays senior women's hockey with the Kamloops Vibe, joining the team last season, and this year adding the role of manager/coach.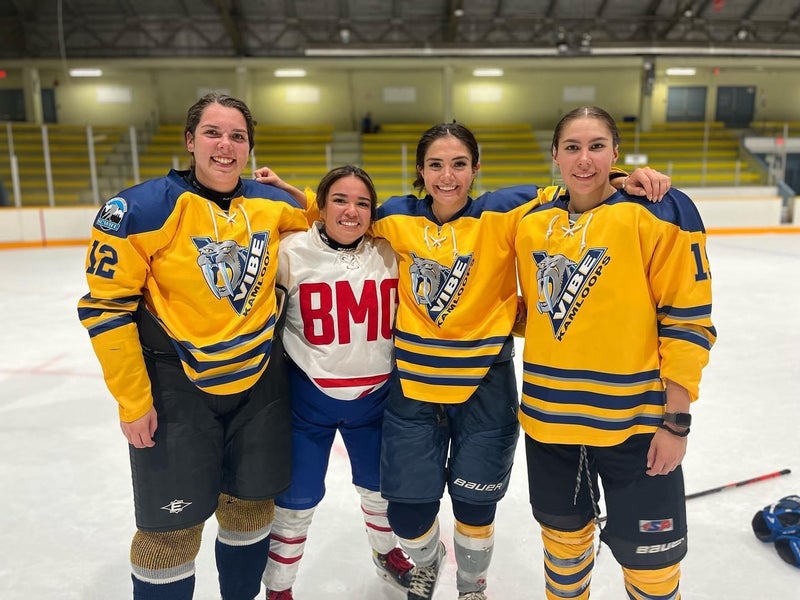 "She's worked so hard with BC Hockey as a female official as well, working female nationals in P.E.I. last year," adds Martin, referring to her stint at the 2023 Canada Winter Games after attending Hockey Canada Women's Pacific Regional Camp last year. He also stressed her abilities in giving back to grassroots officiating.
"She's a well-respected official who I would put up against anybody," says Martin. "She's very communicative, very direct and very consistent. I've seen her work U18 male hockey, and she does a great job. She's a great partner to work with."
And it all comes down to her motto of keeping a level head in a high-strung sport, dominated by males.
"As much as hockey is a competitive game. It's just a game," stresses Thorne. "It shouldn't be that serious for these kids. It's an outlet for them, it's not about winning, it's about what the game teaches us."
Mario Annicchiarico is a freelance writer based in Victoria who has previously covered the National Hockey League's Edmonton Oilers, as well as the Western Hockey League.