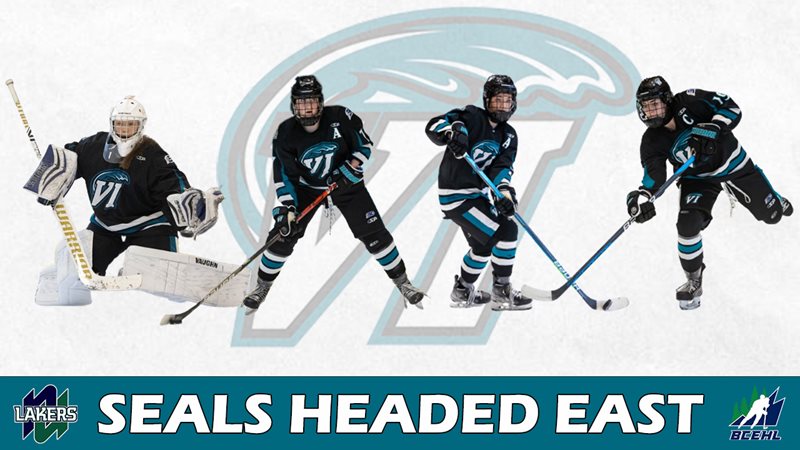 By MARIO ANNICCHIARICO
North Bay, Ont., is about to be overpopulated by seals.
Not your ordinary seals, mind you, but Vancouver Island Seals.
Four members of the BCEHL Female U18 AAA hockey program have all accepted invitations to join the Nipissing University Lakers, who compete in the Ontario University Athletics (OUA) conference of U SPORTS (formerly Canadian Interuniversity Sports).
Next season, Melissa Svienson, Tahlia Fisher, Rachel Lee and Cate Doerksen will all join the Lakers, who under head coach and former NHLer Darren Turcotte, recently competed in the 2023 U SPORTS National Championship.
The Lakers were seeded No. 6 in the eight-team tournament in Montreal after finishing as finalists in the OUA, losing the conference title to the University of Toronto. This season the Lakers were 19-4-3 in regular season play.
"Darren was looking at me since my first year of major midget and so I always knew they were in the mix - having my eye on them, knowing they already had their eye on me," said Svienson, who first visited the University of Windsor.
After spending a few days there, Svienson returned home and had a Zoom meeting with Turcotte and the rest of the coaching staff.
"After that meeting, I immediately knew I wanted to go there. I feel like I will get pushed as a person and player way more than anywhere else," said Svienson, a 17-year-old forward who played her minor hockey with Peninsula Minor Hockey Association (MHA) and Capital Region Female MHA and currently attends Stelly's Secondary in Saanichton, B.C.
She was the first to commit to the smaller school and the remainder followed suit.
"It's sick (that all four are going), really cool," admitted Fisher. "Melissa committed before me and Darren, the coach, reached out. It's a super good program but having one of my best buddies (Melissa) there made the decision a little easier."
The program, coaching, playing with skilled players and going to a good team, were factors that played in her decision.
"It's also better to have a smaller school, getting to know everyone better, professors and everything," said Fisher, a 17-year-old product of Juan de Fuca MHA and Capital Region Female MHA, who is attending Royal Bay Secondary in Colwood . "I'm excited about the change, starting a new chapter in my life, getting to live with my teammates. Yeah, I'm excited."
With the Nipissing campus being relatively small was appealing to all four Islanders. Doerksen, however, will have to wait to get into action as she just recently went through ACL reconstruction surgery on her right knee, which will take nine months to a year to fully recover.
The 18-year-old forward, who predominantly plays centre and played minor hockey with Kimberley MHA and Cranbrook MHA, resides in Duncan and attends Cowichan Secondary, but she did spend her Grade 10 year in Sudbury, Ont., where her mom Megan is from.
"I knew I wanted to go to a small university. I'm not into big cities and North Bay is the perfect place for me and with mom from Sudbury, there is family there," she said.
"I'm excited. I think we're all super excited about it. I was the third to commit there, and I'm close with both Melissa and Tahlia and that was a big reason for me to go there."
Which leads us to Lee, the last to commit.
"We went to Brampton for a Showcase and the three of us that were already committed drove out there and brought along Rachel," recalled Svienson. "We practised with the team, and everyone was super welcoming and the coach was awesome."
"We took a tour around the facilities and the town and Rachel got committed when we visited. One of their goalies was injured and she thought she was just filling in (on ice during a practice session). Right after practice we went out to eat and coach offered her a spot, so that was pretty awesome."
Not to mention surprising for the Pacific Christian student who hails from Victoria.
"I was definitely really excited for that. I was the last one to commit out of all of them, with those three going, it influenced my decision and having a good hockey program at Nipissing was a big factor for me and I knew I wanted to play high-level hockey in Canada," said Lee, who played minor hockey with Saanich MHA (now Victoria MHA).
The 17-year-old met Turcotte, who grew up in North Bay after being born in the United States, and liked his demeanour and coaching style, as well as goalie coach Patrick Rochefort.
And all four players credit the Seals program for helping them prepare for the next level.
"This was my fourth year. I've learned a lot and I feel like it's prepared myself as a person as well as an athlete on-and-off the ice," said Lee.
"It's been awesome. The Seals pretty much shaped me into the person I am today. The first year was the Covid year, so we didn't play a lot of games," said Svienson, adding the team took it on the chin the first few games. "But it's been a lot of the same girls through those years. I think we're a really strong group, really tight this year."
"Playing at a higher level and getting the mentorship and coaching – I got pushed all the time," added Fisher. "The league is a super good, playing with or against Team BC players or Team Canada. I think you're always playing with people that are better than you or pushing you to your limits. I think that prepared me for the next level."
As for Doerksen - who spent three seasons with the Seals, but not consecutively - she said: "The last two years have been great, the team has really grown, we've become really close. The first year was rocky, we didn't have a single win, but it's made a big jump to where we are now.
"I think it's prepared me, with a lot of practising and being away from school so long, it helps with getting our schoolwork done on our own and teaches us how to be accountable."
Mario Annicchiarico is a freelance writer based in Victoria who has previously covered the National Hockey League's Edmonton Oilers, as well as the Western Hockey League.