SILVER SHINES BRIGHT FOR KINGSMILL
Canadian para hockey goaltender Adam Kingsmill brings home a silver medal from Beijing.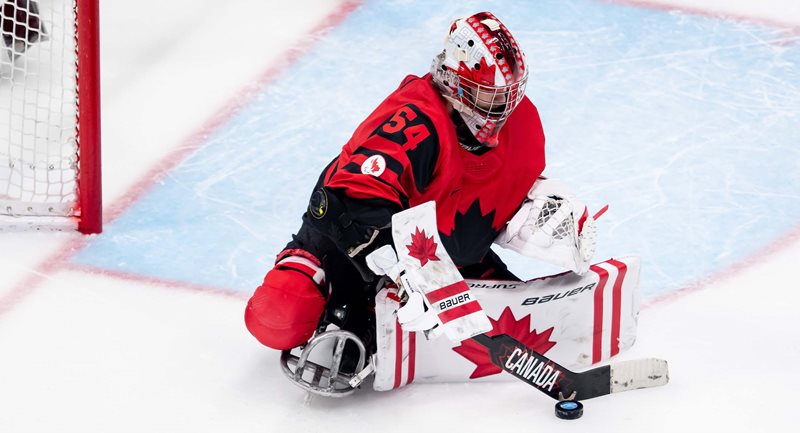 Photo Credit: Angela Burger/Canadian Paralympic Committee.
By MARIO ANNICCHIARICO
Adam Kingsmill travelled to Beijing in search of gold, returned home to his native Smithers, B.C., brandishing silver and will spend his summer drilling for diamonds, all while building up his own mettle as Team Canada Paralympic hockey goaltender.
The 22-year-old, who celebrated his birthday at the recent Paralympic Games in Beijing, will fondly remember his experiences in China with his silver-medal winning Canadian teammates and vows to push to improve for future tournaments.
"It was an incredible experience. I've spent the past couple of weeks thinking about everything that went on. It's hard to sum up in words, really," he said upon his return home to B.C. after a stop in Calgary, where he studies athletic therapy at Mount Royal University. "There were a lot of ups and downs throughout the whole process, even throughout the four years (of preparation).
"It was something that I dreamt about throughout my entire life - since I first put on skates. So, for it to finally come true was very emotional. It was a surreal experience," added Kingsmill, who played behind his veteran goaltending partner, 34-year-old Dominic Larocque, in Beijing.
Kingsmill saw action in two of the four games, playing the third periods in a 5-0 round-robin loss to eventual gold-medal winners, the United States, and 11-0 win over South Korea. He allowed just one goal over his time.
"There were tons of great memories. I kept notes every night, trying to remember everything I could," he said, noting the gold-medal game against the Americans really stood out for him, despite not seeing action.
"It wasn't the colour of medal that we wanted to bring back, but it was still an unbelievable experience. To be in a gold-medal game against the United States is a dream every small-town Canadian kid has, or any Canadian really.

"Walking out and seeing the rink and seeing the opponent was an incredible experience," added Kingsmill, who first joined the Canadian para ice hockey program after being noticed as a stand-up goaltender trying out for the Midget Triple-A Cariboo Cougars as a 15-year-old.
Kingsmill lost his leg in a lawn-mowing accident as a two-year-old, but began ice skating at three, with a prosthetic leg. He played goal throughout his minor hockey days both in Smithers and in Saskatchewan, where he spent a pair of years, before returning to the west coast.
"I've always set high expectations of myself. It comes from my family," Kingsmill said of his career to date. "They never pushed me in hockey, or to do anything, but I had a certain drive when I was younger that I really wanted to make this team (a Team Canada).
"I remember very vividly, driving back from a provincial tournament (which his dad was also officiating in) and one of dad's friends asked me what I wanted to do in hockey. I said, 'At the end of the day, I want to play with the Maple Leaf on my chest.' Now I have achieved that."
The last few years within the Canadian para ice hockey program have proved to him that all the work he put in has come to fruition.
It was after his tryout with the Cariboo Cougars that his path in hockey became clearer.
"I was sitting in the stands, looking at the ice and thinking of what was coming," he said recalling his tryout. It was then that he was approached by a local reporter who did a story on Kingsmill and Hockey Canada caught wind of it.
He received a phone call after suffering a femur injury later that year.
"The Hockey Canada manager asked if I wanted to come out and try some sledge hockey. I said, 'Why not.' I tried it and fell love with it right away and had a knack for it, so I decided to continue playing," said Kingsmill, who was then flown out to Toronto, tried it and made the development team.
He then debuted with Team Canada at the World Championship in Czech Republic in 2021 where Canada again finished second to the U.S. Canada was also a runner-up to the Americans at the last Paralympics in Pyeongchang, South Korea, in 2018, prior to Kingsmill's time with the program.
"It was a phenomenal experience," Kingsmill said of the World Championship. "I think I only played two games there as well, but being able to win against other high-performance programs was eye-opening to me and lit a fire underneath me. I've put in the time and made sure I was prepared as much as I could be."
Which is no surprise to anyone who knows the Kingsmill family, he explained. His mother Bobbie, father, Grange and older brother, Matt - who was also a goaltender but turned toward skiing and snowboarding later in life - have always been supportive.
"It was obviously a pretty traumatic event (losing his leg) for my entire family and I'm just proud to prove them right, that everything they did worked out. They raised me right. It was a hard couple of years after (the accident), so it's phenomenal to be able to share this bittersweet moment with my family, which brought me through everything."
He put on skates just a few months after his accident and re-learning how to walk with a prosthetic leg. He played Initiation hockey as soon as he was able to and worked his way up through the Smithers' minor hockey program. It was there where he learned a lot of valuable hockey and life lessons.
"I would be terribly remiss if I didn't mention Dave Tucker in Smithers, who lived close by. He's been a dedicated coach in minor hockey for years and years, coaching even when his kids weren't in it," recalled Kingsmill. "He's taught me a lot about morals and just being a good human being, and how I would have to work with a professional-like team one day.
"He told me that I would have to deal with bus rides and crazy schedules. 'You're going to have to get by these obstacles,' he would say to me. It was a speech that really resonated with me at the time. That helped me a lot and he's been a phenomenal coach and a friend throughout all these years.
"Even getting back to Smithers now, my first day I made sure I came in contact with him," said Kingsmill, who also credited the entire region for building his strength in a sport he loves.
"When people ask me about hockey in northern B.C., I always default to it's tough hockey up here. It's not easy. There are some big boys up here and good talent that not everyone gets to see," he said of northwestern B.C.
"There are a lot of hidden gems that people don't see, or people who haven't had a decent look. They helped me and developed me as a person, creating that work ethic and skill, and intelligence.
"Everyone treated me the same (growing up). They didn't see me as, 'Hey, that's Adam with a prosthetic leg.' They just saw Adam. No one treated me differently. I had the same status as everyone else and I think that helped me a lot. Some days were tough, but you just had to grind through it and that helped
me. Everyone treated me the same here and that's why I love Smithers so much."
And that's something he's passed on as he assists as a goalie coach with the U15 Triple-A Royals in Calgary, while attending university.
Next on Kingsmill's playing list is preparation for the next World Para Ice Hockey Championship, which is yet to be announced, and returning to school in the fall, as he is down to finishing off the last half of his degree. That will come after spending the summer drilling for diamonds in either northern B.C. or Yukon.
"I'm looking forward to being out in the country again and I never want to lose these small-town assets," he insisted, proving he is his own diamond in the rough.