TEAM BC PREVIEW - 2023 NATIONAL WOMEN'S UNDER-18 CHAMPIONSHIP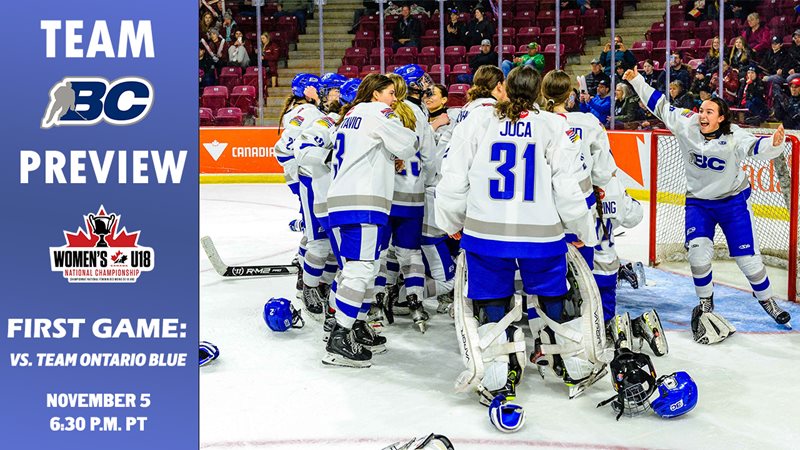 Photo Credits: Paul McLeod
By MARIO ANNICCHIARICO
With eight players returning from the gold-medal winning 2023 Canada Winter Games team, Team BC's U18 women's squad is in search of more gold at the upcoming 2023 National Women's Under-18 Championship.
The depth and experience will obviously benefit head coach Amy de Bree's squad, as will the benefit of playing as the host team in Dawson Creek, but those two factors also bring along some added pressure.
"Obviously there's lots of external pressure, but our focus is on what are we doing to be our best," offered de Bree, who was an assistant coach with that successful Canada Winter Games team. "Lots of eyes will be on us.
"We have the eight returning players, which we are really grateful for, because I think they will not only lead by example, but really support those other girls as they get introduced to the process."
The eight include defenders Chloe Primerano (North Shore Winter Club/RINK Hockey Academy), Gracie Graham (Merritt MHA/Kelowna MHA/RINK Hockey Academy), Aurora Kahlert (Ridge Meadows MHA) and Danica Maynard (South Okanagan MHA/RINK Hockey Academy); forwards Morgan Jackson (Comox Valley MHA/Shawnigan Lake School), Molly Cole (Langley MHA/Delta Hockey Academy) and London McDavid (Meadow Ridge Female MHA/Delta Hockey Academy); and goaltender Clara Juca (Burnaby MHA/Etobicoke Dolphins).
Primerano is a talented two-way defender who was a 2022 WHL Draft selection of the Vancouver Giants, while Graham and Jackson represented Canada with its gold-medal run at the 2023 IIHF Women's Under-18 Championship. All eight will be looked upon as leaders.
"Whether they wear a letter or not, they will lead. They come with an experience that is unique," said de Bree, who wasn't about to discuss expectations, rather wanting to focus on the process for the games, which run November 5-11.
"I think we're so focused on showing up and meeting our details every single day. For us it's process, we're not looking at that end goal, we're looking at are we showing up each day? Are we hitting our habits and creating our playing identity, and taking it one shift at a time."
Primerano, for one, is excited for the upcoming tournament in which Team BC will be situated in a pool with both Ontario teams (Blue and Red) and Manitoba, followed by a standard quarterfinal, semifinal and final format.
"The competition is going to be really good, so I'm excited for it. I'm looking forward to it. The team looks really good, everyone has been working very hard and I think we all have pretty high expectations, especially after last year," said Primerano.
"We all want to come back and win it again. With B.C. winning (the Canada Winter Games), I think everyone this year wants to win again."
Especially with the tournament slated for northern B.C.
"That's pretty special to be playing in our home province, in front of family and friends. It's special to be representing your province in your home province," she added.
Of course, that means there will be more eyes on Team BC.
"I think there's a little bit of added pressure because we want to perform, especially playing at home, but I think we just have to play our game and not worry about it," said Primerano, of North Vancouver who is one of seven players from the RINK Hockey Academy in Kelowna.
"Even the players not on RINK; we've all played together at some point so we have good chemistry and we know how each other plays," said Primerano, who de Bree describes as a 200-foot player.
"Chloe is not only an incredible person, she's an incredible athlete. When she steps on the ice, you know she's there," said de Bree. "She's impactful with everything she does; incredibly skilled; offensively minded; but she's also able to shut things down in the defensive zone."
De Bree, along with her assistant coaches Whitney Juszkiewicz and Jesse Hammill, will also benefit from returnees Gracie Graham and Morgan Jackson, who were part of Team Canada's gold-medal run at the 2023 IIHF Women's Under-18 Championship.
"We have some depth for sure," said de Bree. "A number of our girls were also at that U18 summer camp for Team Canada, so some girls are coming in with great experiences and that will help them at this tournament."
Mario Annicchiarico is a freelance writer based in Victoria who has previously covered the National Hockey League's Edmonton Oilers, as well as the Western Hockey League.