TEAM BC PREVIEW - 2023 WHL CUP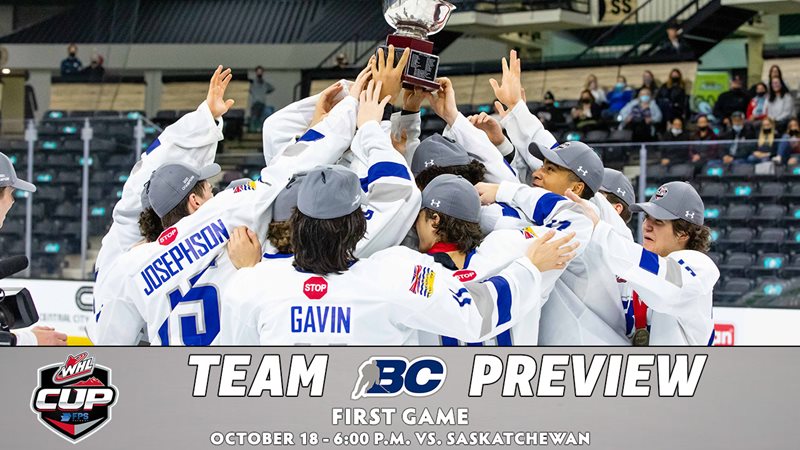 By MARIO ANNICCHIARICO
Jason Becker likes the look and makeup of his Team BC squad as it prepares to roll into the 2023 WHL Cup, slated for October 18-22, 2023, at the Peavey Mart Centrium in Red Deer, Alta.
The head coach of the U16 team describes his group as an offensive-minded squad, led by the likes of Mathis Preston (Penticton MHA), the third overall WHL Draft selection of the Spokane Chiefs; defenceman Ryan Lin (sixth overall choice of the Vancouver Giants) and the Ruck twins, Liam and Markus, both chosen ninth and 21st overall, respectively, by the Medicine Hat Tigers.
"I think we have a very skilled, highly offensive-minded group. Even with our defence, we're at the skill level where all six of the guys are what I consider 200-foot defencemen. They have the ability to contribute on the offensive side, but they're also very responsible at the defensive end," Becker said of his group, which features a large contingent of leaders from their club teams.
"Leaders? There are a lot of them within their club teams. Obviously one of the players is Ryan Lin (Richmond Jets MHA) and both Markus and Liam Ruck (South Okanagan MHA), who are not the most vocal leaders, but leaders through their work ethic," he said of the twins.
"Preston, he's a very dynamic player, an elite shooter. He's already been compared to having an NHL-type shot right now. When he's firing on all cylinders, he's a very dangerous player," Becker said of the third-overall WHL selection from Penticton.
Lin is a highly regarded defenceman, who stands in at five-foot-11, and currently works both ends of the ice for Delta Hockey Academy.
"I've got used to these situations, but it's still cool to be in them," Lin said of the upcoming tournament. "It's going to be a high-level tournament. It's the best players in Western Canada, so I'm looking forward to that and competing against all the other teams."
Team BC enters the tournament as the reigning WHL Cup champions, of which Becker held down the position of lead evaluator in the 2021 event. He was also an assistant coach in 2017, which B.C. also won. The WHL Cup is held every season except for the years in which the Canada Winter Games are held (like this past season) and is known as the first step in Hockey Canada's Program of Excellence.
Current NHLers who previously played in the tournament include Mathew Barzal, Morgan Reilly, Brayden Point and Matt Dumba, just to name a few.
"It's exciting. I don't think it's pressure," Lin said of being a part of Team BC, the reigning champion. "It's something that happened and we're looking to do it again. I know some of the coaching staff was there and they know how to do it, so we're hoping we can repeat."
But he also knows that will be a tough task, especially starting out against Saskatchewan in the 6 p.m. (PT) game and following it up against Manitoba in less than 24 hours (3:15 p.m., PT).
"It's a short-turn competition, so it's whoever can get to their game the fastest," offered Lin. "We've got a good mix of guys with their skillset, so I think it will be a good mix."
Also on Team BC are Joe Iginla, who plays out of RINK Hockey Academy in Kelowna and is the younger son of Hall of Famer Jarome Iginla; Sam Auld (Vancouver Thunderbirds MHA/St. George's School), son of former Vancouver Canucks goaltender Alex Auld; and Lucas Benn (Cloverdale MHA), also from St. George's, who is related to NHLers Jamie and Jordie Benn.
"With this tournament, your goal is to get better each day," said coach Becker. "We don't want to be on the other end of the spectrum of the non-winning side, but there's going to be short turn-around eventually, especially with the earlier games come Sunday, with the first and second-place, and third- and fourth-place games earlier in the day.
"Every team has to go through it (short turn-arounds) so we have to make sure we manage ourselves properly.
"I know the WHL does a really good job of taking care of the group and getting us situated, but at the end of the day it's up to us as a staff to relay that message. More importantly, it's up to the players needing to be responsible not only to themselves, but to their teammates. We're preaching that team game, the responsibility aspect, and that accountability aspect," added Becker, who is thrilled to be attending his third WHL Cup.
"I'm very excited. This will be my third time at the event, in three different roles so I'm obviously excited to be back at it, and even more excited to be the head coach."
Mario Annicchiarico is a freelance writer based in Victoria who has previously covered the National Hockey League's Edmonton Oilers, as well as the Western Hockey League.