WHERE THERE'S A WILL – PT. TWO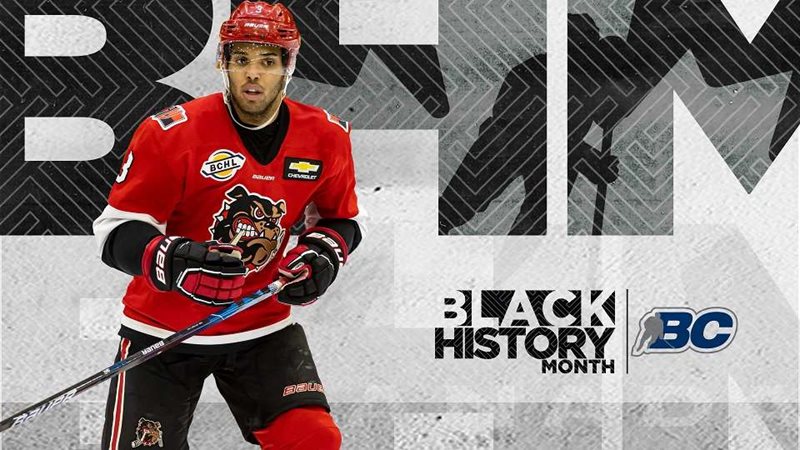 Garrett James Photography
By MARIO ANNICCHIARICO
Having lost his mother to what he will still only describe as a tragic death when he was just the tender age of 12, Manu Charbonneau's life could have easily led him down a different path, but where there is a will there is always a way, and his will is strong.
Instead, the now 17-year-old from St-Jean-sur-Richelieu, Quebec, just outside Montreal, has found a way to become what is described as a strong young man with a will to succeed in the sport he loves.
Where does that determination come from? Easy, says Manu.
"I would say it comes from my mom," he says of his resilience and drive. "She would always push me towards my goals. She was strict with me and at the end of the day, that's why I make sure today that I take everything serious with my hockey and I think my success comes from that.
"Also, the fact that my grandparents have the same mentality. They push me and they know what I need to do for my mom to be happy, if she was there for me today," he says of Annie Charbonneau. "I think all of that combined pushes me every day to work harder and get better in school and on the ice as well."
Manu, a young man of colour born to his Caucasian mom and with Caucasian grandparents, grew up learning the values of hard work. His grandparents Luc and Therese came out of their retirement to assist the young teen with his hockey and educational requirements.
He never really knew his father, until much later in life, and he still only sees him once or twice a year, but believes his athletic abilities came from him.
"When he was young, he used to be a very good soccer player. He's very tall, six-foot-four, so I would probably say my dad," Manu replies when asked where he believes his athletic abilities come from. "When he was young he was in good shape, really impressive at six-foot-four and now he's in dad shape, if you know what I mean."
Manu used those abilities to move his way up through the Quebec minor hockey system, receiving special exemption to play U18 AAA hockey at the age of 14, shortly after his mom's passing. His family advisor Jonathan Lachance, of Will Sports Group in Quebec, then applied for his release and transfer to move west to Port Alberni, where he now plays defence for the Alberni Valley Bulldogs of the British Columbia Hockey League.
It was in hopes of attracting a NCAA scholarship, which he now has for the University of Nebraska-Omaha, where he will attend in 2023-24 campaign. The now six-foot-three, 200-pounder hopes to one day play in the National Hockey League. He is currently listed as one of seven BCHLers to watch as a possible pick in this year's NHL Entry Draft.
"For sure, that's my dream to play in the NHL. Since I was four years old. Now I put forth the effort every day in the gym, on the ice and at school to eventually get there one day. Who knows? I'm just going to put in 100 per cent every day and see what happens, but for sure that's my dream," he says.
Asked to describe Manu Charbonneau as a hockey player, Alberni Valley Bulldogs general manager and head coach Joe Martin doesn't hesitate.
"He's very difficult to play against. He's a heavier kid for 17. He finishes his checks and he's not easy to play against. He has a little bit of offence to him, but not everyone is Cale Makar (an outstanding offensive defenceman with the Colorado Avalanche who came through the junior a system in Alberta)," says Martin.
"He has a very hard shot. His approach to playing defence is simple and his approach to playing offence is not complex. He's not a puck-moving guy, who is going to find these amazing seams. He gets pucks on net with a heavy shot," he adds of Manu.
"On defence, it's about playing heavy and being a hard guy to play against. With these kids - the ones who understand who they are and almost accept it, but don't stop trying to develop – they are the ones who succeed. I think he's on the cusp of that."
Keeping it simple and playing to his strength is the best aspect to Manu's game, he suggests.
"I've seen a lot of these (aspects) the last two years. I've seen him become comfortable being that hard defenceman to play against. Usually, in junior hockey, those are your 19- and 20-year-olds, so for him to do it at 17 is very nice to see and it helps us win," Martin adds of Manu, who has one goal and eight assists with 18 penalty minutes in 27 games this season. "It's nice to see him embrace that and in practice you still see him try to develop those other parts of his game.
"It's his draft year and I know for me, you're trying to develop all aspects of the game, but when they are in a draft year … hey, they're kids and it's hard for them. They forget. NHL scouts call it 'draftitis.' They all think they need to be the best and they forget that they just need to go out and play. Most kids struggle with that, but Manu has come around and found his niche."
Martin says Manu has time on his side, with another year of Junior, then likely four years of college. He also says that his size obviously attracts a lot of attention and when you see him finish his hits and being physical, it garners even more. Junior A is also different from Major Junior in that there is a two-fight limit before ejections kick in and suspensions soon follow.
"Physicality is about body position and finishing your checks and being an absolute pain to play against. He's great on the penalty kill for us and around the net he is difficult to get a free stick against. And he's still only 17. I'm sure opponents look at him on the ice and, if they don't know who he is, they think he's a 19- or 20-year-old. If he lets that beard grow in, he'd be even a little more scarier," chuckles Martin.
"He still has one more year to refine. The last two years he's also been doing high school out here in Port Alberni, which can't be easy with English as a second language. But he speaks it well and his grades are great, too. In his conversations, he comes across as very focused and I know he impresses teachers a lot. In fact, they say, 'I wish my other students were like this.' He gives the Bulldogs a good name because he's a good kid. He doesn't miss a workout either. He's dialled in," adds Martin of his pupil.
So far, Manu has been a sponge soaking in information on-and-off the ice.
"For sure I'm excited," Manu says, looking ahead to the next step at Nebraska-Omaha. "Since I was young, that's been my dream to play college one day and then the NHL. I'm going step-by-step, but for sure every day I think about it.
"I can't wait to get to Omaha, spend my years there and get my diploma at the end. For sure, it's a different place down there, but it's not a problem for me. I'm pretty mild-natured, so it might take me a month to figure it out, but my English is pretty good now and that was a big challenge at the start. I think I'm going to be fine."
Thanks to those who have surrounded him since the untimely passing of his mother, like his grandparents, advisors, coaches and friends.
"I lived with my mom for 12 1/2 years and when my mom passed away I went to live with my grandparents and I've been with them for the last five years. I've been very lucky," he says. "I was with my mom and then my grandparents when I was young and I really appreciate them.
"I feel like I'm really lucky to have my grandparents taking care of me and to push me in school and in hockey and teach me that I can reach my dreams. Without them, who knows I might not have been here today."
And he's also obviously assisted his elder grandparents in these insecure times of COVID-19.
"I take care of them a little bit. It was a hard situation at the start. I was struggling a little bit at the start. It was pretty stressful with my grandparents, because with old people it was dangerous for them, so I just stayed home and hadn't seen my friends for a long time because of it," he says.
He would often do the groceries for them and just assist any way he could.
"We became very close, just the three of us. It was just the three of us for a long time, which was good and I really appreciate those moments," says Manu, who goes home in the off-season and went home for a week at Christmas.
His family advisors, Lachance and Dom De Blois, have made sure he remains on the right path.
"It's helped me a lot for sure. They are my advisors, but they have all the time in the world for me. We talk about hockey, but also about life. They're like partners for me, whenever I need them I just text them and they answer me," said Manu.
"For sure they've helped me a lot and I know that these guys are there for me. If I've had a bad game or if I have a bad day, I can text them and they can give me advice. They're always there for me to support me and that's helped me a lot for sure."
"We're trying," says Lachance. "We want to make sure that he gets everything he needs and the proper feedback. It's not always the type he wants to hear, but it's also accurate and that's what drives them, right? We're very pleased with what he's accomplished so far."
Lachance, originally from Quebec City, resides just 20 minutes away from Manu's grandparents and maintains that connection.
"They're good. They're cautious with the Covid stuff, and they're missing their grandson, but they are well," he says.
"Manny's been fortunate to have strong surroundings, but he's had it pretty hard, that's for sure," says Lachance. "He grew up in a small town 30 minutes away from Montreal. Being a coloured kid in a small town, he grew up, played hockey, but he's always been a force of nature with the size of the player and the athlete that he is.
"He lost his mother at 12. He has a father, but his father never really got involved. He lived with his mother until she died and when she passed, he obviously moved into his grandparent's home and stayed there, and he is still under their custody.
"They came out of retirement to assist and manage needs with hockey. At 14, he was given permission to play U18 AAA hockey. He was the elite of the elite and kept growing in that direction. And at 15 he was drafted into major junior, but always wanted to go to college hockey route and decided after the draft to go in that direction. Nebraska Omaha loved him and offered him a full scholarship.
"He's confirmed that he would have an education paid for, which is quite impressive. He's in school in Port Alberni now and doing quite well. Before he left, Quebec was very tight with its Covid restrictions, so he was schooled from home.
"Essentially, Manny was doing groceries for his grandparents so that they would be safe health-wise. He's a good human being with good values. He's very mature for his age. Obviously, he is still a kid, but being his advisor you see it sometimes, that he wants to do it on his own."
And, all involved, wouldn't want it any other way.
Mario Annicchiarico is a freelance writer based in Victoria who has previously covered the National Hockey League's Edmonton Oilers, as well as the Western Hockey League.