WITH PRIDE AND AUTHENTICITY
After transitioning in 2018, Dee McWatters is working to create a safe and comfortable space for other transgender members of the hockey community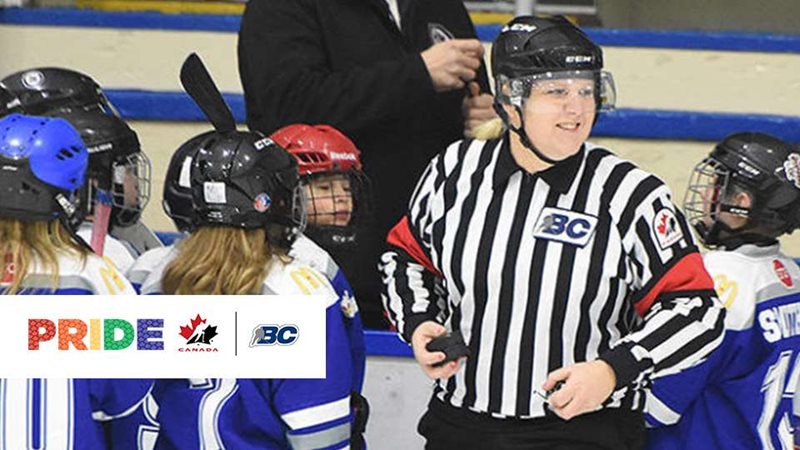 By Mario Annicchiarico
For Dee McWatters, pride comes with respect, honour, determination and – most of all – acceptance.
The Summerland, B.C., minor hockey official and adult-league goaltender opened up to her community and world as transgender in 2018, announcing her intentions of transitioning from male to female.
As an official in the Penticton Minor Hockey Association and part of a women's team, hockey has helped McWatters through her challenges.
"It's beyond me," she says of being readily accepted. "Let's face it, sometimes the game has its male-dominated machismo, and it's not the most comfortable place to come out.
"I remember what locker-room talk was like [when] I was a teen. It was a different era, but now my kids have spent time coaching and are the ones in the dressing room. Now they have the opportunity to be the influence in the room to provide that safe environment. It's about sharing the game, allowing people to be diverse and be themselves.
"That future McDavid Gretzky or Ovechkin – it's possible they may have come and gone because they left the sport at 14 because they just felt this is not a place where [they] feel comfortable," McWatters, 48, says. "That would be a shame if that has happened. There shouldn't be anyone who leaves the game because of how they may identify. They should be welcomed. We're getting closer."
McWatters, who also works as an operations manager with Time Family of Wines, now works to build a comfortable space for other transgender athletes.
After she came out to herself five years ago, McWatters remembers sharing her transition with the rest of her hockey community.
"At the time, I was doing more coaching and officiating in Summerland. I let the association know what I was going through with my transition, to not let it affect anything with my coaching and make sure they had my support, because they're supposed to support me."
She was officiating and not playing at the time.
"As a goaltender, I wasn't really big on regular men's beer league. I enjoyed refereeing it. It was good exercise and I made a couple of bucks. Then a few years ago I [officiated] a few games in the South Okanagan Women's League and at the wind-up party someone asked me if I still played.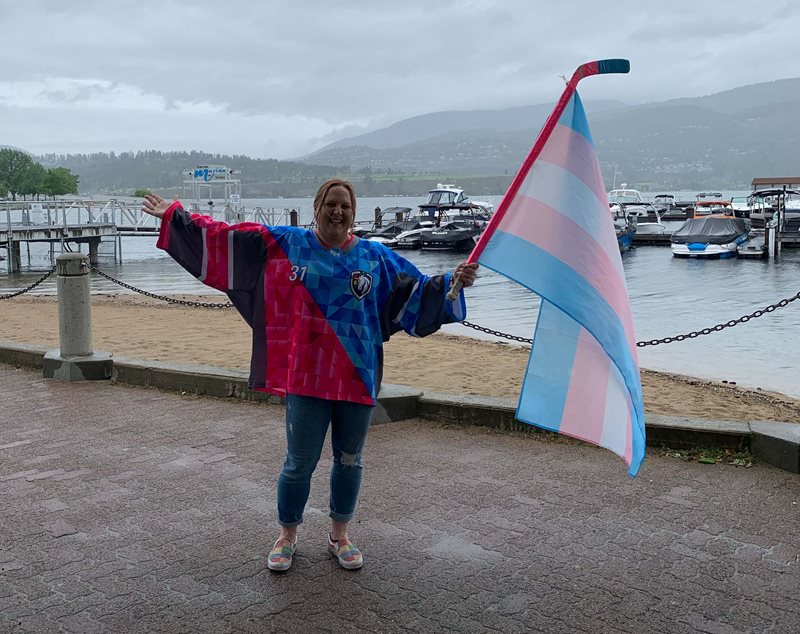 "I said, 'Not really, I do coach and it's been a while since I was in the net.' And they were like, 'You're a goalie? That's even more important.' I said, 'Well I'm not fully female yet.' They said, 'Yes you are. You identify as a female. Totally, yes, you're one of us.'
From there, McWatters rediscovered her love of the game as a player, joining another team in the fall of 2019.
"only one of the girls knew me and they were like, 'Who's this new goalie we're trying out? She's awesome. Is she staying with us this season?' I was just fully accepted as one of the ladies playing the game and I loved it."
That's when McWatters also found out about an all-transgender team competing in Boston, playing a weekend of games facing Boston Pride's gay hockey team, with another event planned in Madison, Wisconsin the following year.
"I wanted to go to [Madison] and I raised some funds to go and had so much support that I turned it into a fundraiser for local youth LGBTQ programs. Then the [COVID-19] pandemic hit and Madison did not eventually happen. Hockey took a turn for a season and life went on," she remembers.
"Things started lifting last year and I held another fundraiser and supported five different youth organizations, two local high school bursaries and donated money to Team Trans North America, to help fund those who otherwise couldn't afford to go to one of our tournaments."
She eventually competed in Wisconsin last year, playing at age 47, and was encouraged by seeing young athletes in their 20s being able to play the game they love as their authentic selves.
McWatters' inspiration turned to action as she approached BC Hockey about developing an educational program to promote more diversity and support for hockey associations.
She was recently involved in a Zoom meeting with Kamloops Minor Hockey where a friend of hers is on the executive.
"They have a player [and their] family going through transitioning, and they want to make sure they have all the proper pieces in place to support the player and family so that they can move forward," says McWatters, who was more than willing to help.
"That's what I want to do, make sure no one leaves our game. They enjoy playing the game and they shouldn't be pushed out because they're uncomfortable as a person, whether they identify differently or whether their sexual orientation or preferences are different. It shouldn't matter as we're all just here to play this wonderful game of hockey."
She also officiated at the girls' provincial U15 tournament in Kelowna.
"I had the support of the Penticton Minor Hockey referee-in-chief to attend, but it was more that I wanted to show some visibility and spread the message that there are people like me in the game," McWatters says.
"I am very visible. I never forget that I'm there to officiate, but I also want people to see who I am so that there might be some identifying young player or coach or fellow official that sees me out there and realizes, 'I can be me and still stay in this game that I love.'"
In a sport she has adored since she started at eight years old before taking up officiating at 12, she now hopes to be a role model; McWatters encourages people to ask questions how they can support players in a similar position.
"I have gone through many steps, from accepting who I was, to others accepting, to my social transition, to my medical transition," she shares. "I have gone through hormone replacement and gender reassignment surgery. That's not the end-all, be-all for everybody. That was my choice. But I live every day completely and authentically as the female that [I] was meant to be inside."
Mario Annicchiarico is a freelance writer based in Victoria who has previously covered the National Hockey League's Edmonton Oilers, as well as the Western Hockey League.