BC HOCKEY ANNOUNCES SCHEDULES & ROSTERS FOR 2023 PROVINCIAL CAMPS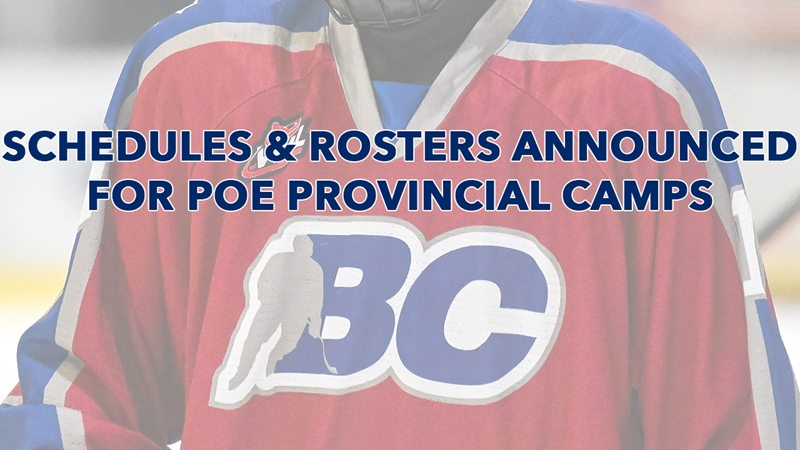 For Immediate Release
June 29, 2023
Saanichton, B.C. - BC Hockey is pleased to announce the schedules and rosters for the Program of Excellence (POE) Provincial Camp being held in Chilliwack between July 20-27, 2023 at the Chilliwack Coliseum.
The Female U18 camp will see 76 of the best 2006-2008-born players compete from July 20-23, 2023. The male portion of the camp runs from July 24-27, and will see 68 of the top 2008-born players take part.
Provincial Camps are for players that are residents of British Columbia, and are part of the phased selection process for BC Hockey to evaluate and ultimately choose the teams that will represent B.C. at the U18 Women's National Championship in November for the Female U18 Team BC, and the WHL Cup in October for the Male U16 Team BC.
At Provincial Camp, both the Female U18 and Male U16 invitees will be split into four teams respectively. Over each four-day camp, the teams will participate in a variety of on-and-off-ice sessions including intra-squad games and practices.
Click HERE to view the Female U18 Provincial Camp schedule and roster and click HERE to view the Male U16 Provincial Camp schedule and roster.
Further details on the exact time and location of the U18 Women's National Championship and the WHL Cup will be released as it becomes available.
For more information on BC Hockey's POE, please visit https://www.bchockey.net/team-bc/program-of-excellence.
-30-