BC HOCKEY'S 2023 PROGRAM OF EXCELLENCE MALE REGIONAL CAMPS OPEN FOR REGISTRATION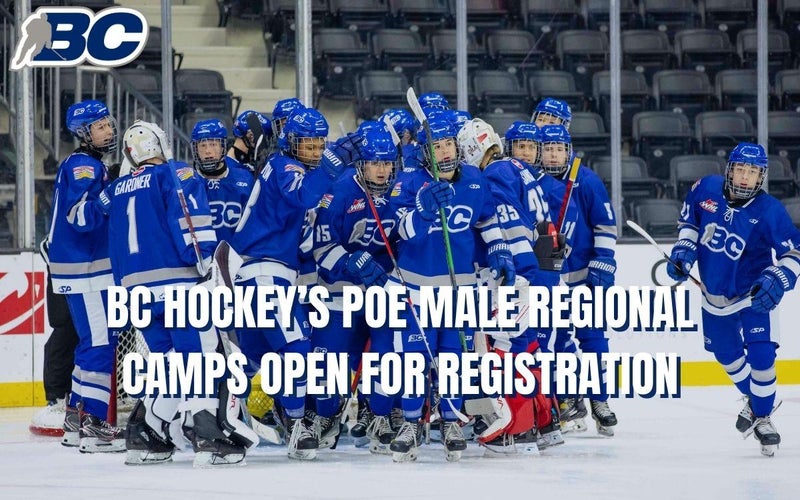 For Immediate Release
January 19, 2023
Saanichton, B.C. – BC Hockey's Program of Excellence (POE) is proud to announce that registration is now open for the Male U15 and U16 Regional Camps for the 2023 season.
Each camp listed below will operate a U15 (2009-born-players) and U16 (2008-born-players) age category. Athletes will only compete against and be evaluated at their appropriate age category.
Regional Camps will be held on two separate weekends to give all interested athletes the opportunity to attend a camp. Athletes may attend any one of the camps and are not bound to attend the camp closest to their primary residence.
Players will need to choose one of the following five camps:
March 17-19, 2023 – Prince George, B.C.
March 17-19, 2023 – Vancouver, B.C.
March 24-26, 2023 – Kelowna, B.C.
March 24-26, 2023 – Langley, B.C.
March 24-26, 2023 – Nanaimo, B.C.
To register for one of these camps, click HERE for U15 registration, and HERE for U16 registration.
Each athlete attending the Regional Camps will receive one on-ice skill development session and will compete in multiple games. Full day-to-day schedules will be made available closer to the event dates.
From these camps, 160 athletes will be chosen to move onto the next stages of the Program of Excellence.
U15 will move to the Provincial Tournament (May 11-14, 2023 – Penticton, B.C.)
U16 will move on to BC Cup (April 20-23, 2023 – Salmon Arm, B.C.)
The U16 roster will compete as the B.C. representatives at the 2023 WHL Cup, which will take place later this year in October, 2023.
For more information on BC Hockey's POE, please visit https://www.bchockey.net/team-bc/program-of-excellence.
-30-