BC HOCKEY'S NEW WORKGROUPS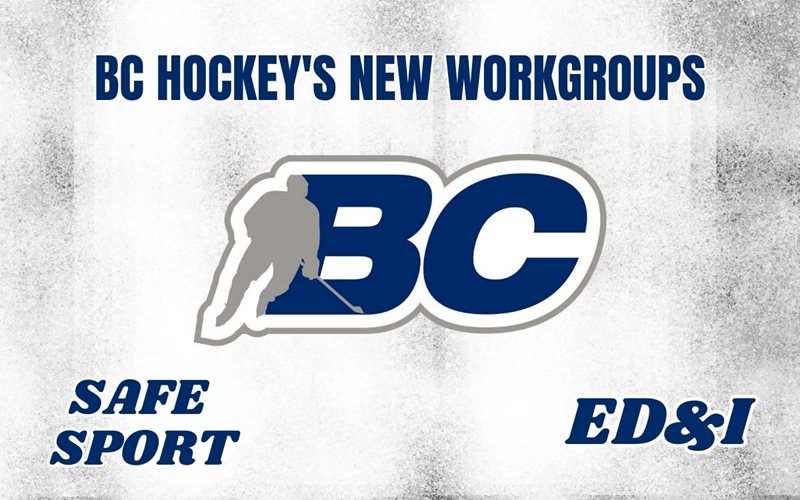 For Immediate Release
May 29, 2023
Saanichton, B.C. - The BC Hockey Board of Directors created two new workgroups during the 2022-23 season to help make hockey a safer and more enjoyable experience for all participants and members.
To help lead change in the cultural landscape of hockey, the BC Hockey Board of Directors created the Safe Sport Workgroup and the Equity, Diversity, & Inclusion (ED&I) Workgroup. These workgroups join the Indigenous Participation Workgroup that was established in 2016.
"The BC Hockey Board of Directors felt it was imperative to prioritize the creation of these new workgroups," Chair of the Board Stephanie White said. "BC Hockey is committed to fostering a positive culture for all participants, and to actively prioritize these crucial areas by taking proactive steps towards positive and sustained change."
The primary goal of these groups is to assess BC Hockey's existing policies, programs, and practices to identify areas for improvement and to recommend new strategies that will fill any gaps that may exist. The workgroups will also help raise awareness and provide education for membership and participants.
All three of the workgroups met in Richmond, B.C. this past March for BC Hockey's first ever Culture Workgroup Summit Meeting. This allowed the three groups to come together and meet as a group as well as to have individual workgroup meetings. To learn more about the workgroups please click HERE to see a video from the Summit.
This year's Annual Congress will be held in Penticton on June 9-10. The theme of this year's Congress is Be the Change in Hockey and will see seminars led by each of the BC Hockey Workgroups.
"We recognize that these efforts require a collective commitment from all stakeholders involved in BC Hockey," CEO Cameron Hope said. "Congress will provide our members with the opportunity to increase their knowledge and understanding within these areas, and then share this information with their members and participants. This year's Annual Congress will be one of the most important in BC Hockey's history."
To watch the BC Hockey's Be the Change video, please click HERE.
BC Hockey received over 66 applications from interested individuals for these new workgroups, from inside the game of hockey and from individuals outside of the hockey community. In the end, the ED&I Workgroup is comprised of five individuals and the Safe Sport Workgroup has seven members.
The following individuals are members of the ED&I Workgroup:
Lynne Kiang – Chair
Harbs Bains
Mark Burgin
Dee McWatters
Jade Werger
Jen Cheeseman – Staff Resource
The following individuals are members of the Safe Sport Workgroup:
Anita Cote – Chair – Board Member
Dr. Michael Conrad
Dan Hayward
Steve Irwin
Mark McNaughton
Amanda Nichol
Dr. Erin Osterberg
Dr. Frank Fowlie - Observer
Keegan Goodrich – Staff Resource
For BC Hockey Members interested in attending this year's Annual Congress, please click HERE for more information. To see a video of last year's Annual Congress, click HERE.
-30-