BC HOCKEY'S PROGRAM OF EXCELLENCE FEMALE U12/14 CAMPS OPEN FOR REGISTRATION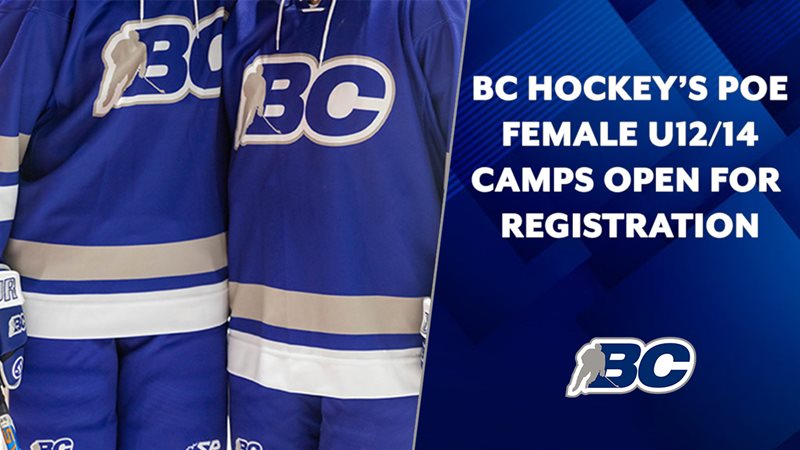 For Immediate Release
September 18, 2023
Saanichton, B.C. – BC Hockey is excited to announce that registration is now open for the Female U12/14 Female Program of Excellence (POE) Camps.
Camps will be held on two separate weekends to give interested athletes the opportunity to attend a camp. Athletes may attend either of the camps and are not obligated to attend the one closest to their primary address.
Players will need to choose one of the following two camps:
December 15-17, 2023 - Kelowna, B.C. - Register HERE
January 2-4, 2024 - Coquitlam, B.C. - Register HERE
Each participant will take part in three skill sessions and two jamboree games. An additional session will take place for goaltenders.
Space is limited, so sign up to secure your spot. Once registration is full, players will be placed on a waitlist.
BC Hockey is also searching for volunteers to assist with coaching, registration and time/score keeping the two camps. Click the link HERE to sign up.
About BC Hockey's U12/14 Female Program of Excellence
The U12/14 Female Program of Excellence (formerly High Performance Program) acts as a feeder for the Female U16 and U18 POE. Players, coaches and officials have the opportunity to progress throughout the programs. Club team coaches are encouraged to get involved with U12/14 and learn about high performance hockey within B.C..
The Female U12/14 POE is the product of the Female Hockey Development model and considered developmental only, where no teams will be selected and there is no evaluation/feedback component. The purpose of the program is to introduce eligible athletes to high performance hockey. The athletes will be exposed to sport science principals in the areas of nutrition, mental training, and physical preparation.
The inclusion of a U12/14 POE level is a result of BC Hockey adopting the Long Term Athlete Development Model. Research shows that athletes aged 10 and 13 are considered a key age range in several skill and physical development phases. Using age and developmentally appropriate materials, the program will introduce key areas of on-ice skill development and off-ice training allowing them to be successful regardless of the path they choose within the game.
For more information on BC Hockey's POE, please visit https://www.bchockey.net/team-bc/program-of-excellence.
-30-